Precision Feeding - Best for Cows, CAFO and Your Wallet
Jerry Bertoldo, Dairy
Northwest New York Dairy, Livestock & Field Crops
Last Modified: June 4, 2013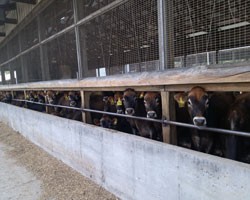 That large fermentation vat with billions of microbes of many different types is a complex system. These rumen "bugs" are capable of turning fibrous material that has little nutritional value to simple stomached animals into a significant source of energy. However, far from a universal feed digester, the rumen has many quirks related to optimal function. This is where a precision feed concept really makes sense.

Think about the rumen as a combustion chamber or engine. The microbes, protein and carbohydrates are like the flame, fuel and the oxygen in the mechanical system. The more precise the delivery of the components - the volume, rate, ratio and mixing - the better the quality and quantity of end products. Volatile fatty acids (VFA's) and microbial protein (microbe "bodies" themselves) are the high value result of microbial growth and digestion of intake feed. Ruminants do not use carbohydrates like we do. They have to be fermented down into VFA's first. Proteins can either bypass the rumen or be changed by the microbes. Since these hard - working bugs need nitrogen in the form of peptides, urea or ammonia, some protein breakdown in the rumen is necessary to provide these.

It so happens that microbial protein is quite similar to milk protein in amino acid composition. Microbial protein yield can provide up to 60% of the cow's daily protein requirement, a good portion of which goes to produce milk. The beauty of this source of protein is that you can feed the bugs pretty basic (read cheap) sources of carbohydrates and protein (or even urea) and have them make high quality and readily available protein. Remembering the combustion chamber analogy, you have to blend the feed sources wisely to offer the rumen microbes what they need, when they need it and in the right ratios.

The issue of the other 40%-plus of the protein requirement lies more in the bypass or Rumen Undegraded Protein (RUP) category that enters the cow's mouth. Heat treated soy products are an example of commodities high in bypass protein. Added lysine and methionine in the diet is helpful in meeting the requirements for these essential amino acids. Feed stuffs vary in the amount and ratio of these key components.

The other major microbial process, fiber digestion (carbohydrates in the bigger picture) has to be considered as well. Fiber digesters are slow workers and finicky about what pH they work in. Too much starch with too little effective fiber and too little available nitrogen leads to acidosis, a pH drop, poor digestive efficiency and less quality microbial protein produced. What the bugs don't make you have to buy.

This year's growing conditions have left us with forage shortages and high feed commodity prices. The flexibility your nutritionist has to economically balance a ration that maximizes cows' digestion and makes the milk and components you are used to is under pressure. The tight margins being faced drive us to think first of controlling costs. Best cost versus least cost decisions are less palatable, but can result in reasonable returns for dollars invested. This will be a year where adding pricey amino acid analogs or record high quality protein blends might surprise you by the results. The catch is that you have to know by analysis what you are feeding, it must be mixed and delivered accurately as formulated and the basics of cow comfort have to be met to allow the animal to utilize what she eats.

Keep in mind that a cow's body condition, health and productivity are like a bank account. You can draw on it for just so long before you need replenish what was borrowed. This year will be a draw down year, but does not have to be a break the bank one.


Upcoming Events
Pasture Walk - Wild Geese Farm - Franklinville, NY
August 21, 2019
5:30pm - 8:30pm
Fanklinville, NY
Topics to include: Tools for Managing Rotational Grazed Pasture, Weed ID and Management and Calculating Cost of Production.
Bovine Reproduction and AI Training Course
September 24 - September 25, 2019
9:30am - 3:30pm
Shortsville, NY
This two-day AI workshop will be held on September 24 and 25.
Topics covered will include:

• Reproductive Physiology
• Synchronization Protocols
• Heat Detection
• Artificial Insemination
• Proper Thawing of Semen
• Loading A.I. guns
• Practice Breeding Cows
Corn Congress - Batavia Location

January 8, 2020
10:00 a.m. - 3:00 p.m.
Batavia, NY
Please join the NWNY Dairy, Livestock and Field Crop Program's team for our annual Corn Congress. DEC re-certification points and Certified Crop Adviser credits available, so bring your picture ID. Lunch is included. Hear from program-related professionals and visit with our sponsoring vendors.
Announcements
2019 NY Corn & Soybean Yield Contests - Entries Due 8/30/19
The annual corn and soybean yield contests sponsored by the New York Corn & Soybean Growers Association are underway.
Click Here
for the 2019 yield contest entry form. This form and contest rules can also be found on the NY Corn & Soybean Growers Association web page at:
https://nycornsoy.org/

Entry forms must be postmarked by Friday, August 30 and mailed or emailed to Mike Stanyard. Cost is $30 per entry. Good Luck!
Preventing Sexual Harassment on Farms
If you're wondering how to get your farm business in compliance with NYS Sexual Harassment Regulations, you've come to the right place. This is a recording of the presentations given at the live training on July 30 and July 31, 2019 across New York State, which provides updates and farm-specific resources developed by CCE. View the recording here:
https://youtu.be/_1IjmAj1Nb8
.
RMA Announces Additional One-time Changes to Prevented Planting Provisions
June 29, 2019
RMA Announces Additional One-time Changes to Prevented Planting Provisions
for 2019 Crop Year
In response to delayed and prevented planting resulting from above average rainfall and wetness, the USDA Risk Management Agency has made a one-time change to the 2019 crop year prevented planting rules that effectively allows silage corn, if planted as a cover crop following local agricultural expert guidelines, to be acceptable as a post-prevented planting cover crop. Under this one-time rule change, producers are allowed to produce this crop while retaining their prevented planting payment. This change couples with previously announced one-time changes to the prevented planting rules - including expanded acceptable uses for post-prevented planting cover crops and a change in the cover crop haying and grazing start date rule - serve to help those struggling to meet their forage needs due to the weather.
Read the full article
from the New York Crop Insurance Education Program.
The USDA-RMA states that "For crop insurance purposes, a cover crop is a crop generally recognized by agricultural experts as agronomically sound for the area for erosion control or other purposes related to conservation or soil improvement." PRO-DAIRY specialists Joe Lawrence and Karl Czymmek and Dr. Quirine Ketterings, Professor and Director of Cornell Nutrient Management Spear Program have
released a letter
stating "Corn on Prevented Planting acres meets these objectives."