Precision Feeding - Best for Cows, CAFO and Your Wallet
Jerry Bertoldo, Dairy
Northwest New York Dairy, Livestock & Field Crops
Last Modified: June 4, 2013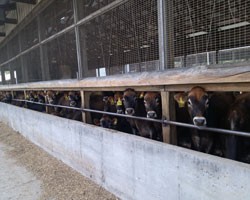 That large fermentation vat with billions of microbes of many different types is a complex system. These rumen "bugs" are capable of turning fibrous material that has little nutritional value to simple stomached animals into a significant source of energy. However, far from a universal feed digester, the rumen has many quirks related to optimal function. This is where a precision feed concept really makes sense.

Think about the rumen as a combustion chamber or engine. The microbes, protein and carbohydrates are like the flame, fuel and the oxygen in the mechanical system. The more precise the delivery of the components - the volume, rate, ratio and mixing - the better the quality and quantity of end products. Volatile fatty acids (VFA's) and microbial protein (microbe "bodies" themselves) are the high value result of microbial growth and digestion of intake feed. Ruminants do not use carbohydrates like we do. They have to be fermented down into VFA's first. Proteins can either bypass the rumen or be changed by the microbes. Since these hard - working bugs need nitrogen in the form of peptides, urea or ammonia, some protein breakdown in the rumen is necessary to provide these.

It so happens that microbial protein is quite similar to milk protein in amino acid composition. Microbial protein yield can provide up to 60% of the cow's daily protein requirement, a good portion of which goes to produce milk. The beauty of this source of protein is that you can feed the bugs pretty basic (read cheap) sources of carbohydrates and protein (or even urea) and have them make high quality and readily available protein. Remembering the combustion chamber analogy, you have to blend the feed sources wisely to offer the rumen microbes what they need, when they need it and in the right ratios.

The issue of the other 40%-plus of the protein requirement lies more in the bypass or Rumen Undegraded Protein (RUP) category that enters the cow's mouth. Heat treated soy products are an example of commodities high in bypass protein. Added lysine and methionine in the diet is helpful in meeting the requirements for these essential amino acids. Feed stuffs vary in the amount and ratio of these key components.

The other major microbial process, fiber digestion (carbohydrates in the bigger picture) has to be considered as well. Fiber digesters are slow workers and finicky about what pH they work in. Too much starch with too little effective fiber and too little available nitrogen leads to acidosis, a pH drop, poor digestive efficiency and less quality microbial protein produced. What the bugs don't make you have to buy.

This year's growing conditions have left us with forage shortages and high feed commodity prices. The flexibility your nutritionist has to economically balance a ration that maximizes cows' digestion and makes the milk and components you are used to is under pressure. The tight margins being faced drive us to think first of controlling costs. Best cost versus least cost decisions are less palatable, but can result in reasonable returns for dollars invested. This will be a year where adding pricey amino acid analogs or record high quality protein blends might surprise you by the results. The catch is that you have to know by analysis what you are feeding, it must be mixed and delivered accurately as formulated and the basics of cow comfort have to be met to allow the animal to utilize what she eats.

Keep in mind that a cow's body condition, health and productivity are like a bank account. You can draw on it for just so long before you need replenish what was borrowed. This year will be a draw down year, but does not have to be a break the bank one.


Upcoming Events
NWNY Dairy Day 2022
December 6, 2022
Batavia, NY
REGISTRATION NOW OPEN!
Theme: The Future of Your Dairy's Youngstock

The NWNY Dairy, Livestock and Field Crops team will be holding it's first "Dairy Day" this December! We will be bringing the latest in dairy research to you with this in-person, 1-day conference.

2023 Corn Congress - Batavia, NY

January 5, 2023
Batavia, NY
Registration is now open for the 2023 Corn Congress - January 5 & 6, 2023
2023 Corn Congress - Waterloo, NY

January 6, 2023
Waterloo, NY
Registration is now open for the 2023 Corn Congress - January 5 & 6, 2023
Announcements
The NWNY Team Blog
Our goal for
this blog
is to share with farmers and allied industry professionals, technical and applicable resources regarding all aspects of dairy farming, livestock and small farms, field crops and soils, and topics related to farm business management and precision agriculture.

The blog will feature Crop Alerts, Dairy Alerts, Bilingual (Spanish) Resources, Upcoming Events and more from our team members. This blog is free for everyone to use, explore and enjoy. When new material is published, subscribers will receive an email notification.

We hope you enjoy this new platform, and are looking forward to engaging with you in the future!