Crop Alert
Mike Stanyard, Team Leader, Field Crops
Northwest New York Dairy, Livestock & Field Crops
Last Modified: July 27, 2018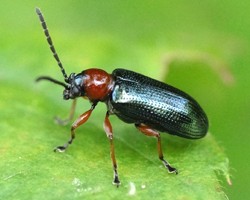 Timely observations, information and control strategies for managing pests and conditions in your fields.

July 27, Crop Alert: This week's Crop Alert discusses It is Time to Scout for Western Bean Cutworm Egg Masses, Soybean Aphid Update, Waterhemp Rearing Its Head, Corn Rootworm (CRW) and the Red Headed Flea Beetle.
July 13, 2018 Crop Alert: This week's Crop Alert discusses Western Bean Cutworm scouting, Start looking for Armyworms, Soybean Aphids and Spider Mites are Here, Pea Aphid/Potato Leafhopper for 3rd Cut Regrowth and The upcoming Grain Gurus Twilight Tour.
June 29, 2018 Crop Alert: This week's Crop Alert discusses Wheat Harvest Aids, Japanese Beetles have Emerged, 2nd Generation Armyworms, possible concerns, Dicamba Tolerant Soybeans: Prevent Off-Target Drift, There is still time to Interseed and it's time for the Corn and Soybean Yield Contest!
June 15, 2018 Crop Alert:This week's Crop Alert discusses Soybean Aphid Scouting, Maximum Corn Growth Stage for Postemergence Herbicide Application, Interseeding Cover Crops, Corn Herbicides & Interseeding, plus 2 upcoming events: Tag Team for Soil Health & Malting Barley, Wheat & Rye Twilight Tour.

For previous bulletins see the Archived Crop Alerts on our Newsletter page.
To receive text alerts when a new Crop Alert email Mike Stanyard at mjs88@cornell.edu.
Corn & Soybean Yield Contest Rules and Entry Form (pdf; 435KB)
Upcoming Events
Modern On-Farm Preparedness (All 6 Sessions)
January 23 - February 27, 2020
1-2 pm Webinars, 1-4 pm On farm
Six sessions created to help farms prepare for modern situations
- Jan 23: Urgent Situations (on-farm)
- Jan 30: F.A.R.M 4.0 Update (live webinar)
- Feb 6: Activists (live webinar)
- Feb 13: Social Media (on-farm)
- Feb 20: Disease Outbreaks & Biosecurity (live webinar)
- Feb 27: On Farm Safety - Prevention, Prevention, Prevention (on-farm)
CANCELLED - Automated Milking System (AMS) Management Discussion Group - Mt. Morris, NY
February 26, 2020
5:30pm - 8:00pm
Mount Morris, NY
EVENT CANCELLED - Will be Rescheduled at a Later Date.
Milk Quality Management in AMS systems will be our first topic, with future discussion group topics to include: lameness and cow comfort, milk production, AMS daily task efficiency, and AMS maintenance.
Modern On Farm Preparedness - On-Farm Safety
February 27, 2020
1-4 pm
Strykersville, NY
Accidents happen, but this session will focus on prevention and also address accident response.
1-4 pm at Breezyhill Dairy, 2705 N Sheldon Rd, Strykersville, NY.
Announcements
Resources for Managing Overtime
Beginning January 1, 2020, farm employers in New York will be required to pay overtime to certain employees for all hours worked over 60 in a week. We've developed some
tools to help farm employers consider management strategies
to respond to this change. Tools include an excel calculator to estimate the cost of overtime and an extension bulletin to help you consider and evaluate changes on your farm.