Crop Alert
Mike Stanyard, Team Leader, Field Crops
Northwest New York Dairy, Livestock & Field Crops
Last Modified: July 27, 2018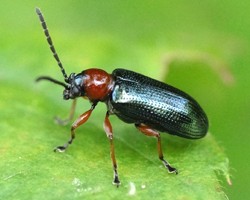 Timely observations, information and control strategies for managing pests and conditions in your fields.

July 27, Crop Alert: This week's Crop Alert discusses It is Time to Scout for Western Bean Cutworm Egg Masses, Soybean Aphid Update, Waterhemp Rearing Its Head, Corn Rootworm (CRW) and the Red Headed Flea Beetle.
July 13, 2018 Crop Alert: This week's Crop Alert discusses Western Bean Cutworm scouting, Start looking for Armyworms, Soybean Aphids and Spider Mites are Here, Pea Aphid/Potato Leafhopper for 3rd Cut Regrowth and The upcoming Grain Gurus Twilight Tour.
June 29, 2018 Crop Alert: This week's Crop Alert discusses Wheat Harvest Aids, Japanese Beetles have Emerged, 2nd Generation Armyworms, possible concerns, Dicamba Tolerant Soybeans: Prevent Off-Target Drift, There is still time to Interseed and it's time for the Corn and Soybean Yield Contest!
June 15, 2018 Crop Alert:This week's Crop Alert discusses Soybean Aphid Scouting, Maximum Corn Growth Stage for Postemergence Herbicide Application, Interseeding Cover Crops, Corn Herbicides & Interseeding, plus 2 upcoming events: Tag Team for Soil Health & Malting Barley, Wheat & Rye Twilight Tour.

For previous bulletins see the Archived Crop Alerts on our Newsletter page.
To receive text alerts when a new Crop Alert email Mike Stanyard at mjs88@cornell.edu.
Corn & Soybean Yield Contest Rules and Entry Form (pdf; 435KB)
Upcoming Events
Farm Business Evaluation & Branching into New Business Opportunities
November 9 - November 16, 2018
Two-Part Course, November 9th & 16th, 11:00 a.m. - 2:30 p.m.
Penn Yan, NY
This two-part course will cover how to evaluate the profitability of your operation, effective bookkeeping for farms, and how to evaluate risk and profit potential of new or expanded enterprises to your farm.
2018 Feed Dealer Seminar with guest speakers Dr. Tom Overton and Dr. Kristan Reed, Ph.D.
December 14, 2018
11:00 a.m. - 2:00 p.m. with lunch provided
Batavia, NY
The Feed Dealer Seminars are specifically targeted for nutritionists, veterinarians, crop and management consultants, extension educators, and dairy producers with specific interest in nutrition-oriented topics. They are designed to blend the latest concepts in feeding and other management aspects of dairies with field level application. They have been conducted annually as a road show with multiple sites in New York for many years with an additional Vermont location held during the past several years in collaboration with the Northeast Agribusiness and Feed Alliance.
Corn Congress - Batavia Location

January 9, 2019
10:00 a.m. - 3:00 p.m.
Batavia, NY
Agenda and more coming soon! Check back periodically for more updates.
Announcements
NYFB and CCE Partner to Present a Webinar on Preventing Sexual Harassment
SAVE THE DATE
of Tuesday, Nov. 20, 2018 for a live webinar. Click Here for more information.
NYFB and the Agricultural Workforce Division of Cornell Cooperative Extension are partnering to present a webinar for New York employers that will provide an overview of the legal requirements and define sexual harassment, present options for putting a policy in place and for completing the training necessary in 2019, and much more.
NYFVI Employee Training Focus Group
New York Farm Viability Institute is exploring a new initiative focused on skills training for employees on dairy farms. They are holding a focus group to learn more about how you currently train employees, what works and where there may be gaps or opportunities for new approaches. If you're responsible for training employees, whether it's 2 or 20, we would appreciate your input.

Thursday November 29, 2018, 11 am to 1 pm lunch is provided
Farm Credit East Batavia office, 4363 Federal Drive, Batavia NY
Please call Eileen Maher at 315-453-3823 ext 101 to RSVP, or email info@nyfvi.org
Questions? Call Aileen Randolph at 315-453-3823 or email arandolph@nyfvi.org.
EMPIRE STATE BARLEY AND MALT SUMMIT WED., DEC 12TH
The event will kick off Wednesday, December 12th, with updates from government, economic educators, and hops, malting, and brewing sec
tors. The day will be capped with a tasting, featuring several breweries and distilleries pouring samples of craft beer and spirits which highlight the use of New York State grown hops, barley, and grains as well as a NYS-inspired buffet dinner. Day two will be a series of educational sessions featuring researchers, extension specialists and industry experts, as well as ample networking opportunities. The full program agenda is now available!
Visit our program registration site. Early bird registration will be available through November 15th for $125. After 11/15, registration increases to $150. Contact Cheryl Thayer with any questions about registration.

WNY SOIL HEALTH ALLIANCE WORKSHOP & ANNUAL MEETING 12/19
Dec 19, 2018, 8:30 a.m. - 3:00 p.m. Quality Inn & Suites, 8250 Park Rd. Batavia, NY.
Kris Nichols
will be presenting information on
Regenerative Farming Practices and Hands-On Tools for Assessing Soil Health
.
John Wallace
will be presenting Penn State research on
Weed Management and Soil Health practices
. For more information contact: Dennis Kirby at 585-589-5959. DEC & CCA credits pending.
NYS Ag & Markets is interested in hearing from NY dairy farmers
NYS Commissioner of Agriculture and Markets is interested in hearing from NY dairy farmers regarding the status of the dairy industry and their ideas as to improvements that could be made to various programs and institutions that impact the financial environment of dairy markets. The survey will remain open until December 3, 2018 The results of the survey will be collected and summarized by staff of the NYSDAM. The survey does not take long to complete.
New Guidance for Mortality Disposal Issued
NYS Department of Ag and Markets has posted guidelines on disposal of livestock carcasses, in response to reports that some rendering companies have halted pickups from farms.
https://nwnyteam.cce.cornell.edu/submission.php?id=761&crumb=dairy|1
Northwest New York Dairy, Livestock & Field Crops - Cornell Cooperative Extension
Your Trusted Source for Research-Based Knowledge