A Very Early Start for Winter Wheat in 2012!
Mike Stanyard, Team Leader, Field Crops
Northwest New York Dairy, Livestock & Field Crops
Last Modified: April 3, 2013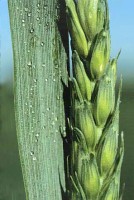 This year I saw tracks across fields the first week of March and some may have even hit the last days of February! The first half of March was a perfect time to get some nitrogen on the wheat. You could really see it starting to green up the second week, a couple weeks ahead of schedule. You will not see this article until the first week of April so let's focus on a possible second application of nitrogen and herbicide and fungicide needs.
The past couple of seasons I have discussed counting the number of tillers to determine if you should put all of your nitrogen up front, split it into two applications, or put it all on at a second application at Feekes Stage 5 (jointing). Below is the chart from Phil Needham's work as a reference. The second application is very important especially if you had a high tiller count and did not apply any nitrogen early. The timing should coincide with stem elongation which means nitrogen is going towards increasing the number of seeds per head and seed size, not additional tillers. Wheat takes off quickly after this stage so be diligent and prepared.
Weed control is also crucial this year. The weeds are getting an early start along with the wheat. The earliest planted fields should be scouted first and sprayed if weed pressure warrants spraying. Some of the earlier planted fields may have been sprayed last year with the warmer fall. Field research by Needham has shown that there is a yield advantage to separating the herbicide and nitrogen applications.
Last fall there were plenty of wheat fields that turned a light green/yellow color. Upon further investigation, the off-color of many of these fields was not due to wet conditions but foliar diseases. Both wheat rust and powdery mildew were very evident. Most of these affected fields were earlier planted and had plenty of top growth. Neighboring fields planted in mid/late October did not show signs of the diseases. A cold winter usually takes care of these fungi unless we get a blanket of show early that protects them all winter. Well, we did not get a cold winter of a blanket of snow this year! Fields should be watched carefully this spring, particularly those that were planted earlier last year. These diseases could be present much earlier than anticipated and fungicide applications will be crucial for maintaining good yields.
One last thing to watch for this spring. Cereal leaf beetles will probably emerge earlier than normal. They will be hungry and looking for a host to lay its eggs. Its first choice is oats but there may not be enough acres emerged yet and wheat would be its second choice. Economic threshold for insecticide treatment is three or more eggs and larvae per stem before the boot stage.
Chart from Phil Needham's work (pdf; 62KB)
Upcoming Events
Pasture Walk - Wild Geese Farm - Franklinville, NY
August 21, 2019
5:30pm - 8:30pm
Fanklinville, NY
Topics to include: Tools for Managing Rotational Grazed Pasture, Weed ID and Management and Calculating Cost of Production.
Bovine Reproduction and AI Training Course
September 24 - September 25, 2019
9:30am - 3:30pm
Shortsville, NY
This two-day AI workshop will be held on September 24 and 25.
Topics covered will include:

• Reproductive Physiology
• Synchronization Protocols
• Heat Detection
• Artificial Insemination
• Proper Thawing of Semen
• Loading A.I. guns
• Practice Breeding Cows
Corn Congress - Batavia Location

January 8, 2020
10:00 a.m. - 3:00 p.m.
Batavia, NY
Please join the NWNY Dairy, Livestock and Field Crop Program's team for our annual Corn Congress. DEC re-certification points and Certified Crop Adviser credits available, so bring your picture ID. Lunch is included. Hear from program-related professionals and visit with our sponsoring vendors.
Announcements
2019 NY Corn & Soybean Yield Contests - Entries Due 8/30/19
The annual corn and soybean yield contests sponsored by the New York Corn & Soybean Growers Association are underway.
Click Here
for the 2019 yield contest entry form. This form and contest rules can also be found on the NY Corn & Soybean Growers Association web page at:
https://nycornsoy.org/

Entry forms must be postmarked by Friday, August 30 and mailed or emailed to Mike Stanyard. Cost is $30 per entry. Good Luck!
Preventing Sexual Harassment on Farms
If you're wondering how to get your farm business in compliance with NYS Sexual Harassment Regulations, you've come to the right place. This is a recording of the presentations given at the live training on July 30 and July 31, 2019 across New York State, which provides updates and farm-specific resources developed by CCE. View the recording here:
https://youtu.be/_1IjmAj1Nb8
.
RMA Announces Additional One-time Changes to Prevented Planting Provisions
June 29, 2019
RMA Announces Additional One-time Changes to Prevented Planting Provisions
for 2019 Crop Year
In response to delayed and prevented planting resulting from above average rainfall and wetness, the USDA Risk Management Agency has made a one-time change to the 2019 crop year prevented planting rules that effectively allows silage corn, if planted as a cover crop following local agricultural expert guidelines, to be acceptable as a post-prevented planting cover crop. Under this one-time rule change, producers are allowed to produce this crop while retaining their prevented planting payment. This change couples with previously announced one-time changes to the prevented planting rules - including expanded acceptable uses for post-prevented planting cover crops and a change in the cover crop haying and grazing start date rule - serve to help those struggling to meet their forage needs due to the weather.
Read the full article
from the New York Crop Insurance Education Program.
The USDA-RMA states that "For crop insurance purposes, a cover crop is a crop generally recognized by agricultural experts as agronomically sound for the area for erosion control or other purposes related to conservation or soil improvement." PRO-DAIRY specialists Joe Lawrence and Karl Czymmek and Dr. Quirine Ketterings, Professor and Director of Cornell Nutrient Management Spear Program have
released a letter
stating "Corn on Prevented Planting acres meets these objectives."