A Very Early Start for Winter Wheat in 2012!
Mike Stanyard, Team Leader and Field Crops & IPM Specialist
Northwest New York Dairy, Livestock & Field Crops
Last Modified: April 3, 2013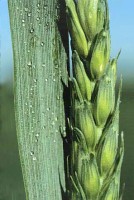 This year I saw tracks across fields the first week of March and some may have even hit the last days of February! The first half of March was a perfect time to get some nitrogen on the wheat. You could really see it starting to green up the second week, a couple weeks ahead of schedule. You will not see this article until the first week of April so let's focus on a possible second application of nitrogen and herbicide and fungicide needs.
The past couple of seasons I have discussed counting the number of tillers to determine if you should put all of your nitrogen up front, split it into two applications, or put it all on at a second application at Feekes Stage 5 (jointing). Below is the chart from Phil Needham's work as a reference. The second application is very important especially if you had a high tiller count and did not apply any nitrogen early. The timing should coincide with stem elongation which means nitrogen is going towards increasing the number of seeds per head and seed size, not additional tillers. Wheat takes off quickly after this stage so be diligent and prepared.
Weed control is also crucial this year. The weeds are getting an early start along with the wheat. The earliest planted fields should be scouted first and sprayed if weed pressure warrants spraying. Some of the earlier planted fields may have been sprayed last year with the warmer fall. Field research by Needham has shown that there is a yield advantage to separating the herbicide and nitrogen applications.
Last fall there were plenty of wheat fields that turned a light green/yellow color. Upon further investigation, the off-color of many of these fields was not due to wet conditions but foliar diseases. Both wheat rust and powdery mildew were very evident. Most of these affected fields were earlier planted and had plenty of top growth. Neighboring fields planted in mid/late October did not show signs of the diseases. A cold winter usually takes care of these fungi unless we get a blanket of show early that protects them all winter. Well, we did not get a cold winter of a blanket of snow this year! Fields should be watched carefully this spring, particularly those that were planted earlier last year. These diseases could be present much earlier than anticipated and fungicide applications will be crucial for maintaining good yields.
One last thing to watch for this spring. Cereal leaf beetles will probably emerge earlier than normal. They will be hungry and looking for a host to lay its eggs. Its first choice is oats but there may not be enough acres emerged yet and wheat would be its second choice. Economic threshold for insecticide treatment is three or more eggs and larvae per stem before the boot stage.
Chart from Phil Needham's work (pdf; 62KB)
Upcoming Events
Fertilizers and Herbicides

March 31, 2023
Mount Morris, NY
As input costs rise, it is necessary to employ the best management practices, and it can be advantageous to know what you're getting from your purchases. Plan to attend if you want to understand the terminology, calculations, formulations, and chemistry behind your fertility and herbicide recommendations.
Agritourism Workshops Monthly!
February 20, 2023
March 20, 2023
April 17, 2023
May 15, 2023
June 19, 2023
July 17, 2023

Are you thinking of starting an agritourism business or are you currently operating one?
Join our monthly lunch-hour, workshop virtual series and learn how to grow your agritourism business!
The first session will cover the basics of running an agritourism operation. The following sessions will focus on specific topic to help aspiring agritourism entrepreneurs grow their knowledge and profit through this exciting on-farm business.
Dairy Comp 305 for Spanish Speakers
April 19, 2023
This program was rescheduled from March 30th.
This workshop is for employees, supervisors or managers whose first language is Spanish and whose job entails using DC305 on a daily basis. The objective is for attendees to improve their understanding of the "language" of DC305 as well as the whys behind consistent data entry. Since DC305 is specific to each farm, the workshop will focus on general application and deeper understanding of how data is used on dairy farms.
Announcements
Join us on Facebook!
Follow us on Facebook to get up to date posts about events, workshops and everything NWNY!
Add us on LinkedIn!
Connect with us on LinkedIn to get more information about upcoming workshops and programs!
Watch Us on YouTube
Watch instructional videos from specialists in the field!
Subscribe for Emails about Events & Workshops!