Winter Feeding Beef Cows
Nancy Glazier, Small Farms & Livestock Specialist
Northwest New York Dairy, Livestock & Field Crops
February 14, 2019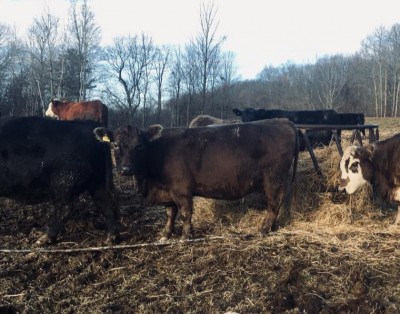 Winter is a challenging time to feed the beef herd. Mud, cold and snow or rain can stress your cows and increase their nutritional needs.
Mike Baker, Cornell University's Beef Cattle Specialist reviewed the nutritional needs of the beef cow, how the environmental conditions impact feeding, and how the stages pregnancy affects her needs. Nancy Glazier, Small Farms and Livestock Specialist with the NWNY Team will discuss sampling procedures for nutrient analyses to know what you feed. The fundamentals of feeding the cow were covered.
Here are the handouts from the workshop that was held February 12, 2019.

Cow Nutrition Handout (pdf; 941KB)
Mike Baker's presentation slides
Forage analyses (pdf; 71KB)
Forage analyses Mike used in his presentation
Feeding beef cows and nursing calves (pdf; 399KB)
Upcoming Events
NWNY Dairy Day 2022
December 6, 2022
Batavia, NY
REGISTRATION NOW OPEN!
Theme: The Future of Your Dairy's Youngstock

The NWNY Dairy, Livestock and Field Crops team will be holding it's first "Dairy Day" this December! We will be bringing the latest in dairy research to you with this in-person, 1-day conference.

2023 Corn Congress - Batavia, NY

January 5, 2023
Batavia, NY
Registration is now open for the 2023 Corn Congress - January 5 & 6, 2023
2023 Corn Congress - Waterloo, NY

January 6, 2023
Waterloo, NY
Registration is now open for the 2023 Corn Congress - January 5 & 6, 2023
Announcements
The NWNY Team Blog
Our goal for
this blog
is to share with farmers and allied industry professionals, technical and applicable resources regarding all aspects of dairy farming, livestock and small farms, field crops and soils, and topics related to farm business management and precision agriculture.

The blog will feature Crop Alerts, Dairy Alerts, Bilingual (Spanish) Resources, Upcoming Events and more from our team members. This blog is free for everyone to use, explore and enjoy. When new material is published, subscribers will receive an email notification.

We hope you enjoy this new platform, and are looking forward to engaging with you in the future!