Deer Farming
Nancy Glazier, Small Farms & Livestock Specialist
Northwest New York Dairy, Livestock & Field Crops
December 3, 2018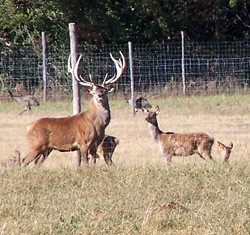 Cervid production is a $3 billion industry in the US. There are many opportunities for farms to raise deer, but proper care and health management is critical. NYS Department of Agriculture and Markets hosted Dr. Douglas Wagner, Newport Labs to cover the topic for their veterinarians. The recording was made available to provide a resource for farmers and veterinarians to learn more on the topic. Dr. Wagner introduces and provides an overview of the captive cervid industry in the United States, including husbandry, handling, reproduction, stocking density and Biosecurity. He presents information on the most economically important diseases and parasites of captive cervids, and a system for producers and veterinarians to use when determining herd specific vaccination and deworming protocols, with good husbandry standards and biosecurity as the cornerstone.
Watch it on YouTube
Upcoming Events
2-Day Hoof Trimming Workshop
August 16 - August 17, 2022
Oakfield, NY
Registration Now Open! - 2-Day Hands-on Hoof Trimming Workshop

2022 Aurora Farm Field Day

August 18, 2022
Aurora, NY
The date for the annual Cornell Field Crop research field day has been set for Thursday, August 18th at Musgrave Research Farm in Aurora, NY. The program will consist of 8 presentations from our researchers on a host of topics.
NY Soil Health Field Day in Pavilion, NY
August 25, 2022
Pavilion, NY
American Farmland Trust invites you to join them in this field day. They will share practical, field-tested results of advanced regenerative practices targeted to dairy, field and specialty crop farmers.
Announcements
State Agriculture Commissioner lifts ban on poultry shows, auctions in NYS
On June 3, New York State Agriculture Commissioner Richard A. Ball announced the end of the bans on live poultry shows, exhibitions, auctions, sales, meets, and swaps in New York State. The decision to lift the bans comes as cases decrease nationwide, including in New York state, which has not had a detection of Highly Pathogenic Avian Influenza in nearly two months.
The NWNY Team Blog
Our goal for
this blog
is to share with farmers and allied industry professionals, technical and applicable resources regarding all aspects of dairy farming, livestock and small farms, field crops and soils, and topics related to farm business management and precision agriculture.

The blog will feature Crop Alerts, Dairy Alerts, Bilingual (Spanish) Resources, Upcoming Events and more from our team members. This blog is free for everyone to use, explore and enjoy. When new material is published, subscribers will receive an email notification.

We hope you enjoy this new platform, and are looking forward to engaging with you in the future!