Nitrogen Applications for Winter Small Grains Silage
Bill Verbeten, Field Crops
Northwest New York Dairy, Livestock & Field Crops
February 1, 2013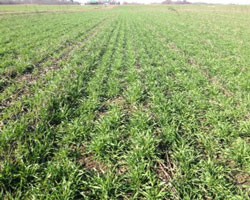 Applying enough nitrogen at green-up will be crucial to raising the yield potential from 2 to 4+ tons of DM per acre. Supplying enough spring nitrogen will also increase crude protein from about 14% to nearly 20% DM if the silage is harvested by the boot stage. The application rate of spring nitrogen needed for high yielding, high quality winter small grain silage may range from 0 to nearly 100 lb. per acre depending on the previous crop in the rotation, and the field manure history.
Typically rates of 10-20 lb. of nitrogen per acre are applied at planting for wheat that is grown for grain. These rates are also sufficient for small grains grown for silage. Too much fall nitrogen leads to excess fall growth, leaving the small grains more vulnerable to damage over the winter.
Rotation Scenarios
One of the most common planting situations for winter grain silage last fall was after corn silage. The amount of spring nitrogen needed will depend on the amount manure applied before planting the small grain. Winter grain silage fields with high manure rates may still respond to a small nitrogen application at green-up (20-30 lb. per acre). If little or no manure was applied at planting than small grain silage yields and quality may respond up to 75-100 lb. of nitrogen per acre.
Small grain silage following a haylage field that contained over 50% alfalfa or clover and had at least 6 inches of growth will not require much spring nitrogen fertilizer. Lodging can occur from over fertilization of nitrogen without responses to yield or quality. In these situations farmers may still want to apply 20-30 lb. nitrogen per acre at green-up as the nitrogen from the previous legume will not start to mineralize and become available to the small grain until temperatures increase later in the spring. If fields were mostly grass and didn't receive manure, then at least 75 lb. per acre of nitrogen should be applied.
Small grain silage planted after soybeans, field peas, or snap beans will likely to respond to a middle range of nitrogen rates (40-60 lb. per acre) as there will be some legume nitrogen that should be available to the small grain silage.
Small grain silage planted after a small grain will likely require between 75 & 100 lb. of nitrogen per acre. Yields of small grain silage following a small grain will likely be lower due to higher disease, insect, and weed pressure compared to the other scenarios described above.
Join the Nitrogen Rate Study
If you are growing winter triticale, winter rye, or winter wheat for silage this spring we would like to include your farm in an on-farm research trial that is being conducted this spring in collaboration with Quirine Ketterings at Cornell. We would need an area 100 feet by 100 feet in each field where we would apply rates of nitrogen from 0 to 120 lb. per acre in 30 lb. increments. Prior to green-up we will document field history (January-February), apply the fertilizer at green-up (March-April), take yields at harvest time (May), and then provide you with report comparing your farm to other farms in the study (Fall 2013). We currently have farms in four of the ten counties signed-up and would like to include some more farms from all across western New York.
Contact
Bill Verbeten
if you are interested in joining this study.
Upcoming Events
Dairy Cattle Summer Research Update
July 18, 2019
7:00-9:00pm
Batavia, NY
After the day's work is done, come hear about two new research trials conducted by Julio Giordano's lab:
Strategies for improving dairy cattle reproductive performance and economics
Using automated sensors for improving dairy cattle health monitoring and management
Weed Resistance Management Demonstration and Plot Tour

July 23, 2019
1:00 - 3:00 p.m.
Waterloo, NY
Come join us on July 23 in Seneca County at Quinten Good's farm for a demonstration and walking tour of 16 different pre- and post-emergence treatments in soybean and 12 different treatments and combinations in corn.
Tall waterhemp and marestail are two weeds that are resistant to glyphosate and ALS herbicide modes of action in the WNY and Finger Lakes regions.
Each year the number of acres with resistant weed populations expands.
For herbicides to be an effective tool in weed management, we have to know what chemistries & application timings are most effective against these resistant weeds.
Pasture Walk with the Finger Lakes Graziers
July 29, 2019
12:45 - 4 pm
Waterloo, NY
Join the Finger Lakes Graziers on a pasture walk and learn about soil health.
Announcements
USDA Announces New Decision Tool for New Dairy Margin Coverage Program
WASHINGTON, April 30, 2019
? Agriculture Secretary Sonny Perdue announced today the availability of a new web-based tool - developed in partnership with the University of Wisconsin - to help dairy producers evaluate various scenarios using different coverage levels through the new
Dairy Margin Coverage (DMC)
program.

The 2018 Farm Bill authorized
DMC
, a voluntary risk management program that offers financial protection to dairy producers when the difference between the all milk price and the average feed cost (the margin) falls below a certain dollar amount selected by the producer. It replaces the program previously known as the Margin Protection Program for Dairy. Sign up for this USDA Farm Service Agency (FSA) program opens on June 17.

"With sign-up for the
DMC
program just weeks away, we encourage producers to use this new support tool to help make decisions on participation in the program," Secretary Perdue said. "Dairy producers have faced tough challenges over the years, but the
DMC
program should help producers better weather the ups and downs in the industry."

The University of Wisconsin launched the decision support tool in cooperation with FSA and funded through a cooperative agreement with the USDA Office of the Chief Economist. The tool was designed to help producers determine the level of coverage under a variety of conditions that will provide them with the strongest financial safety net. It allows farmers to simplify their coverage level selection by combining operation data and other key variables to calculate coverage needs based on price projections.

The decision tool assists producers with calculating total premiums costs and administrative fees associated with participation in
DMC
. It also forecasts payments that will be made during the coverage year.

"
The new
Dairy Margin Coverage
program offers very appealing options for all dairy farmers to reduce their net income risk due to volatility in milk or feed prices
," said Dr. Mark Stephenson, Director of Dairy Policy Analysis, University of Wisconsin, Madison. "
Higher coverage levels, monthly payments, and more flexible production coverage options are especially helpful for the sizable majority of farms who can cover much of their milk production with the new five million pound maximum for Tier 1 premiums. This program deserves the careful consideration of all dairy farmers
."

For more information, access the tool at fsa.usda.gov/dmc-tool. For
DMC
sign up, eligibility and related program information, visit fsa.usda.gov or contact your local USDA Service Center. To locate your local FSA office, visit farmers.gov/service-locator.

New Guidance for Mortality Disposal Issued
NYS Department of Ag and Markets has posted guidelines on disposal of livestock carcasses, in response to reports that some rendering companies have halted pickups from farms.
https://nwnyteam.cce.cornell.edu/submission.php?id=761&crumb=dairy|1