Stockpiling Pastures
Nancy Glazier, Small Farms & Livestock Specialist
Northwest New York Dairy, Livestock & Field Crops
July 10, 2018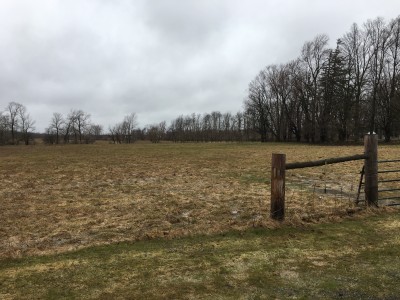 There has been some discussion amongst technical service providers that operate their own farms regarding stockpiling pastures. There are basic resources around, but an attempt is being made to take it to the next level.
The theory behind stockpiling is to save some pasture for late fall/early winter grazing. Livestock are moved off the pastures that are set aside for stockpiling early to mid-August. It is recommended to apply 50-75 lb actual Nitrogen fertilizer to give the grasses a boost. With timely late August - early September rains, pastures will grow and reduce the need for feeding hay, and if livestock are normally fed in a barn, the manure is out on pastures.
Some of the recent exchanges before contemplating stockpiling are below. What is the fertility of your pastures? Ideally, soil samples are taken periodically, so you know this answer. Do they need some Phosphorus and Potassium? Apply that along with the Nitrogen.
Poultry litter would give your pastures a jump start for stockpiling. A general analysis of litter is 3-3-2. You'll need about a ton/acre to achieve an adequate amount of N (60 lb/ac). The organic matter will be beneficial for the long term, too.
Work has been done on species selection for stockpiling. Typically tall fescue is the best due to its standability, yield, and quality. There is less tall fescue grown in NWNY compared to orchardgrass, reed canarygrass, bromegrasses, or timothy. They will stockpile but not as well as tall fescue. Alfalfa will stockpile and handle stockpiling and grazing better than late-season mechanical harvest. Clovers will not withstand stockpiled grazing well.
It may be worthwhile to clip pastures and/or graze 'tight' prior to stockpiling, particularly if they have gone to seed. If not, there may be more stemmy growth and less leaves.
For best utilization it is important to strip-graze the stockpiling. Use high density of livestock on small strips to graze effectively, set up in calculated amounts. These can be subdivided with temporary fencing, and this may take some trial and error to set up the amount of pasture available. One estimate from a beef producer is pasture utilization may be up to 90% with daily moves.
Some questions to ponder:
Do you have extra acreage available for stockpiling? What are the economics of stockpiling? Obviously, there is savings if you feed less hay, due to harvesting costs. What is the value of the land - taxes or rent? Could additional livestock be grazed during the season, such as dairy heifers, stockers, or ewes with lambs that may leave the farm prior to the end of the season? Does heavy grazing affect spring growth? Should some residual be left? What about the early season snowfall? How does that affect quality?
I would be interested to hear from anyone who is experimenting with stockpiling and what are your experiences, both good and bad. Give me a call or drop me an email at nig3@cornell.edu. I would really like to hear!
Upcoming Events
NWNY Dairy Day 2022
December 6, 2022
Batavia, NY
REGISTRATION NOW OPEN!
Theme: The Future of Your Dairy's Youngstock

The NWNY Dairy, Livestock and Field Crops team will be holding it's first "Dairy Day" this December! We will be bringing the latest in dairy research to you with this in-person, 1-day conference.

2023 Corn Congress - Batavia, NY

January 5, 2023
Batavia, NY
Registration is now open for the 2023 Corn Congress - January 5 & 6, 2023
2023 Corn Congress - Waterloo, NY

January 6, 2023
Waterloo, NY
Registration is now open for the 2023 Corn Congress - January 5 & 6, 2023
Announcements
The NWNY Team Blog
Our goal for
this blog
is to share with farmers and allied industry professionals, technical and applicable resources regarding all aspects of dairy farming, livestock and small farms, field crops and soils, and topics related to farm business management and precision agriculture.

The blog will feature Crop Alerts, Dairy Alerts, Bilingual (Spanish) Resources, Upcoming Events and more from our team members. This blog is free for everyone to use, explore and enjoy. When new material is published, subscribers will receive an email notification.

We hope you enjoy this new platform, and are looking forward to engaging with you in the future!