Stockpiling Pastures
Nancy Glazier, Small Farms & Livestock
Northwest New York Dairy, Livestock & Field Crops
July 10, 2018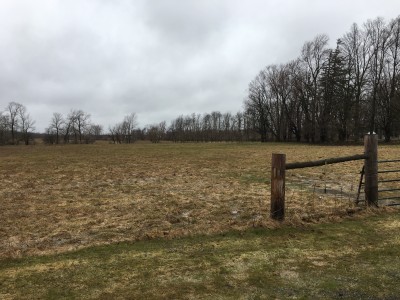 There has been some discussion amongst technical service providers that operate their own farms regarding stockpiling pastures. There are basic resources around, but an attempt is being made to take it to the next level.
The theory behind stockpiling is to save some pasture for late fall/early winter grazing. Livestock are moved off the pastures that are set aside for stockpiling early to mid-August. It is recommended to apply 50-75 lb actual Nitrogen fertilizer to give the grasses a boost. With timely late August - early September rains, pastures will grow and reduce the need for feeding hay, and if livestock are normally fed in a barn, the manure is out on pastures.
Some of the recent exchanges before contemplating stockpiling are below. What is the fertility of your pastures? Ideally, soil samples are taken periodically, so you know this answer. Do they need some Phosphorus and Potassium? Apply that along with the Nitrogen.
Poultry litter would give your pastures a jump start for stockpiling. A general analysis of litter is 3-3-2. You'll need about a ton/acre to achieve an adequate amount of N (60 lb/ac). The organic matter will be beneficial for the long term, too.
Work has been done on species selection for stockpiling. Typically tall fescue is the best due to its standability, yield, and quality. There is less tall fescue grown in NWNY compared to orchardgrass, reed canarygrass, bromegrasses, or timothy. They will stockpile but not as well as tall fescue. Alfalfa will stockpile and handle stockpiling and grazing better than late-season mechanical harvest. Clovers will not withstand stockpiled grazing well.
It may be worthwhile to clip pastures and/or graze 'tight' prior to stockpiling, particularly if they have gone to seed. If not, there may be more stemmy growth and less leaves.
For best utilization it is important to strip-graze the stockpiling. Use high density of livestock on small strips to graze effectively, set up in calculated amounts. These can be subdivided with temporary fencing, and this may take some trial and error to set up the amount of pasture available. One estimate from a beef producer is pasture utilization may be up to 90% with daily moves.
Some questions to ponder:
Do you have extra acreage available for stockpiling? What are the economics of stockpiling? Obviously, there is savings if you feed less hay, due to harvesting costs. What is the value of the land - taxes or rent? Could additional livestock be grazed during the season, such as dairy heifers, stockers, or ewes with lambs that may leave the farm prior to the end of the season? Does heavy grazing affect spring growth? Should some residual be left? What about the early season snowfall? How does that affect quality?
I would be interested to hear from anyone who is experimenting with stockpiling and what are your experiences, both good and bad. Give me a call or drop me an email at nig3@cornell.edu. I would really like to hear!
Upcoming Events
2019 Corn Silage Pre-Harvest Workshop - Penn Yan
September 17, 2019
10:00am to Noon
Penn Yan, NY
Corn silage harvest is drawing near. The way corn silage is harvested and stored is a single event that affects your operation for the entire next year. Are you prepared to set your operation up for success?
Ontario County Fun on the Farm
September 21, 2019
11:00 am- 4:00 pm
Seneca Castle, NY
Fun on the Farm works to educate non-farm public and our neighbors about agriculture around them. It is fun and educational.
Fun on the Farm attracts thousands of people and gives us the opportunity to communicate to the community the benefits of the agricultural production in Ontario County, the state, and the nation.
The event is free! There are many agricultural products that are available to be sampled. It is the perfect place to try that product you have seen in the store but didn't want to commit to purchasing.
Food is available to purchase for lunch. It is provided by a local service group.
Bovine Reproduction and AI Training Course
September 24 - September 25, 2019
9:30am - 3:30pm
Shortsville, NY
**CLASS IS FULL**
This two-day AI workshop will be held on September 24 and 25.
Topics covered will include:

• Reproductive Physiology
• Synchronization Protocols
• Heat Detection
• Artificial Insemination
• Proper Thawing of Semen
• Loading A.I. guns
• Practice Breeding Cows
Announcements
Preventing Sexual Harassment on Farms
If you're wondering how to get your farm business in compliance with NYS Sexual Harassment Regulations, you've come to the right place.
The 2018 New York State budget included new regulations addressing sexual harassment in the workplace that became effective on October 9, 2018 for all New York employers, including agricultural employers. All employers are required to have a sexual harassment prevention policy and to provide annual, interactive sexual harassment prevention training for all employees. Check out the resources developed by Cornell Ag Workforce Development, including step-by-step instructions and farm-friendly training videos.
RMA Announces Additional One-time Changes to Prevented Planting Provisions
June 29, 2019
RMA Announces Additional One-time Changes to Prevented Planting Provisions
for 2019 Crop Year
In response to delayed and prevented planting resulting from above average rainfall and wetness, the USDA Risk Management Agency has made a one-time change to the 2019 crop year prevented planting rules that effectively allows silage corn, if planted as a cover crop following local agricultural expert guidelines, to be acceptable as a post-prevented planting cover crop. Under this one-time rule change, producers are allowed to produce this crop while retaining their prevented planting payment. This change couples with previously announced one-time changes to the prevented planting rules - including expanded acceptable uses for post-prevented planting cover crops and a change in the cover crop haying and grazing start date rule - serve to help those struggling to meet their forage needs due to the weather.
Read the full article
from the New York Crop Insurance Education Program.
The USDA-RMA states that "For crop insurance purposes, a cover crop is a crop generally recognized by agricultural experts as agronomically sound for the area for erosion control or other purposes related to conservation or soil improvement." PRO-DAIRY specialists Joe Lawrence and Karl Czymmek and Dr. Quirine Ketterings, Professor and Director of Cornell Nutrient Management Spear Program have
released a letter
stating "Corn on Prevented Planting acres meets these objectives."