Is Dairy Crossbreeding Right for You?
Nancy Glazier, Small Farms & Livestock
Northwest New York Dairy, Livestock & Field Crops
May 14, 2018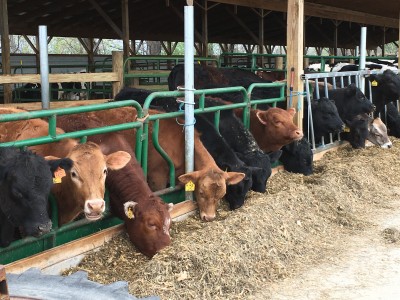 Each farm will need to come up with its individual plan. One of the first questions that will need to be answered, are you hanging on to cows that should be shipped? If so, count them out as culling will shift the number at the bottom. The goal is to breed the top cows to dairy, most likely sexed semen for improving the genetics, and bottom end cows to beef semen from bulls best suited for crossbreeding. These percentages will need to be worked out on each farm. The middle cows will be bred as usual. You will need to determine how many replacement heifers your farm needs, generally 80-85% of the herd. The rest of the calves can leave the farm as beef.
How do you figure out which cows have low genetic potential? One way is through genomic testing, which can run in the $45 range. Another is through pedigree review. Your semen company can help you; either option accurate recordkeeping is critical. You want to make sure semen gets used on the proper cows.
When choosing a beef bull, it should complement the traits of the dairy cow. Dairy breeds are known for their marbling, but are lighter muscled with less desirable muscle conformation as compared to beef breeds. Select beef bulls with calving ease, moderate frames, heavy muscling, and above average rate of gain. Crossbreeding works with all dairy breeds, not just Holstein.
There seems to be a difference of opinion on the conception rate using beef semen. Fertility may be diminished with the tail enders, while some feel beef semen improves the rate. Quality beef semen may cost more, but will be recouped.
Each and every calf born on the farm needs to be treated like a replacement: quality colostrum in a timely manner. As with replacement dairy heifer, immunity is critical when calves are to be raised as quality beef. Droopy calves will not bring a good price! These crossbreds also tend to be thriftier calves and may consume a lot of milk. Be aware they may want to hit the ground and get right up and want to nurse!
Calves will need to be identified as crossbreds to gain a better price than straight Holsteins. ABS has specific ear tags for their crosses, different color tags for calves from Holstein or Jersey cows. An observation has been the calves that look "beefy" will bring a better price, too. Though not part of the reports, demand has been high and steady with little price fluctuation, according observations of two of Cornell/USDA Market News reporters. Reports can be found
here.
This concept has been around for several years, but is now gaining momentum. Some of the pieces are still coming into place. There are discussions underway with auction markets to hold special sales for these crossbred calves. There is also potential for pooling these calves or even holding graded (by USDA certified graders) sales. There are opportunities for farms to raise them, either as another income stream or a new enterprise. Some farms are utilizing old heifer facilities or old freestalls after exiting the dairy business. Options include raising them to weaning, up to 500 lbs. and to finished weight.
For additional information:
For more information about Beef Quality Assurance program contact Katherine Brosnan (kbrosnan@nybeef.org) or Mike Baker (mjb28@cornell.edu), or check out the
website
.
Dairy Crossbreeding (pdf; 396KB)
Upcoming Events
2019 Corn Silage Pre-Harvest Workshop - Penn Yan
September 17, 2019
10:00am to Noon
Penn Yan, NY
Corn silage harvest is drawing near. The way corn silage is harvested and stored is a single event that affects your operation for the entire next year. Are you prepared to set your operation up for success?
Bovine Reproduction and AI Training Course
September 24 - September 25, 2019
9:30am - 3:30pm
Shortsville, NY
**CLASS IS FULL**
This two-day AI workshop will be held on September 24 and 25.
Topics covered will include:

• Reproductive Physiology
• Synchronization Protocols
• Heat Detection
• Artificial Insemination
• Proper Thawing of Semen
• Loading A.I. guns
• Practice Breeding Cows
Beef Quality Assurance Transportation Training - Pavilion, NY
October 8, 2019
6:00pm - 9:00pm
Pavilion, NY
The checkoff-funded Beef Quality Assurance (BQA) program has launched a new training and certification program for cattle transportation. The program, known as Beef Quality Assurance Transportation (BQAT), provides cattle producers and haulers with comprehensive training based on their roles in the cattle industry.
Announcements
Preventing Sexual Harassment on Farms
If you're wondering how to get your farm business in compliance with NYS Sexual Harassment Regulations, you've come to the right place.
The 2018 New York State budget included new regulations addressing sexual harassment in the workplace that became effective on October 9, 2018 for all New York employers, including agricultural employers. All employers are required to have a sexual harassment prevention policy and to provide annual, interactive sexual harassment prevention training for all employees. Check out the resources developed by Cornell Ag Workforce Development, including step-by-step instructions and farm-friendly training videos.
RMA Announces Additional One-time Changes to Prevented Planting Provisions
June 29, 2019
RMA Announces Additional One-time Changes to Prevented Planting Provisions
for 2019 Crop Year
In response to delayed and prevented planting resulting from above average rainfall and wetness, the USDA Risk Management Agency has made a one-time change to the 2019 crop year prevented planting rules that effectively allows silage corn, if planted as a cover crop following local agricultural expert guidelines, to be acceptable as a post-prevented planting cover crop. Under this one-time rule change, producers are allowed to produce this crop while retaining their prevented planting payment. This change couples with previously announced one-time changes to the prevented planting rules - including expanded acceptable uses for post-prevented planting cover crops and a change in the cover crop haying and grazing start date rule - serve to help those struggling to meet their forage needs due to the weather.
Read the full article
from the New York Crop Insurance Education Program.
The USDA-RMA states that "For crop insurance purposes, a cover crop is a crop generally recognized by agricultural experts as agronomically sound for the area for erosion control or other purposes related to conservation or soil improvement." PRO-DAIRY specialists Joe Lawrence and Karl Czymmek and Dr. Quirine Ketterings, Professor and Director of Cornell Nutrient Management Spear Program have
released a letter
stating "Corn on Prevented Planting acres meets these objectives."