Calf & Heifer Congress 2017 - "Rising Above the Challenges"
Jerry Bertoldo, Dairy
Northwest New York Dairy, Livestock & Field Crops
March 6, 2018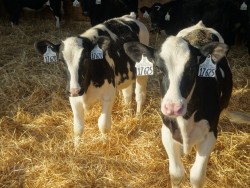 This years conference will feature two topics of particular interest in the world of dairy replacements - heifer reproduction and
Salmonella dublin
. In addition, heifer growth strategies, economics of the heifer enterprise, vaccines and immunity, the microbiome and calf disease management.
Julio Giordano, DVM - Understanding the Basics of Repro Physiology (pdf; 1566KB)
for Successful Reproductive Management
Julio Giordano, DVM - Impact of First Service Management Programs on the (pdf; 2330KB)
Performance and Economics of Heifers
Heather Huson, PhD - Genetic Considerations for Heifer Fertility (pdf; 805KB)
Michael Overton, DVM - A Few Economic & Management Considerations (pdf; 573KB)
Michael Ballou, PhD - Nutritional Strategies to Improve the Health and (pdf; 577KB)
Performance of Dairy Calves
Jessica Rauba - Relationships between Protein and Energy (pdf; 249KB)
Belinda Thompson, DVM - Salmonella dublin - Who, What, When, Where & Why (pdf; 357KB)
Belinda Thompson, DVM - Salmonella dublin - Risk Factors and Control Measures (pdf; 361KB)
Danielle Mzyk, DVM - Treatment of calf Disease: The Next Paradigm Shift (pdf; 722KB)
Derek Foster, DVM - Immunology, Vaccines, and Prevention of Salmonella (pdf; 743KB)
Bill Stone, DVM - Using Feed Additives to Alter the Microbiome & Improve (pdf; 801KB)
Sue Puffenbarger - A Consultant's Tips to Preventing Diseases (pdf; 1382KB)
Calf & Heifer Congress - 2017 Proceeding Booklet (pdf; 17930KB)
Upcoming Events
NWNY Dairy Day 2022
December 6, 2022
Batavia, NY
REGISTRATION NOW OPEN!
Theme: The Future of Your Dairy's Youngstock

The NWNY Dairy, Livestock and Field Crops team will be holding it's first "Dairy Day" this December! We will be bringing the latest in dairy research to you with this in-person, 1-day conference.

2023 Corn Congress - Batavia, NY

January 5, 2023
Batavia, NY
Registration is now open for the 2023 Corn Congress - January 5 & 6, 2023
2023 Corn Congress - Waterloo, NY

January 6, 2023
Waterloo, NY
Registration is now open for the 2023 Corn Congress - January 5 & 6, 2023
Announcements
The NWNY Team Blog
Our goal for
this blog
is to share with farmers and allied industry professionals, technical and applicable resources regarding all aspects of dairy farming, livestock and small farms, field crops and soils, and topics related to farm business management and precision agriculture.

The blog will feature Crop Alerts, Dairy Alerts, Bilingual (Spanish) Resources, Upcoming Events and more from our team members. This blog is free for everyone to use, explore and enjoy. When new material is published, subscribers will receive an email notification.

We hope you enjoy this new platform, and are looking forward to engaging with you in the future!