Transitioning from Conventional to Organic Production for the CSW Rotation
John Hanchar, Farm Business Management Specialist
Northwest New York Dairy, Livestock & Field Crops
January 10, 2018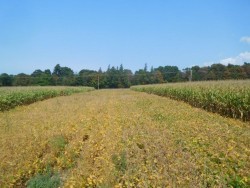 Summary
A multiyear agronomic study of conventional and organic CSW cropping systems, including transition period agronomics, provided data for an economic analysis designed to identify the optimal crop sequence for the conventional to organic transition period.
Net Present Value (NPV) analysis of a feasible set of crop sequences for the CSW cropping system, rotation during the transition period yielded the following optimal sequence, where acres are allocated equally among corn, soybean, wheat annually

Conventional corn as an entry crop for the transition period precedes organic red clover which precedes organic corn
Conventional soybean as an entry crop for the transition period precedes organic corn which precedes organic soybean
Conventional small grain, barley as an entry crop for the transition period precedes organic soybean which precedes organic wheat/red clover

Growing conditions to date for the multiyear agronomic study comparing a conventional to an organic CSW cropping system affected results.
Transitioning from Conventional to Organic Production for a CSW Rotation (pdf; 151KB)
View this article for a detailed description of the economic analysis.
Upcoming Events
Webinar-Challenges and Opportunities of Managing Transition Cows on AMS
June 1, 2023
Please join MSU Extension and Cornell Cooperative Extension Regional Teams for our talk with Pete Maslyn of Hemdale Dairy and Todd Ward of Direct Dairy Nutrition Services on managing transition cows on automated milking systems (AMS).
2023 Dairy Nutrition & Management Shortcourse
June 5 - June 9, 2023
Chazy, NY
This course is designed primarily for early career nutritionists and allied industry professionals seeking a more comprehensive foundation in the principles of dairy cattle nutrition and their application within dairy herd management.
Agritourism Workshops Monthly! - Agritourism Pricing Workshop
June 20, 2023
Are you thinking of starting an agritourism business or are you currently operating one?

Join our monthly lunch-hour, workshop virtual series and learn how to grow your agritourism business!
Each session will focus on specific topic to help aspiring agritourism entrepreneurs grow their knowledge and profit through this exciting on-farm business.

Cost: Free to attend, but registration required!

Announcements
Follow us on Instagram
See photos and reels of our most recent events and programs!
Join us on Facebook!
Follow us on Facebook to get up to date posts about events, workshops and everything NWNY!
Add us on LinkedIn!
Connect with us on LinkedIn to get more information about upcoming workshops and programs!
Watch us on YouTube
Watch instructional videos from specialists in the field!
Subscribe for Emails about Events & Workshops!