How Do I Find Alternative Water on My Farm?
Nancy Glazier, Small Farms & Livestock
Northwest New York Dairy, Livestock & Field Crops
March 1, 2013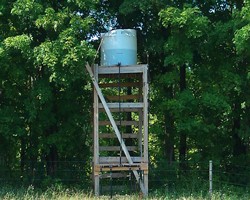 Does that remind you of last summer? Did you run out? The NWNY region is rich with water; the obstacle is getting it to where you need it. New York is home to 0.3% of the world's population with 2.0% of the world's surface water with roughly 8,000 freshwater lakes! Climate trends are pointing to longer growing seasons, so crops will need additional water. There will also be an increasing number of heavy rainfall events, and wetter spring seasons2. The water will be there, but management may need to be adjusted to meet the farm's needs.
Over the winter I had questions and comments about farms' water supplies for grazing. Some farm wells went dry so alternative sources needed to be developed. Here is a brief overview of some options. If you think of others, let me know!
First, think of conservation. Fix leaks, reduce spills, make sure water troughs are level. Keep livestock cool with shade, or bring them back to the barn during the mid-day heat. Utilize pastures early, late and overnight. Have plenty of water available at the barn so they get their fill before heading out to pasture.
You will need to estimate the amount of water needed by your animals. When temperatures are cool, pastures are lush, water consumption will be lower. As the temperatures climb and plants dry out consumption increases. Don't let water be your limiting factor to production! Quality is critical; some water in our area is very hard and can disrupt intake and metabolism. And, regardless of source, the water still needs to get to the animals. Ideally, an alternative source can be connected to your existing water lines.
A quick fix would be a water wagon. If your current source is low, water can be hauled from a municipal well or other source. It can be hauled to a remote pasture that is used only occasionally. Hauling is time-consuming.
I have talked with a couple of farms that are planning to install ponds as a water source. They can be collection basins for springs or rainfall. Placement and sizing is important, as well as soils and subsoils. Depending on the topography of your farm, proper placement would allow gravity flow to stock tanks. A small solar-powered or gas-powered pump can get the water to where it needs to go. Water could be pumped to a storage tank then gravity-fed.
Is there a spring on the farm that could be developed? This is another option. A spring can form when a fracture occurs in an impervious rock layer. Water will seep out of the aquifer, through the crack and reach the ground until the aquifer level drops below the ground outlet. Springs can be collected into a pond or catch area then pumped to where water is needed.
If you are fortunate enough to have a stream on the farm, maybe that is a source. Some waterways can have seasonal flow so use may be limited. Remember to limit livestock access or pump from the stream to prevent erosion and contamination problems.
Maybe it is time to drill a new well. Again, placement is critical; it may be worthwhile drilling in a remote location or at the farmstead. A power source is needed to pump the water.
Contact the experts for assistance! Your county Soil & Water Conservation District or Natural Resources Conservation Service can help! Well drillers or dowsers can assist with placement.
As weather patterns shift and our climate changes, maybe the future will point to pasture irrigation.
1Rime of the Ancient Mariner, by Samuel Taylor Coleridge.
2Report 11-18 Response to Climate Change in New York State, http://www.nyserda.ny.gov/climaid
Upcoming Events
2019 Corn Silage Pre-Harvest Workshop - Penn Yan
September 17, 2019
10:00am to Noon
Penn Yan, NY
Corn silage harvest is drawing near. The way corn silage is harvested and stored is a single event that affects your operation for the entire next year. Are you prepared to set your operation up for success?
Ontario County Fun on the Farm
September 21, 2019
11:00 am- 4:00 pm
Seneca Castle, NY
Fun on the Farm works to educate non-farm public and our neighbors about agriculture around them. It is fun and educational.
Fun on the Farm attracts thousands of people and gives us the opportunity to communicate to the community the benefits of the agricultural production in Ontario County, the state, and the nation.
The event is free! There are many agricultural products that are available to be sampled. It is the perfect place to try that product you have seen in the store but didn't want to commit to purchasing.
Food is available to purchase for lunch. It is provided by a local service group.
Bovine Reproduction and AI Training Course
September 24 - September 25, 2019
9:30am - 3:30pm
Shortsville, NY
**CLASS IS FULL**
This two-day AI workshop will be held on September 24 and 25.
Topics covered will include:

• Reproductive Physiology
• Synchronization Protocols
• Heat Detection
• Artificial Insemination
• Proper Thawing of Semen
• Loading A.I. guns
• Practice Breeding Cows
Announcements
Preventing Sexual Harassment on Farms
If you're wondering how to get your farm business in compliance with NYS Sexual Harassment Regulations, you've come to the right place.
The 2018 New York State budget included new regulations addressing sexual harassment in the workplace that became effective on October 9, 2018 for all New York employers, including agricultural employers. All employers are required to have a sexual harassment prevention policy and to provide annual, interactive sexual harassment prevention training for all employees. Check out the resources developed by Cornell Ag Workforce Development, including step-by-step instructions and farm-friendly training videos.
RMA Announces Additional One-time Changes to Prevented Planting Provisions
June 29, 2019
RMA Announces Additional One-time Changes to Prevented Planting Provisions
for 2019 Crop Year
In response to delayed and prevented planting resulting from above average rainfall and wetness, the USDA Risk Management Agency has made a one-time change to the 2019 crop year prevented planting rules that effectively allows silage corn, if planted as a cover crop following local agricultural expert guidelines, to be acceptable as a post-prevented planting cover crop. Under this one-time rule change, producers are allowed to produce this crop while retaining their prevented planting payment. This change couples with previously announced one-time changes to the prevented planting rules - including expanded acceptable uses for post-prevented planting cover crops and a change in the cover crop haying and grazing start date rule - serve to help those struggling to meet their forage needs due to the weather.
Read the full article
from the New York Crop Insurance Education Program.
The USDA-RMA states that "For crop insurance purposes, a cover crop is a crop generally recognized by agricultural experts as agronomically sound for the area for erosion control or other purposes related to conservation or soil improvement." PRO-DAIRY specialists Joe Lawrence and Karl Czymmek and Dr. Quirine Ketterings, Professor and Director of Cornell Nutrient Management Spear Program have
released a letter
stating "Corn on Prevented Planting acres meets these objectives."