Calf & Heifer Congress 2016 - "Laying the Foundation for Top Herd Performance"
Jerry Bertoldo, Dairy
Northwest New York Dairy, Livestock & Field Crops
March 27, 2017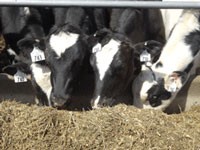 The 2016 conference explored genomics, the early life impact on milk production, calving assistance, preventing disease outbreaks, tools for battling respiratory disease, trace mineral and immunity, antibiotic strategies, feeding older heifers, inspiring workers, biofilms and what great calf operations look like.
Chris Rossiter Burhans, VMD (pdf; 71KB)
Leading by Example: A Virtual Tour of Well-Managed Calf & Heifer Operations
Calf & Heifer Congress 2016 – Virtual Tour (pdf; 270KB)
Woodsway Farm – Custom Calf Raisers
Calf & Heifer Congress 2016 – Virtual Tour (pdf; 247KB)
Breezy Hill Dairy – The Almeter Family, "Timing and Logistics Are Everything"
Laura Daniels - 5 Tips for Inspiring Your Team (pdf; 186KB)
Jonathan Lamb - Application of Genomic Technology in Dairy Herds (pdf; 8677KB)
Sam Leadley - Rescuing Calves from Poor Sanitation: Biofilm Basics (pdf; 254KB)
Sam Leadley - Monitoring Sanitation Procedures A Checklist (pdf; 146KB)
Sam Leadley - Washing Milk Containers (pdf; 136KB)
Harry Momont, DVM - Best Practices for Calving Assistance (pdf; 983KB)
Danielle Mzyk, DVM/PhD candidate (pdf; 960KB)
Antibiotic Use and Considerations in Calves and Heifers
Theresa Ollivett, DVM - Respiratory Disease: Diagnostic Tools (pdf; 3377KB)
Theresa Ollivett, DVM (pdf; 2575KB)
Preventing Disease Outbreaks: Records, Oversight
Roberto Palomares, DVM (pdf; 155KB)
Role of Trace Minerals in Active Immunity & Respiratory Vaccine Effectiveness
Sue Puffenbarger - Auto Feeder Key Points for Success (pdf; 58KB)
Fernando Soberon - LifeStart: The Science Behind the Concept (pdf; 71KB)
Mike Van Amburgh - (pdf; 1179KB)
Weaning and Post-weaning Management of Calves and Heifers for Optimizing Long-term Productivity
Calf & Heifer Congress - 2016 Proceedings Boolet (pdf; 36968KB)
Upcoming Events
NWNY Dairy Day 2022
December 6, 2022
Batavia, NY
REGISTRATION NOW OPEN!
Theme: The Future of Your Dairy's Youngstock

The NWNY Dairy, Livestock and Field Crops team will be holding it's first "Dairy Day" this December! We will be bringing the latest in dairy research to you with this in-person, 1-day conference.

2023 Corn Congress - Batavia, NY

January 5, 2023
Batavia, NY
Registration is now open for the 2023 Corn Congress - January 5 & 6, 2023
2023 Corn Congress - Waterloo, NY

January 6, 2023
Waterloo, NY
Registration is now open for the 2023 Corn Congress - January 5 & 6, 2023
Announcements
The NWNY Team Blog
Our goal for
this blog
is to share with farmers and allied industry professionals, technical and applicable resources regarding all aspects of dairy farming, livestock and small farms, field crops and soils, and topics related to farm business management and precision agriculture.

The blog will feature Crop Alerts, Dairy Alerts, Bilingual (Spanish) Resources, Upcoming Events and more from our team members. This blog is free for everyone to use, explore and enjoy. When new material is published, subscribers will receive an email notification.

We hope you enjoy this new platform, and are looking forward to engaging with you in the future!