Integrated Pest Management Guide for Organic Dairies- Spanish & English
Libby Eiholzer, Bilingual Dairy
Northwest New York Dairy, Livestock & Field Crops
February 9, 2017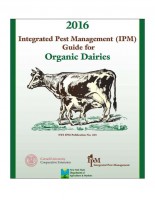 The Integrated Pest Management Guide for Organic Dairies is now available in English and Spanish from the New York State Integrated Pest Management Program. El
Guía del Manejo Integrado de Plagas (MIP) Para los Ranchos Orgánicos ya es disponible en inglés y español del Programa de Manejo Integrado de Plagas del Estado de Nueva York.
English-
http://hdl.handle.net/1813/42899
Español- http://hdl.handle.net/1813/46203
This guide provides an outline of practices for the management of external arthropod pests such as flies, lice, mites and grubs on organic dairy farms. Left uncontrolled, these pests negatively impact animal health and production.
Esta referencia provee una guía para el manejo de los artrópodos que son plagas externas del ganado vacuno en ranchos lecheros orgánicos como las moscas, los piojos, los ácaros, y las larvas de dipteros. Sin control, estas plagas tienen un impacto negativo en la salud y producción animal.
Upcoming Events
NWNY Dairy Day 2022
December 6, 2022
Batavia, NY
REGISTRATION NOW OPEN!
Theme: The Future of Your Dairy's Youngstock

The NWNY Dairy, Livestock and Field Crops team will be holding it's first "Dairy Day" this December! We will be bringing the latest in dairy research to you with this in-person, 1-day conference.

2023 Corn Congress - Batavia, NY

January 5, 2023
Batavia, NY
Save the Date for 2023 Corn Congress - January 5 & 6, 2023
2023 Corn Congress - Waterloo, NY

January 6, 2023
Waterloo, NY
Save the Date for 2023 Corn Congress - January 5 & 6, 2023
Announcements
The NWNY Team Blog
Our goal for
this blog
is to share with farmers and allied industry professionals, technical and applicable resources regarding all aspects of dairy farming, livestock and small farms, field crops and soils, and topics related to farm business management and precision agriculture.

The blog will feature Crop Alerts, Dairy Alerts, Bilingual (Spanish) Resources, Upcoming Events and more from our team members. This blog is free for everyone to use, explore and enjoy. When new material is published, subscribers will receive an email notification.

We hope you enjoy this new platform, and are looking forward to engaging with you in the future!