Balancing Livestock and Forage to Thrive Past the Drought
Joan Sinclair Petzen, Farm Business Management
Northwest New York Dairy, Livestock & Field Crops
September 12, 2016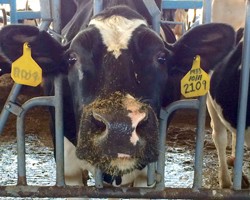 Take a critical look and evaluate the feeding and production strategies employed at your farm to see if they are still the best way to achieve your income goals. The first step is to determine the nutrient needs of each group of livestock and in total. Next is to estimate the amount of home grown nutrients available toward meeting that need. Most farms in the region already rely on purchasing some nutrients in the form of grain for their livestock and are likely to need to increase those purchases.
If you find you will be short of feed with your present strategy, there are a number of alternatives to consider for bringing your feed and livestock into balance.
Increase the proportion of grain to forage in the ration. This is most viable when grain prices are low relative to forage and you have plenty of forage in the ration already. With this alternative, it is important to be certain you are meeting the fiber requirements of the cow.
Purchase forage from a neighbor or outside the region. When purchasing forage, quality is a very important consideration. Know what you are getting from a quality perspective. A nutrient dense feed may come with a hefty price tag but it may be less costly per pound of nutrients than a less expensive feed harvested past its prime. Your network is important now. Keep in touch with others in the industry to learn who might have extra feed they are willing to sell either from their storage or standing in the field. With low grain prices, grain producers might be willing to sell their corn to you for forage rather than combining it.
Planting a winter annual grains for forage and harvesting it in the early spring can be employed to boost early spring forage yields. Adequate soil moisture for germination this fall and timely establishment will maximize yields early next spring to help bring your forage inventory back in balance with herd demands.
For grazers, keeping watch of your pasture and tightening up the grazing interval as you reintroduce cattle to the pastures once grass starts growing again will give more time for recovery and strengthening of the pasture plants going into the coming winter. An application of nitrogen as pastures green up again will help stimulate fall regrowth and lengthen your grazing season once moisture levels increase. If you are forced to graze tight in the fall you will need to plan for slower starting pastures in the spring.
Consider boarding youngstock with someone who has adequate forage. You might need to look outside the local area to find a heifer grower who has the feed enough to accommodate your heifers.
Culling the herd heavily may be necessary if inventories are critically low and additional quality forage is not available. To maximize forage savings, make and execute culling decisions sooner rather than later to minimize the number of livestock you need to liquidate to stay within the confines of your forage inventory. Remember, the younger animals are, the less impact culling them will have on conserving forage. You also want to be certain you have replacements in the pipeline to bring the milking string back to full force once your forage inventories are stabilized Establish criteria for aggressive culling and monitor livestock and forage inventories frequently to be certain you have enough feed to carry your herd through to the next harvest season. Our colleagues across the state have developed a couple of resources to help with culling criteria.
The first is an article by Ron Kuck that discusses management options for different groups of livestock:
https://s3.amazonaws.com/assets.cce.cornell.edu/attachments/17085/Dairy_Cattle_Management_Strategies_and_Opportunities_in_a_Drought.pdf?1470667611.
The second is a spreadsheet that illustrates the contribution a cow makes toward fixed costs at different milk prices and production levels:
http://nwnyteam.cce.cornell.edu/submission.php?id=589&crumb=forages|2
(called culling guide)
Taking a pro-active approach will help you position your livestock enterprise to thrive after the drought. Managing feed inventories and livestock numbers is a delicate dance but the effort you put into it will pay dividends in added returns for your business.
Upcoming Events
NWNY Dairy Day 2022
December 6, 2022
Batavia, NY
REGISTRATION NOW OPEN!
Theme: The Future of Your Dairy's Youngstock

The NWNY Dairy, Livestock and Field Crops team will be holding it's first "Dairy Day" this December! We will be bringing the latest in dairy research to you with this in-person, 1-day conference.

2023 Corn Congress - Batavia, NY

January 5, 2023
Batavia, NY
Save the Date for 2023 Corn Congress - January 5 & 6, 2023
2023 Corn Congress - Waterloo, NY

January 6, 2023
Waterloo, NY
Save the Date for 2023 Corn Congress - January 5 & 6, 2023
Announcements
The NWNY Team Blog
Our goal for
this blog
is to share with farmers and allied industry professionals, technical and applicable resources regarding all aspects of dairy farming, livestock and small farms, field crops and soils, and topics related to farm business management and precision agriculture.

The blog will feature Crop Alerts, Dairy Alerts, Bilingual (Spanish) Resources, Upcoming Events and more from our team members. This blog is free for everyone to use, explore and enjoy. When new material is published, subscribers will receive an email notification.

We hope you enjoy this new platform, and are looking forward to engaging with you in the future!