Pricing Corn Silage - Fall 2016
John Hanchar, Farm Business Management
Northwest New York Dairy, Livestock & Field Crops
September 9, 2016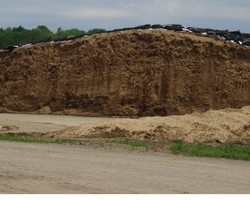 Determining Corn Silage Price
A farm business owner can examine how much corn silage he/she would be willing to supply to a market at a given price. Analysis of the farm business' cost structure for corn silage production combined with consideration of other factors help to define the supply relationship. A seller can develop a target based upon the above, but actual market conditions provide no guarantee that a buyer will purchase quantities desired at a price that achieves the producer's cost target.
Some farm business owners might approach the problem of determining corn silage price from a value in production, or input demand perspective. Amounts of corn grain and corn stover in a ton of corn silage, relevant prices, and corn silage's place in the milk production process are key variables. A buyer can develop a price target based upon the above, but actual market conditions provide no guarantee that a producer will sell the quantity desired at a price that matches the buyer's willingness to pay.
Although factors in price determination, the two approaches described above in isolation, don't completely determine price and quantity. Supply and demand relationships work simultaneously in markets to determine price and quantity. Empirical price analysis brings supply and demand relationships together to determine price.
Corn Silage Price Analysis
Empirical price analysis suggests that corn silage price is a function of corn silage quantities, alfalfa hay price, the price received by farmers for milk sold, and corn grain price. The ordinary least squares regression model here expresses corn silage price as a linear function of the above variables. The analysis is somewhat rough, elementary. However, readers of the original August 2012 article describing this work and readers of annual update articles note that the analysis and estimates generated help farm business owners price corn silage.
Corn Silage Price Estimates - Fall 2016
The ordinary least squares regression model reported in August 2012, updated here to reflect additional data available to date and changes in other underlying factors, including NYS drought conditions for 2016, produced corn silage price estimates for NY. Below, estimated corn silage price is a function of alfalfa hay price and corn grain price with other factors (corn silage production and milk price) fixed at expected levels. Expected corn silage quantity is set at 7,597,000 tons, 1 standard deviation below the average of 8,214,000 tons for the period 1991 through 2014. During this period, 16 percent of production observations fell below 7,597,000.
Estimated corn silage price ($/ton) = 11.189 + (0.185 x price of alfalfa hay ($/ton)) + (3.049 x price of corn ($/bushel))
Suppose
NY alfalfa hay price is $200 per ton, June 2016. (USDA/NASS. Agricultural Prices. Washington, DC: National Agricultural Statistics Service. July 29, 2016.), and
Corn grain price is $4.00 per bushel (Western NY Energy. "Corn Bids." August 9, 2016. Approximate value based upon reported bids for Fall 2016.)
Using the estimating equation and the above prices for alfalfa hay and corn grain, estimated corn silage price is about $60 per ton. Compare this to last fall's estimate of about $50 per ton. Suppose alfalfa hay price is $200 per ton and expected statewide corn silage production is 7,906,000 tons, 0.5 standard deviations below the mean. Then, estimated corn silage price would be $56 per ton. Buyers and sellers use an estimate as a base, typically, adjusting for quality and, or costs for harvest, hauling and storage based upon the situation, for example, when pricing standing corn for silage.
Corn silage price estimates combined with understanding of relevant supply and demand factors from the individual farm business owner's perspective, including local conditions, for example, effects of drought which can be local in nature, can aid decision making regarding corn silage price.
Upcoming Events
Weed Resistance Management Demonstration and Plot Tour

July 23, 2019
1:00 - 3:00 p.m.
Waterloo, NY
Come join us on July 23 in Seneca County at Quinten Good's farm for a demonstration and walking tour of 16 different pre- and post-emergence treatments in soybean and 12 different treatments and combinations in corn.
Tall waterhemp and marestail are two weeds that are resistant to glyphosate and ALS herbicide modes of action in the WNY and Finger Lakes regions.
Each year the number of acres with resistant weed populations expands.
For herbicides to be an effective tool in weed management, we have to know what chemistries & application timings are most effective against these resistant weeds.
Income and Real Property Tax Primer-A Learning Circle for Women Non-Operating Land Owners of Ag Land
July 24, 2019
9:00 am - 3:00 pm
Portageville, NY
For many of us taxes can be a mystery, let's have a conversation with the experts about the tax considerations agricultural landowners need to think about.
Pasture Walk with the Finger Lakes Graziers-Cancelled!
July 29, 2019
12:45 - 4 pm
The Finger Lakes Graziers pasture walk has been cancelled due to some scheduling conflicts.
Announcements
RMA Announces Additional One-time Changes to Prevented Planting Provisions
June 29, 2019
RMA Announces Additional One-time Changes to Prevented Planting Provisions
for 2019 Crop Year
In response to delayed and prevented planting resulting from above average rainfall and wetness, the USDA Risk Management Agency has made a one-time change to the 2019 crop year prevented planting rules that effectively allows silage corn, if planted as a cover crop following local agricultural expert guidelines, to be acceptable as a post-prevented planting cover crop. Under this one-time rule change, producers are allowed to produce this crop while retaining their prevented planting payment. This change couples with previously announced one-time changes to the prevented planting rules - including expanded acceptable uses for post-prevented planting cover crops and a change in the cover crop haying and grazing start date rule - serve to help those struggling to meet their forage needs due to the weather.
Read the full article
from the New York Crop Insurance Education Program.
The USDA-RMA states that "For crop insurance purposes, a cover crop is a crop generally recognized by agricultural experts as agronomically sound for the area for erosion control or other purposes related to conservation or soil improvement." PRO-DAIRY specialists Joe Lawrence and Karl Czymmek and Dr. Quirine Ketterings, Professor and Director of Cornell Nutrient Management Spear Program have
released a letter
stating "Corn on Prevented Planting acres meets these objectives."
New Guidance for Mortality Disposal Issued
NYS Department of Ag and Markets has posted guidelines on disposal of livestock carcasses, in response to reports that some rendering companies have halted pickups from farms.
https://nwnyteam.cce.cornell.edu/submission.php?id=761&crumb=dairy|1