Implementing Biosecurity on Dairy Farms
Jackson Wright, Dairy
Northwest New York Dairy, Livestock & Field Crops
March 1, 2013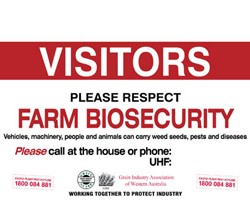 Moreover, biosecurity can be somewhat intangible because it is often referred to in the context of a catastrophic event such as an outbreak of foot and mouth disease (FMD). However, New York State is currently experiencing an increased incidence in Salmonella Dublin. Salmonella Dublin is a bacteria that generally manifests itself as respiratory disease in calves and can cause permanent lung damage. In addition, Salmonella Dublin is a zoonotic disease which means that it can spread from cows to humans. This recent outbreak should act as a reminder of the importance of implementing biosecurity principles into our daily practices.

To practically incorporate biosecurity on dairy farms, it's important to understand how diseases spread. Many diseases spread through the fecal-oral route, or in other words when cows ingest manure. As a result employees should avoid walking in animal feed if their boots are contaminated with manure. Similarly, equipment should be designated to handle only feed or only manure. In addition, calves are the most vulnerable animals on the farm; therefore, implementing, a boot wash before entering any calving facilities or calf barns can be a practical solution. Being conscious of this route of infection should be the first step in implementing biosecurity.

Taking this a step further, many biosecurity plans involve the RITS principle. RITS is an acronym for Resistance/Recognition, Isolation, Traffic Control, and Sanitation. Resistance involves implementing a proper vaccination program. This should be developed with help from your herd veterinarian. Along with resistance it's important to realize that cows are constantly being bombarded with pathogens. Usually the cow's immune systems can keep these pathogens in check; however you can tip the balance in favor of the pathogens if animals are exposed to a high pathogen load or if animals are under stress. Stress factors such as overcrowding, heat stress, or facilities lacking in cow comfort can suppress the immune response, allowing pathogens to proliferate and cause disease. This can be a vicious cycle because once animals actively show disease symptoms they are usually simultaneously shedding the disease into the environment, increasing pathogen load and perpetuating the cycle. It's also important to quickly recognize an outbreak, meaning if multiple animals are showing signs of disease action should be taken to minimize the spread of disease. Often this requires advice from your herd veterinarian and leads me to the "I" in RITS or isolating infected animals. If you are not maintaining a "closed" herd, purchased animals should come with vaccination records and test negative for Johnes, Leukosis, and Salmonella Dublin. New arrivals should be placed in isolation for at least two weeks to prevent any new disease from being introduced to the herd.

This can be difficult to implement but recognize that new arrivals are generally under a lot of stress from transportation and experiencing a new environment. Therefore, should they be a carrier animal they will likely begin actively shedding a disease into the environment. If they are a healthy animal they will likely be more susceptible to new infections because their immune system is suppressed. The "T" involves traffic control. Employees should move from the youngest animals to older animals, working from healthy animals to sick animals. This movement pattern reduces the pathogen load for healthy animals. Traffic control also includes visitors to the farm. Visitors should have a clear parking area that directs them to an employee or a manager who can facilitate their movement around your facility. Worst case scenario is when visitors can access any part of your operation, petting lactating cows and then visiting the calf barn to have the baby calves suck on their hands. This poses a threat to the health of your calves and a threat to the health of the visitor because calves can carry several zoonotic diseases, including cryptosporidium. Finally, this leads me to the "S" or sanitation. People who care for sick animals should change clothes before working with healthy animals or calves. They should also be provided with a hand washing station or hand sanitizer. This provides protection to both other animals and to your employees.


Upcoming Events
NWNY Dairy Day 2022
December 6, 2022
Batavia, NY
REGISTRATION NOW OPEN!
Theme: The Future of Your Dairy's Youngstock

The NWNY Dairy, Livestock and Field Crops team will be holding it's first "Dairy Day" this December! We will be bringing the latest in dairy research to you with this in-person, 1-day conference.

2023 Corn Congress - Batavia, NY

January 5, 2023
Batavia, NY
Save the Date for 2023 Corn Congress - January 5 & 6, 2023
2023 Corn Congress - Waterloo, NY

January 6, 2023
Waterloo, NY
Save the Date for 2023 Corn Congress - January 5 & 6, 2023
Announcements
The NWNY Team Blog
Our goal for
this blog
is to share with farmers and allied industry professionals, technical and applicable resources regarding all aspects of dairy farming, livestock and small farms, field crops and soils, and topics related to farm business management and precision agriculture.

The blog will feature Crop Alerts, Dairy Alerts, Bilingual (Spanish) Resources, Upcoming Events and more from our team members. This blog is free for everyone to use, explore and enjoy. When new material is published, subscribers will receive an email notification.

We hope you enjoy this new platform, and are looking forward to engaging with you in the future!