Fall Forages
Nancy Glazier, Small Farms & Livestock
Northwest New York Dairy, Livestock & Field Crops
September 8, 2016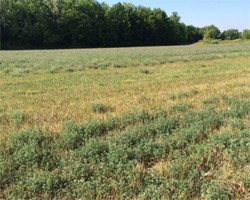 Alfalfa.
Looking at fourth cutting? How desperately do you need the forage? Some recent research out of Quebec shows that alfalfa needs at least 500 growing degree days (GDDs base 40 degrees) after the last cutting OR less than 200 GDDs prior to a killing frost (25 degrees) for winter survival. Also, forage quality doesn't change as quickly in September, so waiting another week before harvesting will not have much impact on quality. Weigh the risks of taking the cut with the age of the stand in mind. To run some scenarios looking at GDDs, check out
http://newa.cornell.edu/
. Take a look at some historical data under Weather Data to help make your decisions. Looking at Rochester for the past two years showed 694 GDDs in 2014 and 837 in 2015. Accumulations drop off significantly in October, so weigh the risks with the needs.
Don't forget the importance of good fertility, especially potassium, heading into winter. Adequate potassium is needed in early fall to store energy reserves for winter survival. Some regrowth will help to catch winter snow to hold it for protection and moisture. Fields will need early spring assessment of stand survival.
If some timely rains arrive, an additional 50 lbs. actual nitrogen will help provide a yield boost for grass fields or pastures.
Pastures.
Don't jump the gun on getting back to grazing. Some farms are experiencing some regrowth and are patiently waiting, while others are not. Best to give them time to grow to 8-10 inches. Don't overgraze unless you are planning to open things up for a March frost seeding. Fall is the best time to plan for that with either short mowing or close grazing. Another option may be to stockpile for dormant grazing. Even then it is still critical not to overgraze.
Hay supplies.
The USDA's National Drought Mitigation Center states as of August 9th 17% of the hayland across the country is impacted by drought. According to Progressive Forage website under News, for the first week of August hay supplies generally exceeded demand. This was lower-quality hay with many areas reporting little dairy quality. Supplies are variable across the state. Locally, many hay sellers are taking care of repeat customers now and hanging on to the rest.
Hay is out there, you'll need to find it and secure enough to get you through the winter feeding season. There are many sellers with listings on the internet. One site that has a listing state by state is
http://www.hayexchange.com
/. The listings appear to be current; descriptions (alfalfa, timothy, etc.) with prices listed. Another option is
https://www.haycountry.com
/. Prices on these two sites run $200-225/ton. There are also auctions in the region. Finger Lakes Produce Auction has sales every Friday at noon, Finger Lakes Livestock Exchange will hold hay and straw auctions on Wednesdays at 10 am starting in October.
Food for Thought.
Keeping the ground covered through the winter is critical, too. Cover crops or winter small grains capture nutrients to hold them for next year's growing season.
Upcoming Events
Weed Resistance Management Demonstration and Plot Tour

July 23, 2019
1:00 - 3:00 p.m.
Waterloo, NY
Come join us on July 23 in Seneca County at Quinten Good's farm for a demonstration and walking tour of 16 different pre- and post-emergence treatments in soybean and 12 different treatments and combinations in corn.
Tall waterhemp and marestail are two weeds that are resistant to glyphosate and ALS herbicide modes of action in the WNY and Finger Lakes regions.
Each year the number of acres with resistant weed populations expands.
For herbicides to be an effective tool in weed management, we have to know what chemistries & application timings are most effective against these resistant weeds.
Income and Real Property Tax Primer-A Learning Circle for Women Non-Operating Land Owners of Ag Land
July 24, 2019
9:00 am - 3:00 pm
Portageville, NY
For many of us taxes can be a mystery, let's have a conversation with the experts about the tax considerations agricultural landowners need to think about.
Pasture Walk with the Finger Lakes Graziers-Cancelled!
July 29, 2019
12:45 - 4 pm
The Finger Lakes Graziers pasture walk has been cancelled due to some scheduling conflicts.
Announcements
RMA Announces Additional One-time Changes to Prevented Planting Provisions
June 29, 2019
RMA Announces Additional One-time Changes to Prevented Planting Provisions
for 2019 Crop Year
In response to delayed and prevented planting resulting from above average rainfall and wetness, the USDA Risk Management Agency has made a one-time change to the 2019 crop year prevented planting rules that effectively allows silage corn, if planted as a cover crop following local agricultural expert guidelines, to be acceptable as a post-prevented planting cover crop. Under this one-time rule change, producers are allowed to produce this crop while retaining their prevented planting payment. This change couples with previously announced one-time changes to the prevented planting rules - including expanded acceptable uses for post-prevented planting cover crops and a change in the cover crop haying and grazing start date rule - serve to help those struggling to meet their forage needs due to the weather.
Read the full article
from the New York Crop Insurance Education Program.
The USDA-RMA states that "For crop insurance purposes, a cover crop is a crop generally recognized by agricultural experts as agronomically sound for the area for erosion control or other purposes related to conservation or soil improvement." PRO-DAIRY specialists Joe Lawrence and Karl Czymmek and Dr. Quirine Ketterings, Professor and Director of Cornell Nutrient Management Spear Program have
released a letter
stating "Corn on Prevented Planting acres meets these objectives."
New Guidance for Mortality Disposal Issued
NYS Department of Ag and Markets has posted guidelines on disposal of livestock carcasses, in response to reports that some rendering companies have halted pickups from farms.
https://nwnyteam.cce.cornell.edu/submission.php?id=761&crumb=dairy|1