Soybean Variety Yield Tests 2012 - 2010
Mike Stanyard, Team Leader, Field Crops
Northwest New York Dairy, Livestock & Field Crops
Last Modified: May 6, 2013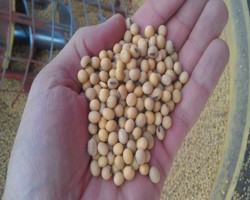 Roundup Ready varieties in Maturity Groups I and II were planted at the Aurora Research Farm in Cayuga Co., Neenan Brothers Farm at Lima in Livingston Co., and the Miner Institute at Chazy in Clinton Co. The Aurora and Lima sites, which are in central/western NY, average about 2450 growing degree days (GDD, 86-50o system) from May through September; whereas the Chazy site in Northern NY averages about 2150 GDD. All seed companies that are known to be distributing soybeans in New York were invited to enter their selections in the tests for a modest fee. The seed companies chose either two or three sites to test their varieties.
The April-May period was warm and dry in upstate NY, which allowed for timely planting at all sites. We planted Group I and Group II entries in separate tests at Aurora on 14 May, and Group I and Group II in separate tests at Lima on 24 May. At Chazy, Group I and II varieties were planted in the same test on 25 May. Each individual plot at all sites consisted of ten 20-ft. rows spaced 7 inches apart. Each entry was planted with small plot drill (6 foot wide Almaco) at seeding rates of 200,000 seeds/acre with four replications at each site. A randomized complete block experimental design was used for all tests. We used 22 fluid oz/acre of Roundup Touchdown about 5 weeks after planting for weed control at all sites. Aphid numbers and white mold incidence were low throughout the year at all sites. All varieties at all sites were monitored for phenological development beginning in late August and early September.
Yields were determined by harvesting an 18-foot section of the seven center rows (4.08 feet) of each plot at all sites with a small plot combine (Hege 140C). Plant height and lodging scores (1.0-5.0 rating with 1.0=no lodging and 5.0=complete lodging) were taken at harvest. The Group I test was harvested at Aurora on 13 September and the Group II test on 25 September. The Group I and II tests were harvested at Lima on 4 October; whereas the Group I/II test was harvested at Chazy on 25 October. The Hege plot combine does not have weighing capability so the entire plot sample was taken to the lab to determine plot weight and then sub-sampled to determine moisture. All yields were adjusted to 13% moisture. We used the ANOVA test to determine significance for yield, seed moisture, lodging score, and height. All means were separated by Fisher's protected LSD (0.05) when significance occurred.
RESULTS AND DISCUSSION
Growing Conditions
May and June were warm months with ample rainfall (Table 1), which allowed soybeans to grow rapidly and fill-in quickly during the early vegetative period. Unfortunately, weather conditions turned exceedingly dry and warm from 20 June until 15 July at Aurora and Lima. The early Group I varieties at both sites attained the R3 stage by 15-20 July, which may have negatively impacted pod set in those varieties. Weather conditions were warm and moist until mid-August during pod and seed set for the late Group I and early Group II varieties at both sites. Weather conditions turned dry again, however, for the remainder of August, especially at the Aurora site, which coincided with seed-fill for the late Group II varieties. Consequently, the late Group II varieties generally did not yield as well as the early Group II varieties at both sites, probably because of more stress during the critical seed-fill period in late August for the Group II varieties at both sites. At the Chazy site, cooler temperatures and timely precipitation resulted in mostly stress-free conditions for soybeans in this northern location (Table 1). All Group I varieties attained the R7.0 stage (physiological maturity) by 1 September, and all Group II varieties attained the R7.0 stage by 7 September at Aurora. At Lima, the Group I varieties attained the R7.0 stage by 7 September and all Group II varieties by 15 September.
2012 Soybean Report (pdf; 29KB)
Upcoming Events
Forage Congress
February 27, 2019
10:00 am - 3:30 pm
Mt. Morris, NY
Climate Smart Farming Decision Tools
Forage Quality to Reduce Purchase Concentrate Cost. N Management, Guidelines for Grass, Low Lignin Alfalfa, Harvest Schedule
Fiber Digestibility & Corn Silage Hybrid Evaluation Using Fiber & Starch Yields
Silage Fermentation
Inventory & Shrink
Producer Panel
MANURE APPLICATOR TRAINING - DEC Approved Training for CAFO Farms, register by 2/22/2019!
February 28, 2019
9 a.m. - 11 a.m. - Wyo Co Ag Bus Center, Warsaw and 1 p.m. - 3 p. m. Civil Def Bldg., Bath NY
This informational meeting is for all farm owners, family members, and employees who manage their farm's manure. All farms, regardless of size are encouraged to attend. This is a DEC approved Manure Applicator Training that is required for CAFO farms. A certificate will be provided to each farm that participates in the meeting.
Raising Healthy Livestock: The Basics of Feeding, Health, and Quality Care
March 2, 2019
10 am - 1 pm
Lockport, NY
Raising livestock can be a rewarding enterprise. There are many things to consider, including what to feed, how to keep them healthy and how to handle them. Cornell Cooperative Extension NWNY Dairy, Livestock & Field Crops Team is holding a workshop for livestock farmers to help address these topics.
Announcements
CDL Training Program For Agricultural Producers and their Employees ONLY
Cornell Cooperative Extension of Wyoming County, in collaboration with Genesee Valley BOCES, will be offering a CDL Training Program for both Class A and Class B licenses. This course is offered to Farm Owners, Operators, and their Employees ONLY.
Thursday, February 28, 2019, 7:00 PM - 9:00 PM (Informational Meeting)
Wednesday, March 6, 2019, 7:00 PM - 9:00 PM (Classroom)
Thursday, March 7, 2019, 7:00 PM - 9:00 PM (Classroom)
Cost:
Class A CDL=$ 750.00 (Enrolled in Ag Program)
Class A CDL =$ 800.00 (not enrolled in Ag Program).
Class B CDL=$ 600.00 (Enrolled in Ag Program)
Class B CDL =$ 650.00 (Not enrolled in Ag Program)
Checks payable to Cornell Cooperative Extension of Wyoming County
Held at CCE-Wyoming County., 36 Center Street, Warsaw, NY 14569
The informational meeting will be held the week before the CDL training session begins, to answer any questions you may have regarding this program and to pick up the required training materials and medical forms. To register, please contact Debra Welch at 585-786-2251 or email djw275@cornell.edu
Wyoming County Pride of Ag Dinner - N Java Fire hall, March 2nd
For more information about the event or to purchase tickets, please contact the Wyoming County Chamber of Commerce, 585.786.0307.
USDA to Host 2018 Farm Bill Implementation Listening Session
The listening session will be held Feb. 26, 2019 at 9:00 a.m. in the Jefferson Auditorium in the South Building located at 14th Street and Independence Ave. S.W. in Washington, D.C.
The listening session is open to the public. Participants must register at farmers.gov/farmbill by February 22, 2019, to attend the listening session and are encouraged to provide written comments prior to the listening session. For those orally presenting comments at the listening session, written comments are encouraged to be submitted to regulations.gov by February 22, 2019. Additional written comments will be accepted through March 1, 2019. Comments received will be publicly available on www.regulations.gov.
Three Free Digester Workshops offered through CCE St. Lawrence Co.
CCE of St. Lawrence County is offering three FREE workshops showcasing the research results from our feasibility study of anaerobic digester technology on small farms. The research was conducted by our partners at Clarkson University using the anaerobic digester at the Extension Learning Farm, which is fed both manure from a dairy operation and vegetable waste from our commercial kitchen. The digester heats a small green house that starts our seedling plants. We have a small scale vegetable-only digester as well. The research and program targets small dairies under 200 head, livestock producers, horticulture producers and anyone interested in alternative energy.
Program will be held on December 5, January 7, and March 6. A catered meal is provided at each program. Participants within the North Country Region will be given a $25 stipend to help cover travel costs, those from outside the region will be given $50. To receive the stipend, participants will need to complete a pre/post-test survey.
More information and registration information can be found here:
http://stlawrence.cce.cornell.edu/events/2018/12/05/exploring-digester-technology
New Guidance for Mortality Disposal Issued
NYS Department of Ag and Markets has posted guidelines on disposal of livestock carcasses, in response to reports that some rendering companies have halted pickups from farms.
https://nwnyteam.cce.cornell.edu/submission.php?id=761&crumb=dairy|1