Crisis Planning for Your Dairy, Part 4
Joan Sinclair Petzen, Farm Business Management
Northwest New York Dairy, Livestock & Field Crops
March 23, 2016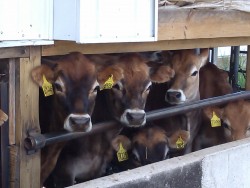 "Differentiating between an 'issue' and a 'crisis' is an important first step in crisis planning," according to Telling Your Story - On-Farm Crisis Preparedness by American Dairy Association and Dairy Council (ADA/DC). Farm businesses deal with issues from equipment breakdowns to protocol slip or animal health challenges on a regular basis. A crisis might involve an unforeseen death, cause an abrupt halt or disturbance of operations, unexpected safety or health concern to your animals, bioterrorism, danger from consuming your milk or loss of confidence in your product, a sudden lack of trust in your farm or extensive damage to your facilities by fire, explosion or natural disaster.
ADA/DC outlines a five step process for crisis preparedness:
Develop your crisis response team
Identify stakeholders
Assess vulnerabilities and develop crisis scenarios
Identify spokespersons and communicate
Know the resources available to you
Be sure to develop an appropriate plan for different crises your farm might encounter. Putting plans in writing provides a guide for reacting more objectively during a time when emotions may be running high. The response team can use a written plan to communicate with family members, employees, stakeholders, neighbors, media or enforcement agencies.
The crisis response team should be a small group ideally of managers, who have the authority to make decisions and provide leadership. People intending to have a long term role in the farm business are best suited to be part of the response team. Some team members might be different for one type of crisis than another. Documenting team members' complete contact information in your written plan will make it easier to respond quickly if needed. Meeting twice a year to review the crisis plan prepares your team for rapid response and keeps the plan current.
Another group it is important to identify in advance are stakeholders. Be certain to gather contact information for each one and the best way to reach them. Appoint a response team member to communicate with stakeholders when a crisis arises.
Assessment of your vulnerability to a list of potential crises is a critical step. Develop a list of events that could result in a crisis. Estimate the probability of each event occurring from unlikely to it has happened and could again. Then determine the level of damage the event might cause ranging from devastating to very little damage. ADA/DC's workbook offers a scoring process for ranking potential disasters based upon likelihood of happening and potential damage. This helps you focus your planning on the most likely and highly damaging crises. For the top few, use your response team to work through each crisis scenario and thinking about the steps to take to address the situation and appropriate communication lines for addressing the situation.
Selecting your spokesperson is a vital aspect of the plan. They must represent your beliefs and mission. Select someone who is well spoken and in a position of authority with respect to the crisis at hand. It is key that your spokesperson is able to be empathetic, sincere and able to relate to affected parties. They must be able to think on their feet and be pleasing to the eye of the camera. Having a list of media prepared will help you to get your message out. If the media contacts your farm be certain to get a contact you can follow up with if the situation changes or new information is learned.
Media outreach goes beyond traditional print, radio and television. Think about how you are going to use social media and the internet. We live in the era of instant communication and having your message prepared in advance will help you to communicate proactively in the event of a crisis.
Finally, know your resources. Both industry and agency resources are available to assist you with messaging and appropriate communication techniques. Industry promotion organizations, the New York Animal Agriculture Coalition, Farm Bureau, government inspectors, Extension and the professionals you work with regularly in your business operations can be called upon to help you respond in a crisis. As you develop a plan for each scenario include a list of resources to call on to help your team respond proactively.
We hope no farm ever has to deal with a crisis. But being prepared can help lessen the blow of a crisis to your family and business. Dealing with a crisis can be emotionally charged and consume a tremendous amount of energy. Having a team in place and a plan for dealing with the most likely and damaging crises can help limit the fallout and reduce the disruption caused when one comes up. Identify your response team and stakeholders and prepare a written plan of action to be ready if crisis strikes.
This article concludes the series on crisis planning and preparedness. We've given you some tools and ideas for ways to handle a crisis. Now it's time to get started on a plan for managing crisis for your farm business.
Upcoming Events
Webinar-Challenges and Opportunities of Managing Transition Cows on AMS
June 1, 2023
Please join MSU Extension and Cornell Cooperative Extension Regional Teams for our talk with Pete Maslyn of Hemdale Dairy and Todd Ward of Direct Dairy Nutrition Services on managing transition cows on automated milking systems (AMS).
2023 Dairy Nutrition & Management Shortcourse
June 5 - June 9, 2023
Chazy, NY
This course is designed primarily for early career nutritionists and allied industry professionals seeking a more comprehensive foundation in the principles of dairy cattle nutrition and their application within dairy herd management.
Agritourism Workshops Monthly! - Agritourism Pricing Workshop
June 20, 2023
Are you thinking of starting an agritourism business or are you currently operating one?

Join our monthly lunch-hour, workshop virtual series and learn how to grow your agritourism business!
Each session will focus on specific topic to help aspiring agritourism entrepreneurs grow their knowledge and profit through this exciting on-farm business.

Cost: Free to attend, but registration required!

Announcements
Follow us on Instagram
See photos and reels of our most recent events and programs!
Join us on Facebook!
Follow us on Facebook to get up to date posts about events, workshops and everything NWNY!
Add us on LinkedIn!
Connect with us on LinkedIn to get more information about upcoming workshops and programs!
Watch us on YouTube
Watch instructional videos from specialists in the field!
Subscribe for Emails about Events & Workshops!