Crisis Planning for Your Dairy, Part 4
Joan Sinclair Petzen, Farm Business Management
Northwest New York Dairy, Livestock & Field Crops
March 23, 2016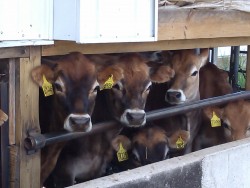 "Differentiating between an 'issue' and a 'crisis' is an important first step in crisis planning," according to Telling Your Story - On-Farm Crisis Preparedness by American Dairy Association and Dairy Council (ADA/DC). Farm businesses deal with issues from equipment breakdowns to protocol slip or animal health challenges on a regular basis. A crisis might involve an unforeseen death, cause an abrupt halt or disturbance of operations, unexpected safety or health concern to your animals, bioterrorism, danger from consuming your milk or loss of confidence in your product, a sudden lack of trust in your farm or extensive damage to your facilities by fire, explosion or natural disaster.
ADA/DC outlines a five step process for crisis preparedness:
Develop your crisis response team
Identify stakeholders
Assess vulnerabilities and develop crisis scenarios
Identify spokespersons and communicate
Know the resources available to you
Be sure to develop an appropriate plan for different crises your farm might encounter. Putting plans in writing provides a guide for reacting more objectively during a time when emotions may be running high. The response team can use a written plan to communicate with family members, employees, stakeholders, neighbors, media or enforcement agencies.
The crisis response team should be a small group ideally of managers, who have the authority to make decisions and provide leadership. People intending to have a long term role in the farm business are best suited to be part of the response team. Some team members might be different for one type of crisis than another. Documenting team members' complete contact information in your written plan will make it easier to respond quickly if needed. Meeting twice a year to review the crisis plan prepares your team for rapid response and keeps the plan current.
Another group it is important to identify in advance are stakeholders. Be certain to gather contact information for each one and the best way to reach them. Appoint a response team member to communicate with stakeholders when a crisis arises.
Assessment of your vulnerability to a list of potential crises is a critical step. Develop a list of events that could result in a crisis. Estimate the probability of each event occurring from unlikely to it has happened and could again. Then determine the level of damage the event might cause ranging from devastating to very little damage. ADA/DC's workbook offers a scoring process for ranking potential disasters based upon likelihood of happening and potential damage. This helps you focus your planning on the most likely and highly damaging crises. For the top few, use your response team to work through each crisis scenario and thinking about the steps to take to address the situation and appropriate communication lines for addressing the situation.
Selecting your spokesperson is a vital aspect of the plan. They must represent your beliefs and mission. Select someone who is well spoken and in a position of authority with respect to the crisis at hand. It is key that your spokesperson is able to be empathetic, sincere and able to relate to affected parties. They must be able to think on their feet and be pleasing to the eye of the camera. Having a list of media prepared will help you to get your message out. If the media contacts your farm be certain to get a contact you can follow up with if the situation changes or new information is learned.
Media outreach goes beyond traditional print, radio and television. Think about how you are going to use social media and the internet. We live in the era of instant communication and having your message prepared in advance will help you to communicate proactively in the event of a crisis.
Finally, know your resources. Both industry and agency resources are available to assist you with messaging and appropriate communication techniques. Industry promotion organizations, the New York Animal Agriculture Coalition, Farm Bureau, government inspectors, Extension and the professionals you work with regularly in your business operations can be called upon to help you respond in a crisis. As you develop a plan for each scenario include a list of resources to call on to help your team respond proactively.
We hope no farm ever has to deal with a crisis. But being prepared can help lessen the blow of a crisis to your family and business. Dealing with a crisis can be emotionally charged and consume a tremendous amount of energy. Having a team in place and a plan for dealing with the most likely and damaging crises can help limit the fallout and reduce the disruption caused when one comes up. Identify your response team and stakeholders and prepare a written plan of action to be ready if crisis strikes.
This article concludes the series on crisis planning and preparedness. We've given you some tools and ideas for ways to handle a crisis. Now it's time to get started on a plan for managing crisis for your farm business.
Upcoming Events
Dairy Cattle Summer Research Update
July 18, 2019
7:00-9:00pm
Batavia, NY
After the day's work is done, come hear about two new research trials conducted by Julio Giordano's lab:
Strategies for improving dairy cattle reproductive performance and economics
Using automated sensors for improving dairy cattle health monitoring and management
Weed Resistance Management Demonstration and Plot Tour

July 23, 2019
1:00 - 3:00 p.m.
Waterloo, NY
Come join us on July 23 in Seneca County at Quinten Good's farm for a demonstration and walking tour of 16 different pre- and post-emergence treatments in soybean and 12 different treatments and combinations in corn.
Tall waterhemp and marestail are two weeds that are resistant to glyphosate and ALS herbicide modes of action in the WNY and Finger Lakes regions.
Each year the number of acres with resistant weed populations expands.
For herbicides to be an effective tool in weed management, we have to know what chemistries & application timings are most effective against these resistant weeds.
Income and Real Property Tax Primer-A Learning Circle for Women Non-Operating Land Owners of Ag Land
July 24, 2019
9:00 am - 3:00 pm
Portageville, NY
For many of us taxes can be a mystery, let's have a conversation with the experts about the tax considerations agricultural landowners need to think about.
Announcements
RMA Announces Additional One-time Changes to Prevented Planting Provisions
June 29, 2019
RMA Announces Additional One-time Changes to Prevented Planting Provisions
for 2019 Crop Year
In response to delayed and prevented planting resulting from above average rainfall and wetness, the USDA Risk Management Agency has made a one-time change to the 2019 crop year prevented planting rules that effectively allows silage corn, if planted as a cover crop following local agricultural expert guidelines, to be acceptable as a post-prevented planting cover crop. Under this one-time rule change, producers are allowed to produce this crop while retaining their prevented planting payment. This change couples with previously announced one-time changes to the prevented planting rules - including expanded acceptable uses for post-prevented planting cover crops and a change in the cover crop haying and grazing start date rule - serve to help those struggling to meet their forage needs due to the weather.
Read the full article
from the New York Crop Insurance Education Program.
The USDA-RMA states that "For crop insurance purposes, a cover crop is a crop generally recognized by agricultural experts as agronomically sound for the area for erosion control or other purposes related to conservation or soil improvement." PRO-DAIRY specialists Joe Lawrence and Karl Czymmek and Dr. Quirine Ketterings, Professor and Director of Cornell Nutrient Management Spear Program have
released a letter
stating "Corn on Prevented Planting acres meets these objectives."
USDA Announces New Decision Tool for New Dairy Margin Coverage Program
WASHINGTON, April 30, 2019
? Agriculture Secretary Sonny Perdue announced today the availability of a new web-based tool - developed in partnership with the University of Wisconsin - to help dairy producers evaluate various scenarios using different coverage levels through the new
Dairy Margin Coverage (DMC)
program.

The 2018 Farm Bill authorized
DMC
, a voluntary risk management program that offers financial protection to dairy producers when the difference between the all milk price and the average feed cost (the margin) falls below a certain dollar amount selected by the producer. It replaces the program previously known as the Margin Protection Program for Dairy. Sign up for this USDA Farm Service Agency (FSA) program opens on June 17.

"With sign-up for the
DMC
program just weeks away, we encourage producers to use this new support tool to help make decisions on participation in the program," Secretary Perdue said. "Dairy producers have faced tough challenges over the years, but the
DMC
program should help producers better weather the ups and downs in the industry."

The University of Wisconsin launched the decision support tool in cooperation with FSA and funded through a cooperative agreement with the USDA Office of the Chief Economist. The tool was designed to help producers determine the level of coverage under a variety of conditions that will provide them with the strongest financial safety net. It allows farmers to simplify their coverage level selection by combining operation data and other key variables to calculate coverage needs based on price projections.

The decision tool assists producers with calculating total premiums costs and administrative fees associated with participation in
DMC
. It also forecasts payments that will be made during the coverage year.

"
The new
Dairy Margin Coverage
program offers very appealing options for all dairy farmers to reduce their net income risk due to volatility in milk or feed prices
," said Dr. Mark Stephenson, Director of Dairy Policy Analysis, University of Wisconsin, Madison. "
Higher coverage levels, monthly payments, and more flexible production coverage options are especially helpful for the sizable majority of farms who can cover much of their milk production with the new five million pound maximum for Tier 1 premiums. This program deserves the careful consideration of all dairy farmers
."

For more information, access the tool at fsa.usda.gov/dmc-tool. For
DMC
sign up, eligibility and related program information, visit fsa.usda.gov or contact your local USDA Service Center. To locate your local FSA office, visit farmers.gov/service-locator.

New Guidance for Mortality Disposal Issued
NYS Department of Ag and Markets has posted guidelines on disposal of livestock carcasses, in response to reports that some rendering companies have halted pickups from farms.
https://nwnyteam.cce.cornell.edu/submission.php?id=761&crumb=dairy|1