Preventing an Undercover Video Crisis at Your Farm, Part 2
Joan Sinclair Petzen, Farm Business Management
Northwest New York Dairy, Livestock & Field Crops
March 23, 2016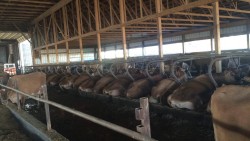 A farm can take a few steps to prevent the risk of an undercover video being published about them. By "doing the right thing," a lot can be accomplished toward prevention. At the recent Animal Care Dairy Industry Crisis Drill here in New York, Beth Meyer from American Dairy Association and Dairy Council shared their "Anticipate. Prepare. Protect." Workbook. The booklet details how to do the right thing:
Set high animal care standards for yourself and your employees.
Ensure your farm exceeds expectations for animal care, cleanliness, and environmental responsibility.
Set codes of conduct for animal handling and care and train every worker to follow them.
Adopt a zero-tolerance policy regarding animal mistreatment or abuse.
Be vigilant and be on the lookout for any signs of animal abuse.
Require employees to report any signs of abuse immediately.
Become familiar with undercover video laws in your state.
When it comes to public relations, the adage "the best defense is a good offense" describes the approach farms should consider. What is your farm's public relations plan? If your community and particularly local media are familiar with the positive things you do taking care of livestock, the land, and employees, it is going to be much more difficult for people to believe a "malicious" attack on your farm practices. As part of your proactive approach, think about who you might invite to help defend your farm if activists target you. These partners will be able to respond more quickly in a crisis if they are already on board and prepared to address a crisis situation.
Employees who handle animals are an important part of your business. Before hiring, thoroughly screen candidates. Agriculture Attorney David Cook states "It is legal to ask a potential employee if he/she is a member of or if they support an animal rights organization. Ask during the interview or on the employment application." You might also ask prospective employees if they are living in transient housing, how long they have been in the area, and what their experience is working in agriculture. Be sure to contact references and do background checks.
Once hired, require employees to sign a non-disclosure and confidentiality agreement. "The agreement should include a clause for liquidated damages for taking or distributing photographs or video," according to Cook. Use a probationary period of one to three months and watch them closely. Include animal care practices and proper care for all animals in your employee agreement and have each employee sign it.
Training is another key. Pair new hires with trusted experienced employees to learn the best practices for animal care employed by your farm. The National FARM Program offers a number of training videos on their website. Use these short videos to kick start a discussion of proper animal handling practices in different situations at your employee meetings. Reviewing proper care on a regular basis and employee safety in different aspects of the business are part of a solid employee training program that can prevent animal abuse and protect employees and your business.
"Anticipate. Prepare. Protect" is part of the "Telling Your Story" training program. Copies are available from by contacting Beth Meyer at ADA/DC: BMeyer@adadc.com. You will find more information about these tips and worksheets to help you prevent an undercover attack on your farm's animal care practices.
Upcoming Events
NWNY Dairy Day 2022
December 6, 2022
Batavia, NY
REGISTRATION NOW OPEN!
Theme: The Future of Your Dairy's Youngstock

The NWNY Dairy, Livestock and Field Crops team will be holding it's first "Dairy Day" this December! We will be bringing the latest in dairy research to you with this in-person, 1-day conference.

2023 Corn Congress - Batavia, NY

January 5, 2023
Batavia, NY
Save the Date for 2023 Corn Congress - January 5 & 6, 2023
2023 Corn Congress - Waterloo, NY

January 6, 2023
Waterloo, NY
Save the Date for 2023 Corn Congress - January 5 & 6, 2023
Announcements
The NWNY Team Blog
Our goal for
this blog
is to share with farmers and allied industry professionals, technical and applicable resources regarding all aspects of dairy farming, livestock and small farms, field crops and soils, and topics related to farm business management and precision agriculture.

The blog will feature Crop Alerts, Dairy Alerts, Bilingual (Spanish) Resources, Upcoming Events and more from our team members. This blog is free for everyone to use, explore and enjoy. When new material is published, subscribers will receive an email notification.

We hope you enjoy this new platform, and are looking forward to engaging with you in the future!