March is Frost Seeding Time!
Nancy Glazier, Small Farms & Livestock
Northwest New York Dairy, Livestock & Field Crops
February 16, 2016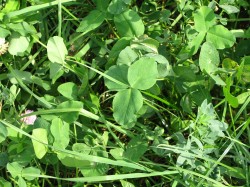 With the snow falling today (2/16/16), it's hard to imagine that frost seeding time is right around the corner. March is usually a great time to add some legumes into your pastures or hayfields. It is a way to improve pastures without losing a production year. Added legumes will boost production and fill in thin patches or bare spots; they will provide needed nitrogen to the grasses already growing, and provide protein for the livestock. Little or no tillage is involved which reduces the potential for soil erosion. Hopefully, you did your homework last fall by checking the forage quantity, types and groundcover. If not, take a walk after the snow melts!

Frost seeding is the same as any other type of seeding or planting, seed-to-soil contact is critical. What works with this technique is the freeze-thaw process in late winter/early spring. As the days get above freezing and nights are below freezing, this action works the seeds down into the soil in preparation for germination. Spreading seed on frozen ground reduces the potential to rut up the pasture. This can be done early morning or late in the day.

Legumes work best for frost seeding due to the shape of their seeds. Success will vary farm to farm, but clovers will establish better, specifically red clovers. They are shorter-lived in a pasture; a way to offset that would be to frost seed red clover with slower-establishing birdsfoot trefoil. By the time the clover dies out, the trefoil will be growing well. Another way would be to routinely frost seed half of your pastures every year. It can be an inexpensive improvement. Alfalfa can be frost seeded, but don't try to seed into a field with alfalfa (even a thin stand) growing. The existing plants have an allelopathic (toxic effect) on alfalfa seedlings; they won't let them grow and become established. Suggested rates are below. The price of seed is relatively low, so don't skimp.
Lbs/Ac
Red Clover - 6 to 10
Ladino Clover - 2 to 4
Birdsfoot Trefoil - 5 to 8
Alfalfa - 6 to 10

Frost seeding grasses may have limited results, but is more successful with bunch type grasses like orchardgrass. Try seeding some on a small scale. If the pasture is tall or matted, your success with grasses or legumes may be limited. An option to try is to broadcast the seed and let livestock in - carefully - for a flash or quick grazing. Between their minor munching and hoof action, the seed will have a better chance of reaching the soil. Also, a light disking or harrowing could scratch the ground enough to let the seed get down the soil to grow. You may need to frost seed grasses and legumes separately due to the seeds different shape.

Equipment for frost seeding can be as little or as big as needed. The size of the pasture or field will dictate what's needed, unless you have time to walk a large field with a small cyclone spreader. A broadcaster can be mounted on the back of an ATV or small tractor.
Fertilization will help seedlings get established as well as existing grasses. Wait until late summer if a soil test shows phosphorous or potassium is needed.

Sometimes overgrazing or continuously grazing will leave bare or thin spots, or kill the existing legumes. Frost seedings can be done to improve the stand, but this will only be a short term fix. Rotationally grazing is the best way to improve a stand for the long term. Frost seeding will return legumes to the pastures; dividing the pasture into at least four paddocks will provide forages time to rest and regrow through the growing season. Grazing needs to be carefully managed early season to prevent damage to the tender seedlings, yet allow light to reach them.

Who can predict what this spring will be like? Dry spring conditions will discourage seed germination. Unfortunately, there is no way to control this. With the seed in place, there is a chance that it will germinate and grow when sufficient moisture is there.



Upcoming Events
Dairy Cattle Summer Research Update
July 18, 2019
7:00-9:00pm
Batavia, NY
After the day's work is done, come hear about two new research trials conducted by Julio Giordano's lab:
Strategies for improving dairy cattle reproductive performance and economics
Using automated sensors for improving dairy cattle health monitoring and management
Weed Resistance Management Demonstration and Plot Tour

July 23, 2019
1:00 - 3:00 p.m.
Waterloo, NY
Come join us on July 23 in Seneca County at Quinten Good's farm for a demonstration and walking tour of 16 different pre- and post-emergence treatments in soybean and 12 different treatments and combinations in corn.
Tall waterhemp and marestail are two weeds that are resistant to glyphosate and ALS herbicide modes of action in the WNY and Finger Lakes regions.
Each year the number of acres with resistant weed populations expands.
For herbicides to be an effective tool in weed management, we have to know what chemistries & application timings are most effective against these resistant weeds.
Income and Real Property Tax Primer-A Learning Circle for Women Non-Operating Land Owners of Ag Land
July 24, 2019
9:00 am - 3:00 pm
Portageville, NY
For many of us taxes can be a mystery, let's have a conversation with the experts about the tax considerations agricultural landowners need to think about.
Announcements
RMA Announces Additional One-time Changes to Prevented Planting Provisions
June 29, 2019
RMA Announces Additional One-time Changes to Prevented Planting Provisions
for 2019 Crop Year
In response to delayed and prevented planting resulting from above average rainfall and wetness, the USDA Risk Management Agency has made a one-time change to the 2019 crop year prevented planting rules that effectively allows silage corn, if planted as a cover crop following local agricultural expert guidelines, to be acceptable as a post-prevented planting cover crop. Under this one-time rule change, producers are allowed to produce this crop while retaining their prevented planting payment. This change couples with previously announced one-time changes to the prevented planting rules - including expanded acceptable uses for post-prevented planting cover crops and a change in the cover crop haying and grazing start date rule - serve to help those struggling to meet their forage needs due to the weather.
Read the full article
from the New York Crop Insurance Education Program.
The USDA-RMA states that "For crop insurance purposes, a cover crop is a crop generally recognized by agricultural experts as agronomically sound for the area for erosion control or other purposes related to conservation or soil improvement." PRO-DAIRY specialists Joe Lawrence and Karl Czymmek and Dr. Quirine Ketterings, Professor and Director of Cornell Nutrient Management Spear Program have
released a letter
stating "Corn on Prevented Planting acres meets these objectives."
USDA Announces New Decision Tool for New Dairy Margin Coverage Program
WASHINGTON, April 30, 2019
? Agriculture Secretary Sonny Perdue announced today the availability of a new web-based tool - developed in partnership with the University of Wisconsin - to help dairy producers evaluate various scenarios using different coverage levels through the new
Dairy Margin Coverage (DMC)
program.

The 2018 Farm Bill authorized
DMC
, a voluntary risk management program that offers financial protection to dairy producers when the difference between the all milk price and the average feed cost (the margin) falls below a certain dollar amount selected by the producer. It replaces the program previously known as the Margin Protection Program for Dairy. Sign up for this USDA Farm Service Agency (FSA) program opens on June 17.

"With sign-up for the
DMC
program just weeks away, we encourage producers to use this new support tool to help make decisions on participation in the program," Secretary Perdue said. "Dairy producers have faced tough challenges over the years, but the
DMC
program should help producers better weather the ups and downs in the industry."

The University of Wisconsin launched the decision support tool in cooperation with FSA and funded through a cooperative agreement with the USDA Office of the Chief Economist. The tool was designed to help producers determine the level of coverage under a variety of conditions that will provide them with the strongest financial safety net. It allows farmers to simplify their coverage level selection by combining operation data and other key variables to calculate coverage needs based on price projections.

The decision tool assists producers with calculating total premiums costs and administrative fees associated with participation in
DMC
. It also forecasts payments that will be made during the coverage year.

"
The new
Dairy Margin Coverage
program offers very appealing options for all dairy farmers to reduce their net income risk due to volatility in milk or feed prices
," said Dr. Mark Stephenson, Director of Dairy Policy Analysis, University of Wisconsin, Madison. "
Higher coverage levels, monthly payments, and more flexible production coverage options are especially helpful for the sizable majority of farms who can cover much of their milk production with the new five million pound maximum for Tier 1 premiums. This program deserves the careful consideration of all dairy farmers
."

For more information, access the tool at fsa.usda.gov/dmc-tool. For
DMC
sign up, eligibility and related program information, visit fsa.usda.gov or contact your local USDA Service Center. To locate your local FSA office, visit farmers.gov/service-locator.

New Guidance for Mortality Disposal Issued
NYS Department of Ag and Markets has posted guidelines on disposal of livestock carcasses, in response to reports that some rendering companies have halted pickups from farms.
https://nwnyteam.cce.cornell.edu/submission.php?id=761&crumb=dairy|1