Welcome to MeatSuite!
Nancy Glazier, Small Farms & Livestock Specialist
Northwest New York Dairy, Livestock & Field Crops
November 10, 2015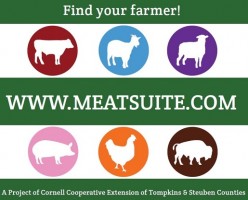 The meat marketing website, MeatSuite.com, has expanded to the NWNY region and beyond. MeatSuite.com is a free online directory of regional livestock farms selling meat in bulk quantities. MeatSuite is a project of Cornell Cooperative Extension Tompkins and Steuben Counties to promote direct, local, meat sales is currently funded by the New York Farm Viability Institute. Efforts are underway right now to recruit farmers to the site. After doing some searches I see there are already some farms in our region on the site. Good for you! More information will be in December's Agfocus. Information on posting a profile is in the attached pdf.
ProfileCreation (pdf; 710KB)
Upcoming Events
Agritourism Workshops Monthly! - U-Pick Agritourism Operations: IN's and Out's
December 18, 2023
Are you thinking of starting an agritourism business or are you currently operating one?

Join our monthly lunch-hour, workshop virtual series and learn how to grow your agritourism business!
Each session will focus on specific topic to help aspiring agritourism entrepreneurs grow their knowledge and profit through this exciting on-farm business.

Cost: Free to attend, but registration required!

2024 Corn Congress

January 4, 2024
Henrietta, NY
Participant Registration for the 2024 Corn Congress OPEN NOW! - January 4th 2024
NOW OFFERING 3.5 DEC Recertification CREDITS
Whole Farm Efficiency Webinar Series
January 9, 2024
January 16, 2024
January 23, 2024
January 30, 2024
February 6, 2024
February 13, 2024
February 20, 2024
February 27, 2024
March 5, 2024
March 12, 2024

Registration link coming soon!
Cornell Cooperative Extension and Cornell PRO-DAIRY are excited to announce our Whole Farm Efficiency webinar series. This 10-week webinar series will be offered online, free of charge to participants.
It will take place Tuesdays from 12pm-1pm EST, Jan 9 through March 12, 2024.
Topics for each week include precision feeding, labor management, feed management, labor on-boarding, milk quality, transition period, maximizing return on colostrum, targeted reproduction programs, reproductive evaluation, and replacements.


Announcements
Follow us on Instagram
See photos and reels of our most recent events and programs!
Join us on Facebook!
Follow us on Facebook to get up to date posts about events, workshops and everything NWNY!
Add us on LinkedIn!
Connect with us on LinkedIn to get more information about upcoming workshops and programs!
Watch us on YouTube
Watch instructional videos from specialists in the field!
Subscribe for Emails about Events & Workshops!