Cornell Bull Test Sign-up is Underway
Nancy Glazier, Small Farms & Livestock
Northwest New York Dairy, Livestock & Field Crops
October 5, 2015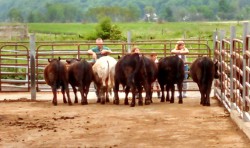 Cornell All Forage Fed Bull Test is looking for a few good bulls. This will be the fourth year of the stored feed test; a new addition is an optional 84-day pasture component. Nancy Glazier, test coordinator states, "This is an exciting addition to the test. Beef producers have been asking for this important piece since the inception of the test."
The test has shown that bulls can gain over 2.0 lb. a day on an all forage diet. Data collected and shared with consignors includes weight and body condition. Carcass ultrasound and breeding soundness exams are conducted at the test's conclusion.
Consignor Morgan Hartman, Black Queen Angus remarked on the test: "The objective information and the experience I've gained by having my bulls at the Cornell All-Forage Bull Test have really helped me to make better assessments of my breeding program. In the future, the ONLY bulls I'll send to the test will be from one sire group, entirely home raised, and I'll be able to better compare apples to apples in my own breeding program. I know this will help me evaluate my cow herd through the evaluation of their bull calves. In addition, the fact the Bull Test continues to evolve and expand with guidance by a producer-driven steering committee and the excellent oversight by Nancy Glazier and Dr. Mike Baker, leads me to believe this opportunity to better my herd will only improve as the test continues. Finally, the development of these bulls and the option to consign them to a nationally marketed and advertised sale adds to my ability to meet my bull customers' needs."
Cost for the 112-day test will be $660. Delivery dates are January 6 and 7 with the test beginning January 13. Deadline to consign a bull has been extended to November 1. Nomination form with a non-refundable $50 deposit with check payable to Cornell University may be mailed to Mike Baker, 114 Morrison Hall, Cornell University, Ithaca, NY 14853. If you are interested in consigning or want additional information, contact Nancy Glazier at (585) 315-7746,
nig3@cornell.edu
or Mike Baker at (607) 255-5923,
mjb28@cornell.edu
. Previous years' reports, test rules and forms can be found at
http://beefcattle.ansci.cornell.edu/
under Events/Programs.
Upcoming Events
2019 Corn Silage Pre-Harvest Workshop - Penn Yan
September 17, 2019
10:00am to Noon
Penn Yan, NY
Corn silage harvest is drawing near. The way corn silage is harvested and stored is a single event that affects your operation for the entire next year. Are you prepared to set your operation up for success?
Bovine Reproduction and AI Training Course
September 24 - September 25, 2019
9:30am - 3:30pm
Shortsville, NY
**CLASS IS FULL**
This two-day AI workshop will be held on September 24 and 25.
Topics covered will include:

• Reproductive Physiology
• Synchronization Protocols
• Heat Detection
• Artificial Insemination
• Proper Thawing of Semen
• Loading A.I. guns
• Practice Breeding Cows
Beef Quality Assurance Transportation Training - Pavilion, NY
October 8, 2019
6:00pm - 9:00pm
Pavilion, NY
The checkoff-funded Beef Quality Assurance (BQA) program has launched a new training and certification program for cattle transportation. The program, known as Beef Quality Assurance Transportation (BQAT), provides cattle producers and haulers with comprehensive training based on their roles in the cattle industry.
Announcements
Preventing Sexual Harassment on Farms
If you're wondering how to get your farm business in compliance with NYS Sexual Harassment Regulations, you've come to the right place.
The 2018 New York State budget included new regulations addressing sexual harassment in the workplace that became effective on October 9, 2018 for all New York employers, including agricultural employers. All employers are required to have a sexual harassment prevention policy and to provide annual, interactive sexual harassment prevention training for all employees. Check out the resources developed by Cornell Ag Workforce Development, including step-by-step instructions and farm-friendly training videos.
RMA Announces Additional One-time Changes to Prevented Planting Provisions
June 29, 2019
RMA Announces Additional One-time Changes to Prevented Planting Provisions
for 2019 Crop Year
In response to delayed and prevented planting resulting from above average rainfall and wetness, the USDA Risk Management Agency has made a one-time change to the 2019 crop year prevented planting rules that effectively allows silage corn, if planted as a cover crop following local agricultural expert guidelines, to be acceptable as a post-prevented planting cover crop. Under this one-time rule change, producers are allowed to produce this crop while retaining their prevented planting payment. This change couples with previously announced one-time changes to the prevented planting rules - including expanded acceptable uses for post-prevented planting cover crops and a change in the cover crop haying and grazing start date rule - serve to help those struggling to meet their forage needs due to the weather.
Read the full article
from the New York Crop Insurance Education Program.
The USDA-RMA states that "For crop insurance purposes, a cover crop is a crop generally recognized by agricultural experts as agronomically sound for the area for erosion control or other purposes related to conservation or soil improvement." PRO-DAIRY specialists Joe Lawrence and Karl Czymmek and Dr. Quirine Ketterings, Professor and Director of Cornell Nutrient Management Spear Program have
released a letter
stating "Corn on Prevented Planting acres meets these objectives."