Planting Tips for Winter Wheat
Mike Stanyard, Team Leader, Field Crops
Northwest New York Dairy, Livestock & Field Crops
September 18, 2015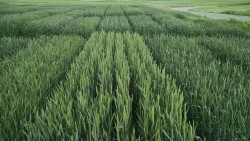 Winter wheat production for New York is forecasted at 7.43 million bushels, up 24 percent from the 2014 crop. Acreage for harvest is forecast at 118 thousand acres, up 23 thousand from last year. Yields are expected to average 63 bushels per acre, unchanged from last year (Blair Smith, State Statistician of USDA's National Agricultural Statistics Service, New York Field Office on 8/17).
Planting Dates. Ideally, September 15 has been a good starting point for Western NY. This has been traditionally based on the timing of the average first frost that would eliminate any Hessian flies. Fly-free dates can vary based on feet above sea level and distance south of Lake Ontario. Starting dates can range as early as September 6th at 1500 ft. in Seneca County to September 17th at 400 ft. in Niagara County.
Variety Selection. Cornell has released the yield results of the 2015 red and white winter wheat trials from across the region (Monroe and Livingston counties locally). These results can be viewed at our team web site, www.nwnyteam.org, or send me an email and I'll forward a copy to you.
Seeding Rates
. Seeding rates should increase as the season gets later and should also be adjusted based on soil conditions (See chart). Seeds should be drilled 1-1.5 inches deep for good emergence. See examples below on how to calculate million/pounds of seed per acre.
Live seed % = Recommended rate / Percentage of live seed = Rate/acre
Example: 1,350,000 seeds / .90 live seeds = 1.48 million seeds/acre

To figure out how many pounds per acre, use the following formula.
Seeds per acre / # seeds/lb. = lb./acre
Example: 1,450,000 / 13,000 = 111.5 lb./acreStarter Fertilizer
. I still remember Peter Johnson's presentation at Soybean and Small Grains Congress which emphasized that if you are not using a starter fertilizer, then you are leaving 8 bushels on the table. He stressed that phosphorus was most important for wheat. He used the example that while soybeans only need 1 pound of P and corn 5 pounds for strong seedling establishment, wheat needs 15 pounds. Follow your soil sample recommendations and remember wheat grows best at a pH around 6.3. I have seen an increase in the number wheat growers putting a starter down with great end results!
Broadleaf and Grass Weed Management
. Winter annual weeds are the most prevalent weed competitors for our winter wheat. Chickweed, purple dead nettle, shepherd's purse, corn chamomile and others in the mustard family emerge right along with the wheat crop in the fall and can really pull down yields. Many producers spray with Buctril or Harmony Extra in the fall so they are starting clean in the spring. This is also the best option if you plan to underseed your wheat with clover in the spring. Annual and roughstalk bluegrass and cheat populations continue to increase across the region. These grasses also emerge in the fall right along with the wheat. Russ Hahn did some field research last year with Osprey and preliminary results show better control when applied in early spring versus the fall.
Seeding Rate (pdf; 252KB)
Upcoming Events
Weed Resistance Management Demonstration and Plot Tour

July 23, 2019
1:00 - 3:00 p.m.
Waterloo, NY
Come join us on July 23 in Seneca County at Quinten Good's farm for a demonstration and walking tour of 16 different pre- and post-emergence treatments in soybean and 12 different treatments and combinations in corn.
Tall waterhemp and marestail are two weeds that are resistant to glyphosate and ALS herbicide modes of action in the WNY and Finger Lakes regions.
Each year the number of acres with resistant weed populations expands.
For herbicides to be an effective tool in weed management, we have to know what chemistries & application timings are most effective against these resistant weeds.
Income and Real Property Tax Primer-A Learning Circle for Women Non-Operating Land Owners of Ag Land
July 24, 2019
9:00 am - 3:00 pm
Portageville, NY
For many of us taxes can be a mystery, let's have a conversation with the experts about the tax considerations agricultural landowners need to think about.
Pasture Walk with the Finger Lakes Graziers-Cancelled!
July 29, 2019
12:45 - 4 pm
The Finger Lakes Graziers pasture walk has been cancelled due to some scheduling conflicts.
Announcements
RMA Announces Additional One-time Changes to Prevented Planting Provisions
June 29, 2019
RMA Announces Additional One-time Changes to Prevented Planting Provisions
for 2019 Crop Year
In response to delayed and prevented planting resulting from above average rainfall and wetness, the USDA Risk Management Agency has made a one-time change to the 2019 crop year prevented planting rules that effectively allows silage corn, if planted as a cover crop following local agricultural expert guidelines, to be acceptable as a post-prevented planting cover crop. Under this one-time rule change, producers are allowed to produce this crop while retaining their prevented planting payment. This change couples with previously announced one-time changes to the prevented planting rules - including expanded acceptable uses for post-prevented planting cover crops and a change in the cover crop haying and grazing start date rule - serve to help those struggling to meet their forage needs due to the weather.
Read the full article
from the New York Crop Insurance Education Program.
The USDA-RMA states that "For crop insurance purposes, a cover crop is a crop generally recognized by agricultural experts as agronomically sound for the area for erosion control or other purposes related to conservation or soil improvement." PRO-DAIRY specialists Joe Lawrence and Karl Czymmek and Dr. Quirine Ketterings, Professor and Director of Cornell Nutrient Management Spear Program have
released a letter
stating "Corn on Prevented Planting acres meets these objectives."
New Guidance for Mortality Disposal Issued
NYS Department of Ag and Markets has posted guidelines on disposal of livestock carcasses, in response to reports that some rendering companies have halted pickups from farms.
https://nwnyteam.cce.cornell.edu/submission.php?id=761&crumb=dairy|1