Cover Crop Options in 2015
Mike Stanyard, Team Leader and Field Crops & IPM Specialist
Northwest New York Dairy, Livestock & Field Crops
August 7, 2015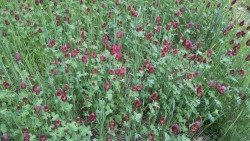 There has been a huge emphasis on soil health, and cover crops are an important piece of this puzzle. There are a lot of options when it comes to choosing a cover crop species (See table). You have to ask yourself, "What do I want to accomplish?" is it soil conservation, increase organic content, a trap crop for nitrogen, comply with conservation payments or weed control? Some other things to consider is cost (See table). Do you want a species that winterkills or overwinters? Is compaction an issue? Do I need some extra forage? We know that there is a benefit to keeping something growing and covering our fields at all times. It looks like there is also a benefit to planting multiple species together. Mixing tap root and fibrous root species together helps create soil microorganism biodiversity.
We know radishes do a great job of loosening up the soil when there is a compaction issue. However, there is some concern that we may not get the nitrogen back that we put into them. Radishes degrade very quickly in the early spring. Is all the nitrogen gone by the time the corn is ready for it? It might be more beneficial to plant an overwintering species like a winter grain or ryegrass with the radish to pick up that N and keep it around longer so the corn can utilize it when it needs it most.
We have seen cover crops planted with many different drills, air flowed, broadcast and aerially applied. All can be successful; however, proper calibration can be tedious and frustrating. Most planters do not have settings for some of these non-traditional plants. Take the time to work it out! You do not want to waste your time by putting on too little and you do not want to waste money by putting on way too much.
Preventative Planting Acres
If a cover crop is being planted following a planned corn or soybean crop, check herbicide labels if a pre-emerge was applied. Some of the small seeded cover species may not be able to be planted due to plant back restrictions. Penn State has a great herbicide reference table for cover crops,
http://extension.psu.edu/plants/crops/soil-management/cover-crops/herbicide-persistence/herbicide-carryover-table.
The folks at Purdue University have also put out good a reference, "Cover Crops for Prevented Planting Acres,"
https://ag.purdue.edu/agry/extension/Documents/PreventedPlantingCovers2015.pdf.
Extra Forage
There are a couple of options for the early August planting date. A common choice is spring/forage oats. They are usually in the boot stage by mid-October. I have seen from 1.5 to 2 tons dry matter per acre. You can add annual ryegrass to the mix and field peas or clover if higher protein is desired. Planting winter triticale has become popular after corn silage harvest. It is harvested in May just after flag stage emergence (GS 9). We have seen 2-4 tons of dry matter per acre in NY. See the Winter Triticale Forage factsheet at
http://nmsp.cals.cornell.edu/publications/factsheets/factsheet56.pdf
for specifics.
Cover Crop Species (pdf; 19KB)
Upcoming Events
Fertilizers and Herbicides

March 31, 2023
Mount Morris, NY
As input costs rise, it is necessary to employ the best management practices, and it can be advantageous to know what you're getting from your purchases. Plan to attend if you want to understand the terminology, calculations, formulations, and chemistry behind your fertility and herbicide recommendations.
Agritourism Workshops Monthly!
February 20, 2023
March 20, 2023
April 17, 2023
May 15, 2023
June 19, 2023
July 17, 2023

Are you thinking of starting an agritourism business or are you currently operating one?
Join our monthly lunch-hour, workshop virtual series and learn how to grow your agritourism business!
The first session will cover the basics of running an agritourism operation. The following sessions will focus on specific topic to help aspiring agritourism entrepreneurs grow their knowledge and profit through this exciting on-farm business.
Dairy Comp 305 for Spanish Speakers
April 19, 2023
This program was rescheduled from March 30th.
This workshop is for employees, supervisors or managers whose first language is Spanish and whose job entails using DC305 on a daily basis. The objective is for attendees to improve their understanding of the "language" of DC305 as well as the whys behind consistent data entry. Since DC305 is specific to each farm, the workshop will focus on general application and deeper understanding of how data is used on dairy farms.
Announcements
Join us on Facebook!
Follow us on Facebook to get up to date posts about events, workshops and everything NWNY!
Add us on LinkedIn!
Connect with us on LinkedIn to get more information about upcoming workshops and programs!
Watch Us on YouTube
Watch instructional videos from specialists in the field!
Subscribe for Emails about Events & Workshops!