Produce Quality Milk to Boost Your Bottom Line
Libby Eiholzer, Bilingual Dairy
Northwest New York Dairy, Livestock & Field Crops
Last Modified: March 19, 2015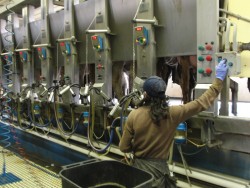 Produce Quality Milk to Boost Your Bottom Line
While milk prices for 2015 are forecasted to be low, that doesnít mean that itís too late for you to do something about protecting your bottom line. Quality milk is always important, but paying special attention to it in lean years will help your business prosper.
There are many ways to make sure that things are running smoothly in your parlor. One good idea is to have qualified personnel come in to test your milking system regularly. Incorrect vacuum levels, poor pulsation and milking units that detach too late can all lead to teat-end damage and increased incidence of mastitis. Following a regular schedule to replace inflations, hoses and other rubber parts is also important.
While we donít tend to see spikes in mastitis during the winter months, mastitis problems in spring and summer months are often caused by damage that teats sustain during the cold weather months. Post-dipping is especially important to help prevent mastitis, but making sure that teats are dry when cows exit the parlor on the coldest days of the year (especially those that have to walk outside) will help to prevent chapped or frozen teats. Using a teat dip with added emollients will also keep teats healthier.
Prevention will take you a long way, but you will almost surely have some mastitis cases to deal with. When you do, sampling cows correctly, culturing them to find the mastitis-causing pathogen and then providing pathogen-based treatment is key to controlling mastitis on your farm. This will help to reduce repeat cases of clinical mastitis, which can add up to a huge cost. If you havenít already, you should work with your herd veterinarian to develop treatment protocols for the different mastitis pathogens so that you can make informed treatment decisions.
ďGarbage in, garbage outĒ says Dr. Rick Watters, Sr. Extension Veterinarian with the Western Laboratory of Quality Milk Production Services (QMPS). Dr. Watters presented at the first session of the Milk Quality Training in January, discussing proper procedures for taking milk and bedding samples. He says that when taking milk or bedding samples to test for mastitis organisms, cleanliness is essential to getting useful data. Dr. Watters outlined the following procedure for collecting milk from an individual cow:

Prepare the cow as you would for milking: predip, wipe and forestrip. Use an alcohol pad to disinfect the teat end, forestrip again, and then fill the milk vial, making sure to hold it at a 45 degree angle with the lid up. Immediately refrigerate if you will be submitting the sample within 24 hours, or freeze if it will be longer. Adhering to all of these guidelines will provide you with a cleaner, more useful sample.

One option to help you keep a closer eye on milk quality is to enroll in QMPSís Bulk Tank Monitoring Program. Participants are entitled to 6 bulk tank milk analyses during a 12 month enrollment period, collected every other month. The samples are conveniently collected through your milk hauler or milk cooperative, and the analyses provide the farm with information on current milk quality and animal health, as well as alert the farm if there are new, recurrent or periodic herd infections. For more information, contact Dr. Paula Ospina at pav@cornell.edu or 607-253-3933.




Upcoming Events
Corn Congress - Batavia Location

January 6, 2021
8:30 a.m. - 3:30 p.m.
Batavia, NY
Please join the NWNY Dairy, Livestock and Field Crop Team
for our annual
Corn Congress
. DEC

re-certification

points and Certified Crop Adviser credits available, so bring your picture ID. Lunch is included. Hear from program-related professionals and visit with our sponsoring vendors.
Corn Congress - Waterloo Location

January 7, 2021
8:30 a.m. - 3:30 p.m.
Waterloo, NY
Please join the
NWNY Dairy, Livestock and Field CropsTeam
for our annual
Corn Congress
. DEC re-certification points and Certified Crop Adviser credits available, so bring your picture ID. Lunch is included. Hear from program-related professionals and visit with our sponsoring vendors.
Soybean & Small Grains Congress - Batavia Location

February 10, 2021
8:30a.m Registration. Program 10:00am - 3:30pm
Batavia, NY
Please join Cornell Cooperative Extension's NWNY Dairy, Livestock, and Field Crops Team for the annual
Soybean & Small Grains Congress
to be held at the
Quality Inn & Suites, 8250 Park Road, Batavia, NY.
Announcements
Resources for Managing Overtime
Beginning January 1, 2020, farm employers in New York will be required to pay overtime to certain employees for all hours worked over 60 in a week. We've developed some
tools to help farm employers consider management strategies
to respond to this change. Tools include an excel calculator to estimate the cost of overtime and an extension bulletin to help you consider and evaluate changes on your farm.
March 2020 Dairy Market Watch
The latest issue of Dairy Market Watch is now available. Keep up to date on the market issues affecting our dairy industry, and put changing market forces into perspective.

Dairy Market Watch is an educational newsletter to keep producers informed of changing market factors affecting the dairy industry. Dairy Market Watch is published at the end of every month, funded in part by Cornell Pro-Dairy, and is compiled by Katelyn Walley-Stoll, Business Management Specialist with CCE's SWNY Regional Team.