Produce Quality Milk to Boost Your Bottom Line
Libby Eiholzer, Bilingual Dairy
Northwest New York Dairy, Livestock & Field Crops
Last Modified: March 19, 2015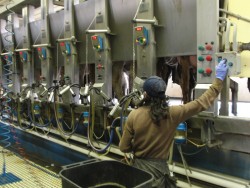 Produce Quality Milk to Boost Your Bottom Line
While milk prices for 2015 are forecasted to be low, that doesnít mean that itís too late for you to do something about protecting your bottom line. Quality milk is always important, but paying special attention to it in lean years will help your business prosper.
There are many ways to make sure that things are running smoothly in your parlor. One good idea is to have qualified personnel come in to test your milking system regularly. Incorrect vacuum levels, poor pulsation and milking units that detach too late can all lead to teat-end damage and increased incidence of mastitis. Following a regular schedule to replace inflations, hoses and other rubber parts is also important.
While we donít tend to see spikes in mastitis during the winter months, mastitis problems in spring and summer months are often caused by damage that teats sustain during the cold weather months. Post-dipping is especially important to help prevent mastitis, but making sure that teats are dry when cows exit the parlor on the coldest days of the year (especially those that have to walk outside) will help to prevent chapped or frozen teats. Using a teat dip with added emollients will also keep teats healthier.
Prevention will take you a long way, but you will almost surely have some mastitis cases to deal with. When you do, sampling cows correctly, culturing them to find the mastitis-causing pathogen and then providing pathogen-based treatment is key to controlling mastitis on your farm. This will help to reduce repeat cases of clinical mastitis, which can add up to a huge cost. If you havenít already, you should work with your herd veterinarian to develop treatment protocols for the different mastitis pathogens so that you can make informed treatment decisions.
ďGarbage in, garbage outĒ says Dr. Rick Watters, Sr. Extension Veterinarian with the Western Laboratory of Quality Milk Production Services (QMPS). Dr. Watters presented at the first session of the Milk Quality Training in January, discussing proper procedures for taking milk and bedding samples. He says that when taking milk or bedding samples to test for mastitis organisms, cleanliness is essential to getting useful data. Dr. Watters outlined the following procedure for collecting milk from an individual cow:

Prepare the cow as you would for milking: predip, wipe and forestrip. Use an alcohol pad to disinfect the teat end, forestrip again, and then fill the milk vial, making sure to hold it at a 45 degree angle with the lid up. Immediately refrigerate if you will be submitting the sample within 24 hours, or freeze if it will be longer. Adhering to all of these guidelines will provide you with a cleaner, more useful sample.

One option to help you keep a closer eye on milk quality is to enroll in QMPSís Bulk Tank Monitoring Program. Participants are entitled to 6 bulk tank milk analyses during a 12 month enrollment period, collected every other month. The samples are conveniently collected through your milk hauler or milk cooperative, and the analyses provide the farm with information on current milk quality and animal health, as well as alert the farm if there are new, recurrent or periodic herd infections. For more information, contact Dr. Paula Ospina at pav@cornell.edu or 607-253-3933.




Upcoming Events
Weed Resistance Management Demonstration and Plot Tour

July 23, 2019
1:00 - 3:00 p.m.
Waterloo, NY
Come join us on July 23 in Seneca County at Quinten Good's farm for a demonstration and walking tour of 16 different pre- and post-emergence treatments in soybean and 12 different treatments and combinations in corn.
Tall waterhemp and marestail are two weeds that are resistant to glyphosate and ALS herbicide modes of action in the WNY and Finger Lakes regions.
Each year the number of acres with resistant weed populations expands.
For herbicides to be an effective tool in weed management, we have to know what chemistries & application timings are most effective against these resistant weeds.
Income and Real Property Tax Primer-A Learning Circle for Women Non-Operating Land Owners of Ag Land
July 24, 2019
9:00 am - 3:00 pm
Portageville, NY
For many of us taxes can be a mystery, let's have a conversation with the experts about the tax considerations agricultural landowners need to think about.
Pasture Walk with the Finger Lakes Graziers-Cancelled!
July 29, 2019
12:45 - 4 pm
The Finger Lakes Graziers pasture walk has been cancelled due to some scheduling conflicts.
Announcements
RMA Announces Additional One-time Changes to Prevented Planting Provisions
June 29, 2019
RMA Announces Additional One-time Changes to Prevented Planting Provisions
for 2019 Crop Year
In response to delayed and prevented planting resulting from above average rainfall and wetness, the USDA Risk Management Agency has made a one-time change to the 2019 crop year prevented planting rules that effectively allows silage corn, if planted as a cover crop following local agricultural expert guidelines, to be acceptable as a post-prevented planting cover crop. Under this one-time rule change, producers are allowed to produce this crop while retaining their prevented planting payment. This change couples with previously announced one-time changes to the prevented planting rules - including expanded acceptable uses for post-prevented planting cover crops and a change in the cover crop haying and grazing start date rule - serve to help those struggling to meet their forage needs due to the weather.
Read the full article
from the New York Crop Insurance Education Program.
The USDA-RMA states that "For crop insurance purposes, a cover crop is a crop generally recognized by agricultural experts as agronomically sound for the area for erosion control or other purposes related to conservation or soil improvement." PRO-DAIRY specialists Joe Lawrence and Karl Czymmek and Dr. Quirine Ketterings, Professor and Director of Cornell Nutrient Management Spear Program have
released a letter
stating "Corn on Prevented Planting acres meets these objectives."
New Guidance for Mortality Disposal Issued
NYS Department of Ag and Markets has posted guidelines on disposal of livestock carcasses, in response to reports that some rendering companies have halted pickups from farms.
https://nwnyteam.cce.cornell.edu/submission.php?id=761&crumb=dairy|1