NY Corn Silage Hybrid Tests 2012-2010
Mike Stanyard, Team Leader, Field Crops
Northwest New York Dairy, Livestock & Field Crops
Last Modified: May 3, 2013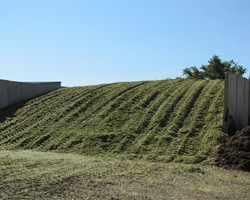 MATERIALS AND METHODS
We planted all hybrids with a 2-row plot planter at 36,000 plants/acre to achieve harvest populations of 32,000-34,000 plants/acre. The Aurora site was planted on 20 April, the Harford site on 30 April, and the Groveland Station site on 3 May. All hybrids were grouped within a 5-day RM (i.e. 91-95 day RM, 96-100, etc.), and planted in a randomized complete block design with four replications. Each individual plot consisted of two 20-ft. rows spaced 30 inches apart. Each individual plot received about 250 lbs/acre of 10-20-20 at planting. The Aurora site, which followed soybeans, received about 140 lbs N/acre of side-dressed N at the 4 to 5-leaf (V4 to V5) stage. The other two sites were well-manured dairy sites, which were 1 or 2 years removed from
perennial forages, so they received no side-dressed N. We used preemergence/postmergence herbicides and hand-weeding to control weeds.
Both rows, trimmed back to an 18-foot length, were harvested for silage yield with a retrofitted 3-row New Holland Chopper with a platform and a weigh-basket, mounted on load cells. The goal was to harvest all hybrids in the 65% moisture range (plus/minus 3%), but some of the early-season hybrids were drier than planned, despite harvesting the Aurora and Harford sites in August. The Aurora site was harvested on two dates: 85-99 day RM groups on 22 August when hybrids in the three maturity groups ranged from about 62 to 65% moisture. The 96-115 day RM groups were harvested on 27 August when hybrids in the three maturity groups ranged from about 61 to 64%. We harvested all maturity groups at the Harford site on 30 August when moistures ranged from about 60% for the 84-90 RM group to about 66% for the 101-105 RM group. We harvested the Sparta Farms site in Livingston Co. on 5 September. Moisture ranged from about 60% for the 85-95 RM group and then increase by about 2 percentage points with each 5 day RM increase up to 68% moisture for the 111-115 day RM.
An approximate 10,000 g well-mixed sample was originally collected from the chopper after harvest of each plot. The 10,000 g sample was then ground further in the field with a chipper-shredder. An approximate 700 g sub-sample was then weighed and recorded with a gram-scale wired to a computer in the field and refrigerated in a generator-powered freezer (samples were kept cool but not frozen). At the end of each day, the samples were brought back to a Cornell Research Farm for drying. The samples were dried at 140o F in a forced air drier to constant moisture and then weighed to determine moisture content of each sample.
Dry samples were ground to pass a 1 mm screen using a Wiley mill. Samples were processed and analyzed by Cumberland Valley Analytical Services, Inc. Samples were analyzed by wet chemistry for neutral detergent fiber (NDF), according to procedures by Van Soest et al. (1991). Samples were incubated for 30 hours at 39oF in a buffered rumen fluid, according to procedures by Van Soest and Robertson (1980) using a flask system and Van Soest buffer. Following fermentation, residues were analyzed for NDF by wet chemistry to determine 30-hour NDF digestibility (NDFD). The NDF digestibility was calculated as ([1-NDF residue/initial NDF] x 100). Crude protein (CP), starch, ether extract, and ash were determined using NIRS. Milk per ton and milk per acre were then calculated using the Milk2006 spreadsheet program (Tables 2-5). Data were analyzed using the PROC GLM procedure of SAS. The LSD values for separating hybrid means were generated at the P = 0.10 level.
For additional information on the 2011/2010 reports see below

NY Corn Silage Hybrid Tests Report - 2012 (pdf; 52KB)
Upcoming Events
2019 Corn Silage Pre-Harvest Workshop - Penn Yan
September 17, 2019
10:00am to Noon
Penn Yan, NY
Corn silage harvest is drawing near. The way corn silage is harvested and stored is a single event that affects your operation for the entire next year. Are you prepared to set your operation up for success?
Ontario County Fun on the Farm
September 21, 2019
11:00 am- 4:00 pm
Seneca Castle, NY
Fun on the Farm works to educate non-farm public and our neighbors about agriculture around them. It is fun and educational.
Fun on the Farm attracts thousands of people and gives us the opportunity to communicate to the community the benefits of the agricultural production in Ontario County, the state, and the nation.
The event is free! There are many agricultural products that are available to be sampled. It is the perfect place to try that product you have seen in the store but didn't want to commit to purchasing.
Food is available to purchase for lunch. It is provided by a local service group.
Bovine Reproduction and AI Training Course
September 24 - September 25, 2019
9:30am - 3:30pm
Shortsville, NY
**CLASS IS FULL**
This two-day AI workshop will be held on September 24 and 25.
Topics covered will include:

• Reproductive Physiology
• Synchronization Protocols
• Heat Detection
• Artificial Insemination
• Proper Thawing of Semen
• Loading A.I. guns
• Practice Breeding Cows
Announcements
Preventing Sexual Harassment on Farms
If you're wondering how to get your farm business in compliance with NYS Sexual Harassment Regulations, you've come to the right place.
The 2018 New York State budget included new regulations addressing sexual harassment in the workplace that became effective on October 9, 2018 for all New York employers, including agricultural employers. All employers are required to have a sexual harassment prevention policy and to provide annual, interactive sexual harassment prevention training for all employees. Check out the resources developed by Cornell Ag Workforce Development, including step-by-step instructions and farm-friendly training videos.
RMA Announces Additional One-time Changes to Prevented Planting Provisions
June 29, 2019
RMA Announces Additional One-time Changes to Prevented Planting Provisions
for 2019 Crop Year
In response to delayed and prevented planting resulting from above average rainfall and wetness, the USDA Risk Management Agency has made a one-time change to the 2019 crop year prevented planting rules that effectively allows silage corn, if planted as a cover crop following local agricultural expert guidelines, to be acceptable as a post-prevented planting cover crop. Under this one-time rule change, producers are allowed to produce this crop while retaining their prevented planting payment. This change couples with previously announced one-time changes to the prevented planting rules - including expanded acceptable uses for post-prevented planting cover crops and a change in the cover crop haying and grazing start date rule - serve to help those struggling to meet their forage needs due to the weather.
Read the full article
from the New York Crop Insurance Education Program.
The USDA-RMA states that "For crop insurance purposes, a cover crop is a crop generally recognized by agricultural experts as agronomically sound for the area for erosion control or other purposes related to conservation or soil improvement." PRO-DAIRY specialists Joe Lawrence and Karl Czymmek and Dr. Quirine Ketterings, Professor and Director of Cornell Nutrient Management Spear Program have
released a letter
stating "Corn on Prevented Planting acres meets these objectives."