Pate Visit a Success!
Nancy Glazier, Small Farms & Livestock
Northwest New York Dairy, Livestock & Field Crops
September 30, 2014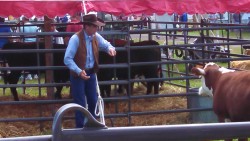 The National Beef Quality Assurance program offered to assist with expenses to bring stockmanship expert Curt Pate to NY. I am a member of the state committee and quickly volunteered for the task of driving him around the Finger Lakes for 2 days. As time wore on, I became a bit more hesitant. To spend 2 days with a stranger was a little bit unnerving. I think there was a bit of apprehension on his part, too.
It wasn't long after I picked him up at the hotel near the Rochester airport my concerns were laid to rest. I soon discovered his passions ? family, small farms, grazing, and animal welfare. I could easily relate. He said the gently rolling hills Finger Lakes reminded him of Sweden. The green grass (and everything else!) reminded him of Ireland. I explained things aren't always this green here in August.
Curt has a wide background working with animals. His grandfather had an auction barn and slaughterhouse. He grew nostalgic at a stop at one of the sale barns. His values came from that time since he grandfather demanded horses and cattle be treated humanely. That stuck with him when he started working horses and then cattle. At all of the clinic stops, Curt took his time getting started with the training. He 'read' the audience and tailored each presentation to the group. He worked dairy or beef cattle at each clinic, which is the format he prefers. He does not use PowerPoint presentations. The toughest crowd was at one of the sale barns working with the employees. He skipped the presentation and we went out to the holding facilities. The employees were in their environment and more willing to talk. Ideas were developed to make the facilities better for both employees and animals. A hot topic was touched upon and will need some further work to remediate.
Curt is very concerned with consumers perception of animal agriculture. We always need to keep the industry moving forward towards transparency. A quality of life is important for the farmer and livestock. He says it is our duty to care for them and they in turn provide for us. We need to protect them from fear and being alone. Animals have a high tolerance for pain, but we need to protect them from any unnecessary pain. Livestock need to be read before they are worked. Curt took the time to watch them before entering the pens or barns. He moved towards them with confidence and firm pressure. Livestock can sense hesitancy and timidity. All animals have a flight zone, or he liked to call it pressure point. That zone or point was the basis for movement. He 'hooked on' the cattle; he worked to get them to pay attention only to him, gauging the pressure needed for more sensitive ones.
Curt referenced the Five Freedoms for confined animals at one of our clinics. It sums up a lot of what he believes. It was originally reported in the Brambell Report (1965) and further developed by the Farm Animal Welfare Council (FAWC) in 1979: 1. Freedom from Hunger and Thirst - by ready access to fresh water and a diet to maintain full health and vigour. 2. Freedom from Discomfort - by providing an appropriate environment including shelter and a comfortable resting area. 3. Freedom from Pain, Injury or Disease - by prevention or rapid diagnosis and treatment. 4. Freedom to Express Normal Behaviour - by providing sufficient space, proper facilities and company of the animal's own kind. 5. Freedom from Fear and Distress - by ensuring conditions and treatment which avoid mental suffering.
At our last clinic at Rita Partee's Fleur de lis Farm, he said we need to step back and take a look at the day. Did we do things right or could we have done things better. That's a great way to end every day!


Upcoming Events
Weed Resistance Management Demonstration and Plot Tour

July 23, 2019
1:00 - 3:00 p.m.
Waterloo, NY
Come join us on July 23 in Seneca County at Quinten Good's farm for a demonstration and walking tour of 16 different pre- and post-emergence treatments in soybean and 12 different treatments and combinations in corn.
Tall waterhemp and marestail are two weeds that are resistant to glyphosate and ALS herbicide modes of action in the WNY and Finger Lakes regions.
Each year the number of acres with resistant weed populations expands.
For herbicides to be an effective tool in weed management, we have to know what chemistries & application timings are most effective against these resistant weeds.
Income and Real Property Tax Primer-A Learning Circle for Women Non-Operating Land Owners of Ag Land
July 24, 2019
9:00 am - 3:00 pm
Portageville, NY
For many of us taxes can be a mystery, let's have a conversation with the experts about the tax considerations agricultural landowners need to think about.
Pasture Walk with the Finger Lakes Graziers-Cancelled!
July 29, 2019
12:45 - 4 pm
The Finger Lakes Graziers pasture walk has been cancelled due to some scheduling conflicts.
Announcements
RMA Announces Additional One-time Changes to Prevented Planting Provisions
June 29, 2019
RMA Announces Additional One-time Changes to Prevented Planting Provisions
for 2019 Crop Year
In response to delayed and prevented planting resulting from above average rainfall and wetness, the USDA Risk Management Agency has made a one-time change to the 2019 crop year prevented planting rules that effectively allows silage corn, if planted as a cover crop following local agricultural expert guidelines, to be acceptable as a post-prevented planting cover crop. Under this one-time rule change, producers are allowed to produce this crop while retaining their prevented planting payment. This change couples with previously announced one-time changes to the prevented planting rules - including expanded acceptable uses for post-prevented planting cover crops and a change in the cover crop haying and grazing start date rule - serve to help those struggling to meet their forage needs due to the weather.
Read the full article
from the New York Crop Insurance Education Program.
The USDA-RMA states that "For crop insurance purposes, a cover crop is a crop generally recognized by agricultural experts as agronomically sound for the area for erosion control or other purposes related to conservation or soil improvement." PRO-DAIRY specialists Joe Lawrence and Karl Czymmek and Dr. Quirine Ketterings, Professor and Director of Cornell Nutrient Management Spear Program have
released a letter
stating "Corn on Prevented Planting acres meets these objectives."
New Guidance for Mortality Disposal Issued
NYS Department of Ag and Markets has posted guidelines on disposal of livestock carcasses, in response to reports that some rendering companies have halted pickups from farms.
https://nwnyteam.cce.cornell.edu/submission.php?id=761&crumb=dairy|1