Animal Care in Summer Weather
Libby Eiholzer, Bilingual Dairy
Northwest New York Dairy, Livestock & Field Crops
September 15, 2014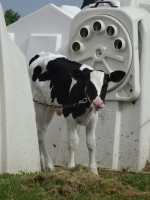 Share this article with your employees so that everyone can help keeps cows and calves comfortable and healthy this summer!
The hot summer months can do a lot worse than make workers irritable and uncomfortable. Heat negatively affects cow performance in many ways. It can reduce fertility as well as decrease feed intake and milk production. Dairy cows can begin to feel mild heat stress when temperatures reach only 65 degrees, but relative humidity also plays a role. When humidity is higher, cows begin to experience heat stress at a lower temperature. Signs of heat stress include increased respiration and rectal temperature, panting, foaming at the mouth and bunching.
What can you do?
Make sure the cows have enough water. Keep waterers clean and full of fresh water so that cows are encouraged to drink more.
Keep an eye on cow cooling devices? fans and sprinklers should be in good working condition in order to maximize cow cooling.
Keep stalls bedded and clean to entice cows to lie down and not bunch in the allies.
Try to leave cows alone during the hottest times of the day. If possible, complete herd work in the early morning when it is still cool.
Extra precautions need to be taken with calves as well.
Chill colostrum quickly using an ice bath or bottles of ice in the colostrum, then refrigerate or freeze. Hot weather allows pathogens to reproduce quickly, so even a short time at room temperature can drastically reduce colostrum quality.
Monitor grain pails closely and replace grain before it becomes soggy, moldy, or otherwise undesirable to calves. The fats in calf grains can go bad very quickly when it?s hot, leading to a rancid smell that turns calves off from it.
Calves, too, need to have fresh water provided at all times. Scouring calves or calves off feed should receive electrolytes to prevent dehydration.
Don?t skimp on cleanliness! Bedding should be kept fresh and dry to control flies. Rinse and wash feeding equipment that comes into contact with milk in order to prevent the buildup of biofilms- and bacteria.
For more information on calf care during summer months, visit the Calf Facts & Calving Ease pages at www.atticacows.com.



Upcoming Events
NWNY Dairy Day 2022
December 6, 2022
Batavia, NY
REGISTRATION NOW OPEN!
Theme: The Future of Your Dairy's Youngstock

The NWNY Dairy, Livestock and Field Crops team will be holding it's first "Dairy Day" this December! We will be bringing the latest in dairy research to you with this in-person, 1-day conference.

2023 Corn Congress - Batavia, NY

January 5, 2023
Batavia, NY
Save the Date for 2023 Corn Congress - January 5 & 6, 2023
2023 Corn Congress - Waterloo, NY

January 6, 2023
Waterloo, NY
Save the Date for 2023 Corn Congress - January 5 & 6, 2023
Announcements
The NWNY Team Blog
Our goal for
this blog
is to share with farmers and allied industry professionals, technical and applicable resources regarding all aspects of dairy farming, livestock and small farms, field crops and soils, and topics related to farm business management and precision agriculture.

The blog will feature Crop Alerts, Dairy Alerts, Bilingual (Spanish) Resources, Upcoming Events and more from our team members. This blog is free for everyone to use, explore and enjoy. When new material is published, subscribers will receive an email notification.

We hope you enjoy this new platform, and are looking forward to engaging with you in the future!