It's Never Too Early to Begin Bull Development
Nancy Glazier, Small Farms & Livestock
Northwest New York Dairy, Livestock & Field Crops
July 29, 2014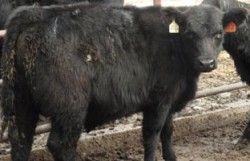 Many farms in the Northeast have a restricted breeding season. This breeding cycle calendar needs to be matched with the bull's sexual development, if a young bull is to be used as a herd sire. This is economically sound reasoning since less feed expense is associated with an older bull. In young bulls, scrotal circumference (SC) is positively correlated with testicular weight, sperm output, and fertility [Bagu, et al. 2006]. At times young, immature bulls have poor semen quality and low sperm production. A breeding soundness exam is essential prior to breeding season. Part of the exam includes scrotal circumference measurement which estimates testicular size. The amount of scrotal fat also has an effect on the circumference. Overly high-energy diets tend to increase this amount of fat; generally a gain of less than 3.5 lbs per day is reduces excess fat deposition. Too small of a circumference may mean poor fertility. A low conception rate within the herd is definitely not an equal trade-off for using a young bull!

The first months of a bull calf's life has pronounced effects on LH (luteinizing hormone) secretion and sexual development. This development involves a transient rise in circulating gonadotropin concentrations between 2 and 6 months of age. The role of LH secretion during this time of gonadotropin rise is determined by age at puberty and testicular size. Puberty is defined when a bull can ejaculate 50 million sperm and with 10% motility. Semen quality and quantity is essential for sperm motility. This effect of LH has been verified with a number of studies. The early post-natal increase in mean serum LH concentrations was greater in bull calves that reached puberty early as compared to late [Bagu, et al. 2006]. Interestingly, exogenous (added) LH did not bring on commence of early puberty. Improved nutrition after this period will not compensate that early critical period. Bull calves fed at a maintenance level after this period will still benefit from the early high plane of nutrition [Brito et al. 2007].

Nutrition during this early development period is critical. Low levels of nutrition may delay maturity. Whether this is due to the cow or feed may depend on each operation. First-calf heifers may have lower milk supply and/or pasture or feed may be of poorer quality are two possibilities. Many farms will graze cow-calf pairs with little attention paid to the pastures through the season; nutrition is usually not addressed until post-weaning. This reinforces the importance of rotational grazing and always having quality forage available to the pairs. The animals may have plenty to eat, but if they have to expend more energy finding enough means less energy for growth and development. Creep feeding is an excellent way to provide additional supplementation to growing calves, and in some cases supplementation may be beneficial to the cows.

The NY All Forage Fed Bull Test will be evaluating bulls again this winter at the Cornell University Ruminant Center in Dryden. Please contact me if you are interested in additional information.

Article references:

E.T. Bagu, S.J. Cook, A. Honaramooz, J.P. Aravindakshan, S. Huchkowsky, N.C. Rawlings. Changes in serum luteinizing hormone (LH) concentrations in response to luteinizing hormone releasing hormone
(LHRH) in bull calves that attained puberty early or late. Theriogenology. 66 (2006) 937-944.

Brito LF, Barth AD, Rawlings NC, Wilde RE, Crews DH Jr, Mir PS, et al. Effect of nutrition during calfhood and peripubertal period on serum metabolic hormones, gonadotropins and testosterone concentrations, and on sexual development in bulls. Domest Anim Endocrinol. 2007; 33:1-18.

Effect of growth rate from 6 to 16 months of age on sexual development and reproductive function in beef bulls. L.F.C. Brito, A.D. Bartha, R.E. Wildeb, J.P. Kastelicb. Theriogenology 77 (2012) 1398-1405.



Upcoming Events
Corn Congress - Batavia Location

January 6, 2021
8:30 a.m. - 3:30 p.m.
Batavia, NY
Please join the NWNY Dairy, Livestock and Field Crop Team
for our annual
Corn Congress
. DEC

re-certification

points and Certified Crop Adviser credits available, so bring your picture ID. Lunch is included. Hear from program-related professionals and visit with our sponsoring vendors.
Corn Congress - Waterloo Location

January 7, 2021
8:30 a.m. - 3:30 p.m.
Waterloo, NY
Please join the
NWNY Dairy, Livestock and Field CropsTeam
for our annual
Corn Congress
. DEC re-certification points and Certified Crop Adviser credits available, so bring your picture ID. Lunch is included. Hear from program-related professionals and visit with our sponsoring vendors.
Soybean & Small Grains Congress - Batavia Location

February 10, 2021
8:30a.m Registration. Program 10:00am - 3:30pm
Batavia, NY
Please join Cornell Cooperative Extension's NWNY Dairy, Livestock, and Field Crops Team for the annual
Soybean & Small Grains Congress
to be held at the
Quality Inn & Suites, 8250 Park Road, Batavia, NY.
Announcements
Resources for Managing Overtime
Beginning January 1, 2020, farm employers in New York will be required to pay overtime to certain employees for all hours worked over 60 in a week. We've developed some
tools to help farm employers consider management strategies
to respond to this change. Tools include an excel calculator to estimate the cost of overtime and an extension bulletin to help you consider and evaluate changes on your farm.
March 2020 Dairy Market Watch
The latest issue of Dairy Market Watch is now available. Keep up to date on the market issues affecting our dairy industry, and put changing market forces into perspective.

Dairy Market Watch is an educational newsletter to keep producers informed of changing market factors affecting the dairy industry. Dairy Market Watch is published at the end of every month, funded in part by Cornell Pro-Dairy, and is compiled by Katelyn Walley-Stoll, Business Management Specialist with CCE's SWNY Regional Team.