Dairy Profit Team Springboards Davis Valley Farm into Future
Joan Sinclair Petzen, Farm Business Management
Northwest New York Dairy, Livestock & Field Crops
July 25, 2014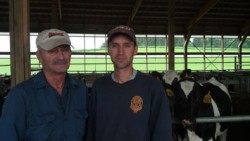 The Davis father-son team milk 275 cows and farm 430 acres. They work to surround themselves with capable teams of employees and advisors. Jim III appreciates the Dairy Profit Team "because it gets everybody's ideas on the table at the same time, Dad's, mine, our herdsman's, veterinarian's, nutritionist's, crop and environmental consultants' and banker's." They are taking advantage of a New York Farm Viability Institute (NYFVI) grant that provides 80% cost sharing for farms to give a profit team a try.
One of the initial issues the team dealt with was a transfer pit in their dairy barn that had accumulated so much sand it was necessary to empty it for it to continue to be functional. The cost to access the pit and empty it was estimated to be $13,000 and would not provide a long term solution. Sand had accumulated from years of putting sand down on slippery floors to prevent cows from falling. At the same time, the farm is struggling with whether to continue to use sawdust for bedding or switch to sand.
With encouragement from the team the farm arranged to have a contractor come in and scabble the floor. The farm saw an immediate response in cows showing signs of heat without spreading sand. Alternatives explored for emptying the manure transfer pit were to remove the grating and lower a skid loader to bucket the material out and then replace the grate or make a significant capital investment to build a ramp outside the barn and have a permanent solution. With the ramp alternative, advisors pointed out the farm would have the ability to deal with sand laden manure opening up the alternative for sand bedding because the pit could more easily be cleaned on a regular basis.
The Team has given our advisors a venue to discuss our strengths and weaknesses. Advisors are sometimes reluctant to come to the farm and criticize what we are doing. The Team provides a forum for our advisors to discuss opportunity areas openly. In turn, we are able to improve operations and profit from those improvements based upon priorities arrived at by the Team.
The team is pushing us to gather and share performance data. We are still in the early stages of tracking performance in a number of areas. As we move down the road, this data will allow us to benchmark our performance against our history and note which areas are improving and be able to quickly pinpoint when a specific area might need to be shored up.
Jim III values the working relationship he and his Dad have. Working together with the Team will allow us to make decisions, particularly with respect to capital investments, that will advance and strengthen the business to continue to thrive in the future. We are analytical and value the ability to estimate how investments will pay off as we go forward.
Through the NYFVI Dairy Profit Team Program, up to $2500 is available to support the cost of a minimum of seven meetings for a farm over a 15 month period. To learn more about Profit Teams, visit:
Dairy Profit Teams
or contact the NYFVI at 315-453-3823.
Jim III was quick to point out "Advisors on the team have given us a number of new ideas and helped us to prioritize them. They got us thinking about new possibilities for the farm. They are helping us to optimize where we spend limited capital resources to advance the farm business."
Dairy Profit Team Brochure (pdf; 1295KB)
Upcoming Events
Corn Congress - Batavia Location

January 6, 2021
8:30 a.m. - 3:30 p.m.
Batavia, NY
Please join the NWNY Dairy, Livestock and Field Crop Team
for our annual
Corn Congress
. DEC

re-certification

points and Certified Crop Adviser credits available, so bring your picture ID. Lunch is included. Hear from program-related professionals and visit with our sponsoring vendors.
Corn Congress - Waterloo Location

January 7, 2021
8:30 a.m. - 3:30 p.m.
Waterloo, NY
Please join the
NWNY Dairy, Livestock and Field CropsTeam
for our annual
Corn Congress
. DEC re-certification points and Certified Crop Adviser credits available, so bring your picture ID. Lunch is included. Hear from program-related professionals and visit with our sponsoring vendors.
Soybean & Small Grains Congress - Batavia Location

February 10, 2021
8:30a.m Registration. Program 10:00am - 3:30pm
Batavia, NY
Please join Cornell Cooperative Extension's NWNY Dairy, Livestock, and Field Crops Team for the annual
Soybean & Small Grains Congress
to be held at the
Quality Inn & Suites, 8250 Park Road, Batavia, NY.
Announcements
Resources for Managing Overtime
Beginning January 1, 2020, farm employers in New York will be required to pay overtime to certain employees for all hours worked over 60 in a week. We've developed some
tools to help farm employers consider management strategies
to respond to this change. Tools include an excel calculator to estimate the cost of overtime and an extension bulletin to help you consider and evaluate changes on your farm.
March 2020 Dairy Market Watch
The latest issue of Dairy Market Watch is now available. Keep up to date on the market issues affecting our dairy industry, and put changing market forces into perspective.

Dairy Market Watch is an educational newsletter to keep producers informed of changing market factors affecting the dairy industry. Dairy Market Watch is published at the end of every month, funded in part by Cornell Pro-Dairy, and is compiled by Katelyn Walley-Stoll, Business Management Specialist with CCE's SWNY Regional Team.