Dairy Profit Team Springboards Davis Valley Farm into Future
Joan Sinclair Petzen, Farm Business Management
Northwest New York Dairy, Livestock & Field Crops
July 25, 2014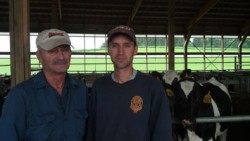 The Davis father-son team milk 275 cows and farm 430 acres. They work to surround themselves with capable teams of employees and advisors. Jim III appreciates the Dairy Profit Team "because it gets everybody's ideas on the table at the same time, Dad's, mine, our herdsman's, veterinarian's, nutritionist's, crop and environmental consultants' and banker's." They are taking advantage of a New York Farm Viability Institute (NYFVI) grant that provides 80% cost sharing for farms to give a profit team a try.
One of the initial issues the team dealt with was a transfer pit in their dairy barn that had accumulated so much sand it was necessary to empty it for it to continue to be functional. The cost to access the pit and empty it was estimated to be $13,000 and would not provide a long term solution. Sand had accumulated from years of putting sand down on slippery floors to prevent cows from falling. At the same time, the farm is struggling with whether to continue to use sawdust for bedding or switch to sand.
With encouragement from the team the farm arranged to have a contractor come in and scabble the floor. The farm saw an immediate response in cows showing signs of heat without spreading sand. Alternatives explored for emptying the manure transfer pit were to remove the grating and lower a skid loader to bucket the material out and then replace the grate or make a significant capital investment to build a ramp outside the barn and have a permanent solution. With the ramp alternative, advisors pointed out the farm would have the ability to deal with sand laden manure opening up the alternative for sand bedding because the pit could more easily be cleaned on a regular basis.
The Team has given our advisors a venue to discuss our strengths and weaknesses. Advisors are sometimes reluctant to come to the farm and criticize what we are doing. The Team provides a forum for our advisors to discuss opportunity areas openly. In turn, we are able to improve operations and profit from those improvements based upon priorities arrived at by the Team.
The team is pushing us to gather and share performance data. We are still in the early stages of tracking performance in a number of areas. As we move down the road, this data will allow us to benchmark our performance against our history and note which areas are improving and be able to quickly pinpoint when a specific area might need to be shored up.
Jim III values the working relationship he and his Dad have. Working together with the Team will allow us to make decisions, particularly with respect to capital investments, that will advance and strengthen the business to continue to thrive in the future. We are analytical and value the ability to estimate how investments will pay off as we go forward.
Through the NYFVI Dairy Profit Team Program, up to $2500 is available to support the cost of a minimum of seven meetings for a farm over a 15 month period. To learn more about Profit Teams, visit:
Dairy Profit Teams
or contact the NYFVI at 315-453-3823.
Jim III was quick to point out "Advisors on the team have given us a number of new ideas and helped us to prioritize them. They got us thinking about new possibilities for the farm. They are helping us to optimize where we spend limited capital resources to advance the farm business."
Dairy Profit Team Brochure (pdf; 1295KB)
Upcoming Events
Weed Resistance Management Demonstration and Plot Tour

July 23, 2019
1:00 - 3:00 p.m.
Waterloo, NY
Come join us on July 23 in Seneca County at Quinten Good's farm for a demonstration and walking tour of 16 different pre- and post-emergence treatments in soybean and 12 different treatments and combinations in corn.
Tall waterhemp and marestail are two weeds that are resistant to glyphosate and ALS herbicide modes of action in the WNY and Finger Lakes regions.
Each year the number of acres with resistant weed populations expands.
For herbicides to be an effective tool in weed management, we have to know what chemistries & application timings are most effective against these resistant weeds.
Income and Real Property Tax Primer-A Learning Circle for Women Non-Operating Land Owners of Ag Land
July 24, 2019
9:00 am - 3:00 pm
Portageville, NY
For many of us taxes can be a mystery, let's have a conversation with the experts about the tax considerations agricultural landowners need to think about.
Pasture Walk with the Finger Lakes Graziers-Cancelled!
July 29, 2019
12:45 - 4 pm
The Finger Lakes Graziers pasture walk has been cancelled due to some scheduling conflicts.
Announcements
RMA Announces Additional One-time Changes to Prevented Planting Provisions
June 29, 2019
RMA Announces Additional One-time Changes to Prevented Planting Provisions
for 2019 Crop Year
In response to delayed and prevented planting resulting from above average rainfall and wetness, the USDA Risk Management Agency has made a one-time change to the 2019 crop year prevented planting rules that effectively allows silage corn, if planted as a cover crop following local agricultural expert guidelines, to be acceptable as a post-prevented planting cover crop. Under this one-time rule change, producers are allowed to produce this crop while retaining their prevented planting payment. This change couples with previously announced one-time changes to the prevented planting rules - including expanded acceptable uses for post-prevented planting cover crops and a change in the cover crop haying and grazing start date rule - serve to help those struggling to meet their forage needs due to the weather.
Read the full article
from the New York Crop Insurance Education Program.
The USDA-RMA states that "For crop insurance purposes, a cover crop is a crop generally recognized by agricultural experts as agronomically sound for the area for erosion control or other purposes related to conservation or soil improvement." PRO-DAIRY specialists Joe Lawrence and Karl Czymmek and Dr. Quirine Ketterings, Professor and Director of Cornell Nutrient Management Spear Program have
released a letter
stating "Corn on Prevented Planting acres meets these objectives."
New Guidance for Mortality Disposal Issued
NYS Department of Ag and Markets has posted guidelines on disposal of livestock carcasses, in response to reports that some rendering companies have halted pickups from farms.
https://nwnyteam.cce.cornell.edu/submission.php?id=761&crumb=dairy|1