New Technology for Corn Nitrogen Needs
Bill Verbeten, Field Crops
Northwest New York Dairy, Livestock & Field Crops
June 20, 2014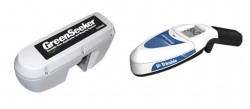 Farmers and agronomists are constantly looking for better tools to improve crop production, and corn nitrogen is no exception. In an effort to account for the spatial variability within every field and the temporal variability of nitrogen due to weather farmers are beginning to use two new tools, GreenSeeker and Adapt-N, on a small scale in northwestern NY. While these tools have great potential to improve corn nitrogen management it is important to understand what they require to work well and the situations where their use may not be warranted until more experience is gained with them. Download the PDF for the full article that appeared in the June 2014 Ag Focus Newsletter.
New Technology for Corn Nitrogen Needs (pdf; 425KB)
Upcoming Events
Webinar-Challenges and Opportunities of Managing Transition Cows on AMS
June 1, 2023
Please join MSU Extension and Cornell Cooperative Extension Regional Teams for our talk with Pete Maslyn of Hemdale Dairy and Todd Ward of Direct Dairy Nutrition Services on managing transition cows on automated milking systems (AMS).
2023 Dairy Nutrition & Management Shortcourse
June 5 - June 9, 2023
Chazy, NY
This course is designed primarily for early career nutritionists and allied industry professionals seeking a more comprehensive foundation in the principles of dairy cattle nutrition and their application within dairy herd management.
Agritourism Workshops Monthly! - Agritourism Pricing Workshop
June 20, 2023
Are you thinking of starting an agritourism business or are you currently operating one?

Join our monthly lunch-hour, workshop virtual series and learn how to grow your agritourism business!
Each session will focus on specific topic to help aspiring agritourism entrepreneurs grow their knowledge and profit through this exciting on-farm business.

Cost: Free to attend, but registration required!

Announcements
Follow us on Instagram
See photos and reels of our most recent events and programs!
Join us on Facebook!
Follow us on Facebook to get up to date posts about events, workshops and everything NWNY!
Add us on LinkedIn!
Connect with us on LinkedIn to get more information about upcoming workshops and programs!
Watch us on YouTube
Watch instructional videos from specialists in the field!
Subscribe for Emails about Events & Workshops!