Muranda Cheese Company: Looking to the Future with Value-Added Products
Libby Eiholzer, Bilingual Dairy
Northwest New York Dairy, Livestock & Field Crops
June 6, 2014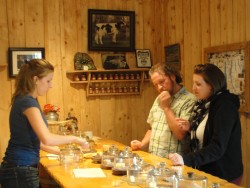 Milking cows and working hard
isn?t always enough to be profitable these days, and an increasing number of dairy farmers are looking to value-added products as a way to increase profitability as well as make room for the next generation on the farm. Cheese is the value added product of choice at Muranda Holsteins.
In 1991 Tom and Nancy Murray bought a small farm with 150 acres in Waterloo, NY. They milked 90 cows, slowly transitioning from grade animals to a registered herd. By 2003, the herd?s genetic value was so high that they had a milking herd dispersal. In the down time that they had until they began milking a full herd again, Tom began researching what it would take to develop and sell a value-added product. On July 4th, 2007, they made their first batch of cheese and Muranda Cheese Company was born.
So what does it take
to go from selling milk to selling cheese? You might think that it would be much less work, but that?s now how the Murrays operate. The on-farm tasting room is open 7 days a week from 10am to 5pm, but the OPEN flag on the farm sign never comes down. If people take the time to drive to the farm, Tom thinks that making them feel welcome is the least he can do. While 60% of cheese sales are made right on the farm, retail continues to grow. Muranda Cheese Company sells cheese to a number of wineries, restaurants, and bed and breakfasts across the Finger Lakes region.
Tom places a high priority on the personal connection allowed by doing all the company?s marketing. By delivering cheese to all the locations where it?s sold, he?s able to develop a personal relationship with each and every customer. This is certainly good for business, as most of their customers learn about them through word of mouth.
While they considered producing cheese on the farm, they decided to hire a proprietary cheese maker. They currently use three different cheese makers, and while the milk is shipped to the cheese maker to be processed, the cheese comes back to the farm to be aged, cut, and packaged. They recently added two more aging rooms, doubling their capacity. That?s certainly a good thing, as they currently have trouble keeping all 15 cheese varieties in stock!

It?s a Family Thing
. Tom and Nancy?s son Blane, a 2010 graduate of Cornell University, came back to the farm after spending his post- graduation summer learning to ultrasound cows on a dairy in Colorado. He now manages the dairy, which allows Tom time to take care of the cheese side of the business. ?I probably wouldn?t be here without the cheese business,? Blane commented. Renting their land and buying back forages hasn?t been the most profitable business model with high feed prices over the last few years, but cheese has made it profitable. They currently have two part-time employees helping Blane with the cows. Tom has eight part timers helping in the tasting room and with special events, including his wife Nancy and Blane?s fianc?e Mary Clark. Mary, who is employed full time off the farm as a dairy nutritionist, also does the nutrition for the herd.
Always open to the public
. While most farms have visitors only on occasion, it?s a daily occurrence at Muranda Holsteins. The day that I stopped by, a Friday afternoon in late June, 130 people had already dropped in to taste or purchase cheese! They average about 50 visitors per weekday and more than 200 per day on the weekend. As the tasting room parking lot is right next to the tiestall, Blane eventually had to put up a rope to keep people from wandering in. He?s happy to offer tours when he?s not busy, but certainly doesn?t want people to wander around unguided.
The young couple brings fresh ideas to the business about how to reach out to the public. They?re active on Facebook, Twitter and Vine, and recently organized a Dairy Day celebration in conjunction with the Finger Lakes Cheese trail, complete with farm tours, educational displays and a chance to get pictures taken with the cows. This group of nine cheese producers organizes events throughout the year to highlight their products and the dairy industry.
Has this article got you craving cheese? Visit Muranda Cheese Company at 3075 State Route 96 South, Waterloo, NY 13165. Order cheese and view upcoming events at their website:
http://murandacheese.com/
.
Upcoming Events
Weed Resistance Management Demonstration and Plot Tour

July 23, 2019
1:00 - 3:00 p.m.
Waterloo, NY
Come join us on July 23 in Seneca County at Quinten Good's farm for a demonstration and walking tour of 16 different pre- and post-emergence treatments in soybean and 12 different treatments and combinations in corn.
Tall waterhemp and marestail are two weeds that are resistant to glyphosate and ALS herbicide modes of action in the WNY and Finger Lakes regions.
Each year the number of acres with resistant weed populations expands.
For herbicides to be an effective tool in weed management, we have to know what chemistries & application timings are most effective against these resistant weeds.
Income and Real Property Tax Primer-A Learning Circle for Women Non-Operating Land Owners of Ag Land
July 24, 2019
9:00 am - 3:00 pm
Portageville, NY
For many of us taxes can be a mystery, let's have a conversation with the experts about the tax considerations agricultural landowners need to think about.
Pasture Walk with the Finger Lakes Graziers-Cancelled!
July 29, 2019
12:45 - 4 pm
The Finger Lakes Graziers pasture walk has been cancelled due to some scheduling conflicts.
Announcements
RMA Announces Additional One-time Changes to Prevented Planting Provisions
June 29, 2019
RMA Announces Additional One-time Changes to Prevented Planting Provisions
for 2019 Crop Year
In response to delayed and prevented planting resulting from above average rainfall and wetness, the USDA Risk Management Agency has made a one-time change to the 2019 crop year prevented planting rules that effectively allows silage corn, if planted as a cover crop following local agricultural expert guidelines, to be acceptable as a post-prevented planting cover crop. Under this one-time rule change, producers are allowed to produce this crop while retaining their prevented planting payment. This change couples with previously announced one-time changes to the prevented planting rules - including expanded acceptable uses for post-prevented planting cover crops and a change in the cover crop haying and grazing start date rule - serve to help those struggling to meet their forage needs due to the weather.
Read the full article
from the New York Crop Insurance Education Program.
The USDA-RMA states that "For crop insurance purposes, a cover crop is a crop generally recognized by agricultural experts as agronomically sound for the area for erosion control or other purposes related to conservation or soil improvement." PRO-DAIRY specialists Joe Lawrence and Karl Czymmek and Dr. Quirine Ketterings, Professor and Director of Cornell Nutrient Management Spear Program have
released a letter
stating "Corn on Prevented Planting acres meets these objectives."
New Guidance for Mortality Disposal Issued
NYS Department of Ag and Markets has posted guidelines on disposal of livestock carcasses, in response to reports that some rendering companies have halted pickups from farms.
https://nwnyteam.cce.cornell.edu/submission.php?id=761&crumb=dairy|1