Are These Armyworms??
Mike Stanyard, Team Leader, Field Crops
Northwest New York Dairy, Livestock & Field Crops
March 1, 2013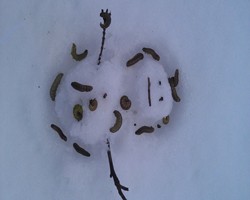 The last week of February I received multiple calls about worms crawling on top of the snow. Most of the calls came from Yates and Seneca counties but I'm sure this strange event occurred in other areas across the region. Many were concerned that they were armyworms overwintering from the "2012 Armyworm Invasion". This goes to show how bad the armyworms were this past year and the damage they caused has not been forgotten. Many callers reported that seagulls were feeding on the caterpillars and were the first indication that something was out on the snow.

Were these armyworms? No. Armyworms do not overwinter here in NY. It is too cold for this species to survive. New adult moths migrate from the south every year to lay eggs and repopulate the northeast. These caterpillars looked and acted very similar to armyworms so it was a good first guess!

So what were they? These beasts were winter cutworms. Yes, there are species of cutworms that overwinter in the larval stage here in NY. We are more familiar with its close cousin the black cutworm. The black cutworm, like the armyworm, does not overwinter here in NY. The winter cutworms I have seen this year range in color from green to a dark brown. This cutworm has a series of black dashes running down the top of its back. While most of the reports have been of large worms over two inches, a few have been smaller.

Why were they on top of the snow? The warmer temperatures had them feeding on plants under the snow. The ones I had in a container overnight had lots of frass (bug poop) in the bottom. We had some rains that compacted the snow and made it very heavy. In addition, the water sat on top of the ground because the ground was frozen and had nowhere to go. Between the saturated conditions and the heavy snow, the cutworms had to escape on top of the snow.

Winter cutworms do not have the pest status that their cousins uphold. They are one of a very few cold-tolerant insects that can come out during the winter months. They do the majority of their feeding in the late fall but can stay active on warmer days throughout the winter feeding under the snow. I had other calls in January during our first thaw and reports of worms crawling across driveways and into farm buildings. This mass movement is also very reminiscent of armyworm behavior. There are definitely more winter cutworms overwintering this year than I've ever seen before.

Will they cause damage to agricultural crops this spring? We normally do not consider this cutworm to be of any economic importance to crops. They do feed on a wide variety of hosts. A few years ago, I had one feeding on my spider plant I had brought inside for the fall. There is a possibility that with the high numbers we are seeing this winter that some small areas of winter wheat, pastures, or hay fields could have seen localized feeding damage late last fall and over the winter. There are very few reported cases of economic damage associated with this insect. It is very unlikely that we would have to spray an insecticide to control winter cutworm larvae this spring.


Upcoming Events
Beginning Farmer/Hobby Farmer Workshop $5/pp, class size is limited, so pre-register by April 15th!
April 27, 2019
9:00 am - 1:00 pm
Canandaigua, NY
This hands-on workshop is for beginning or part-time farmers who would like to improve their farm machinery skills, learn to properly and safely maintain their equipment to protect their investment. If you have been thinking about buying a tractor, new or used, two-wheel or four-wheel drive, compact or utility or more come join us. Topics include: selecting the right size/type tractor for the job; basic maintenance; staying safe around tractors and equipment; attaching implements properly; and information about ROPS and SMV's. There will be time for questions.
Pre-registration requested by April 15, 2019 email Amy with your name, address, and phone number or call 585-394-3977 x 429.
Fee: $5.00/person. Class size is limited.
2019 Pastured Poultry Seminar, lunch included so please register by May 10th! $25/person
May 18, 2019
Registration begins at 8:00 a.m.w/ coffee & donuts with the Program running from 9:00 a.m. - 5 p. m.
Attica, NY
The main speaker this year is
Eli Reiff
of Mifflinburg Pennsylvania. Eli raises broilers, turkeys, sheep, and beef, all on pasture. Topics to be covered will include the
pasture
,
feed and nutrition
,
marketing
,
costs
, and much more. As we grow as farm operators and get bigger, we may not pay as much attention to the basics as we should. So those areas are where we will start, and then expand to cover the group's interests.
Mike Badger, Director of the American Pastured Poultry Producers Association
will also be available for a round-table discussion. Plans are to have representatives from Farm Bureau, NYCAMH for farm health and safety, Wyoming County Chamber of Commerce, and Cornell Cooperative Extension of Wyoming County, as well as others.
Calling all 9th-12th graders! 4th Annual Precision Agriculture Day at Genesee Community College
May 21, 2019
9:00 am - 1:30 pm Register by Friday May 10th! $15/per person includes lunch
Batavia, NY
Calling all 9th-12th graders! We have an exciting new program for students interested in technology, science, engineering, and agriculture!
Would you like to:
Learn about how Drones collect information
Check out some potential career opportunities that have new and ever-changing technology
Learn how these technologies can be used in our own backyards in WNY
Discover potential and exciting career opportunities
Announcements
Producers Previously Enrolled in the LGM Program Now Eligible for MPP
Dairy Producers Previously Enrolled in the Livestock Gross Margin Program Now Eligible for 2018 Margin Protection Program
The U.S. Department of Agriculture (USDA) today announced that dairy producers who elected to participate in the Livestock Gross Margin for Dairy Cattle Program (LGM-Dairy) now have the opportunity to participate in the Margin Protection Program for Dairy (MPP-Dairy) for 2018 coverage. Sign-up will take place March 25 through May 10, 2019.
Eligible producers can enroll during the sign-up period at their local USDA service center. To locate your office, visit
farmers.gov
.
Smart Farming Team Technical Assistance Grant Application
The
Labor Ready Farmer Project
is offering grants to provide up to 12 hours of Technical Assistance (TA) consulting services to farms who want to make improvements to their farm's processes in hiring, training, managing or evaluating employees. Applicants will choose from one of the following four areas for TA assistance and identify a specific project. If selected they will be matched with a "Smart Farming Team" of consultants who will provide one on one technical assistance.
HIRING EMPLOYEES 101 - GETTING OFF TO A GOOD START
ONBOARDING & TRAINING EMPLOYEES QUICKLY AND EFFECTIVELY
FINE-TUNING & IMPROVING THE WORKING ENVIRONMENT
H2-A READINESS
Please complete this
application
and send to Nicole Waters, Beginning Farm Project Coordinator for the Cornell Small Farms Program. The form can be submitted by email, mail or in-person at the address listed below. Please feel free to call or email with any questions.
Nicole Waters - Beginning Farmer Project Coordinator
Plant Science Building, Room 15b
Tower Road, Cornell University
Ithaca, NY 14853
Phone: 607-255-9911
Email: nw42@cornell.edu

Applications accepted on a rolling basis.
USDA Announces January Income over Feed Cost Margin Triggers First 2019 Dairy Sa
WASHINGTON, March 6, 2019
? The U.S. Department of Agriculture's Farm Service Agency (FSA) announced this week that the January 2019 income over feed cost margin was $7.99 per hundredweight, triggering the first payment for eligible dairy producers who purchase the appropriate level of coverage under the new but yet-to-be established Dairy Margin Coverage (
DMC
) program.
DMC
, which replaces the Margin Protection Program for Dairy, is a voluntary risk management program for dairy producers that was authorized by the 2018 Farm Bill.
DMC
offers protection to dairy producers when the difference between the all milk price and the average feed cost (the margin) falls below a certain dollar amount selected by the producer.

Agriculture Secretary Sonny Perdue announced last week that sign up for
DMC
will open by mid-June of this year. At the time of sign up, producers who elect a
DMC
coverage level between $8.00 and $9.50 would be eligible for a payment for January 2019.
For example, a dairy operation with an established production history of 3 million pounds (30,000 cwt.) that elects the $9.50 coverage level for 50 percent of its production could potentially be eligible to receive $1,887.50 for January.
Sample calculation:
$9.50 - $7.99 margin = $1.51 difference
$1.51 times 50 percent of production times 2,500 cwt. (30,000 cwt./12) = $1,887.50
The calculated annual premium for coverage at $9.50 on 50 percent of a 3-million-pound production history for this example would be $2,250.
Sample calculation:
3,000,000 times 50 percent = 1,500,000/100 = 15,000 cwt. times 0.150 premium fee = $2,250
Operations making a one-time election to participate in DMC through 2023 are eligible to receive a 25 percent discount on their premium for the existing margin coverage rates.
"
Congress created the Dairy Margin Coverage program to provide an important financial safety net for dairy producers, helping them weather shifting milk and feed prices
," FSA Administrator Richard Fordyce said. "
This program builds on the previous Margin Protection Program for Dairy, carrying forward many of the program upgrades made last year based on feedback from producers. We're working diligently to implement the DMC program and other FSA programs authorized by the 2018 Farm Bill
."
Additional details about
DMC
and other FSA farm bill program changes can be found at
farmers.gov/farmbill.
New Guidance for Mortality Disposal Issued
NYS Department of Ag and Markets has posted guidelines on disposal of livestock carcasses, in response to reports that some rendering companies have halted pickups from farms.
https://nwnyteam.cce.cornell.edu/submission.php?id=761&crumb=dairy|1