PEDv: What does it mean for NY's Swine Producers?
Nancy Glazier, Small Farms & Livestock Specialist
Northwest New York Dairy, Livestock & Field Crops
February 17, 2014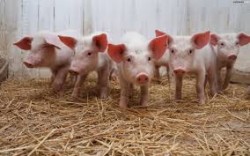 Porcine Epidemic Diarrhea virus (PEDv) has arrived in New York with a vengeance. I received first notice of an infected farrowing operation in early February. Soon after, I discovered the outbreak was much more widespread. The virus was somehow introduced from Asia in multiple locations, was officially identified in the United States in May, 2013. It has killed an estimated 4 million pigs since its introduction.
Clinical signs are severe diarrhea in pigs of all ages and vomiting. High mortality is associated with the virus, nearly 100% in pre-weaned pigs. Transmission occurs orally through contact with contaminated feces. Incubation period is 12-24 hours with shedding (amount of time animals can infect others) up to 3-4 weeks. There is no vaccine available at this time.
This is a scenario posted to the
www.aasv.org
website:
The oldest piglets in farrowing started scouring on a Saturday. The next oldest rooms were scouring on Sunday. By Monday, 100% of piglets in far-rowing were scouring and sows in lactation were going off feed. On Tuesday, piglet mortality in-creased to 10x normal daily losses which continued for approximately one week. Piglets were scouring a yellow, watery scour. They tried to nurse but sows were drying up. Piglets were lined up at the water nipples. Piglets started scouring at 12-24 hours after birth. Piglets would survive until approximately day 3 or 4 unless they were humanely euthanized before then.

What can be done to decrease the chance of your herd becoming infected? The first step - a big one - review and tighten your biosecurity protocols, small and large herds alike. Pay attention to anything or anyone coming out of state or from another farm. Be especially diligent about employees, family and visitors but also consider supplies, feed ingredients, food items, etc. that might contaminate the herd. There is concern that some creep feed may have been contaminated.
Additional biosecurity recommendations should include:
limiting traffic (people and equipment) onto the farm,
thoroughly cleaning and disinfecting anything coming onto the farm. The virus is susceptible to a number of common disinfectants including: Virkon S, Clorox, 1 Stroke Environ, and Tek-Trol, some potent disinfectants. Contact time it critical for any disinfectant; you need to apply it as a soap and leave it sit before rinsing or better yet apply it as an after-washing post-rinse. This goes for boots, truck tires, shovels, buckets, etc.
enforcing downtime requirements and maintaining a log of visitors,
taking care when disposing of dead stock particularly if using a communal disposal method,
isolating newly arriving animals and continuing vet to vet discussions about animal health at the herd of origin, and
showering into the facility where practical and changing into clean boots and coveralls (veterinarians should also be careful not to track the virus between herds on their person, equipment or vehicles)
To help with the education regarding PEDv, the New York Pork Producers will be hosting their annual meeting March 22 at the Holiday Inn in Waterloo. Registration begins at 9 am. To register, contact Krista Jaskier at 716.697.3031 or
info@newyorkpork.org
.
NY Ag & Markets has a fact sheet posted here:
http://www.agriculture.ny.gov/AI/PEDV_Outreach.pdf
Resources for this article were found at websites below. For more information, visit:
http://www.aasv.org/aasv%20website/Resources/Diseases/PorcineEpidemicDiarrhea.php
, the website for the American Association of Swine Veterinarians. Information is continually updated when it becomes available.
http://www.pork.org/Research/2641/ResearchLatestNews.aspx#.Uv1YLfldUrV
. The Pork Checkoff site has lots of information on current research and available resources.
Upcoming Events
Dairy "Technology Tuesdays" Webinar Series
January 10, 2023
January 17, 2023
January 24, 2023
January 31, 2023
February 7, 2023
February 14, 2023
February 21, 2023

: Dairy "Technology Tuesdays" Webinar Series
Dairy "Technology Tuesdays" Webinar Series

January 10 to February 21, 2023
12:30pm to 1:30pm EST
Registration free, but required: https://cornell.zoom.us/webina...
2023 Soybean & Small Grains Congress - Batavia, NY

February 15, 2023
Batavia, NY
Registration is now open for the 2023 Soybean & Small Grains Congress, February 15 & 16, 2023.

2023 Soybean & Small Grains Congress - Waterloo, NY

February 16, 2023
Waterloo, NY
Registration is now open for the 2023 Soybean & Small Grains Congress February 15 & 16, 2023.
Announcements
No announcements at this time.