PEDv: What does it mean for NY's Swine Producers?
Nancy Glazier, Small Farms & Livestock
Northwest New York Dairy, Livestock & Field Crops
February 17, 2014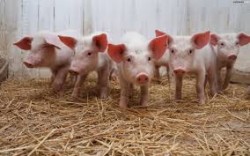 Porcine Epidemic Diarrhea virus (PEDv) has arrived in New York with a vengeance. I received first notice of an infected farrowing operation in early February. Soon after, I discovered the outbreak was much more widespread. The virus was somehow introduced from Asia in multiple locations, was officially identified in the United States in May, 2013. It has killed an estimated 4 million pigs since its introduction.
Clinical signs are severe diarrhea in pigs of all ages and vomiting. High mortality is associated with the virus, nearly 100% in pre-weaned pigs. Transmission occurs orally through contact with contaminated feces. Incubation period is 12-24 hours with shedding (amount of time animals can infect others) up to 3-4 weeks. There is no vaccine available at this time.
The oldest piglets in farrowing started scouring on a Saturday.
The next oldest rooms were scouring on Sunday.
By Monday, 100% of piglets in far-rowing were scouring and sows in lactation were going off feed.
On Tuesday, piglet mortality in-creased to 10x normal daily losses which continued for approximately one week.
Piglets were scouring a yellow, watery scour. They tried to nurse but sows were drying up.
Piglets were lined up at the water nipples.
Piglets started scouring at 12-24 hours after birth. Piglets would survive until approximately day 3 or 4 unless they were humanely euthanized before then.
What can be done to decrease the chance of your herd becoming infected? The first step - a big one - review and tighten your biosecurity protocols, small and large herds alike. Pay attention to anything or anyone coming out of state or from another farm. Be especially diligent about employees, family and visitors but also consider supplies, feed ingredients, food items, etc. that might contaminate the herd. There is concern that some creep feed may have been contaminated.
Additional biosecurity recommendations should include:
limiting traffic (people and equipment) onto the farm,

thoroughly cleaning and disinfecting anything coming onto the farm. The virus is susceptible to a number of common disinfectants including: Virkon S, Clorox, 1 Stroke Environ, and Tek-Trol, some potent disinfectants. Contact time it critical for any disinfectant; you need to apply it as a soap and leave it sit before rinsing or better yet apply it as an after-washing post-rinse. This goes for boots, truck tires, shovels, buckets, etc.

enforcing downtime requirements and maintaining a log of visitors,

taking care when disposing of dead stock particularly if using a communal disposal method,

isolating newly arriving animals and continuing vet to vet discussions about animal health at the herd of origin, and

showering into the facility where practical and changing into clean boots and coveralls (veterinarians should also be careful not to track the virus between herds on their person, equipment or vehicles)
To help with the education regarding PEDv, the New York Pork Producers will be hosting their annual meeting March 22 at the Holiday Inn in Waterloo. Registration begins at 9 am. To register, contact Krista Jaskier at 716.697.3031 or info@newyorkpork.org.
Upcoming Events
Beginning Farmer/Hobby Farmer Workshop $5/pp, class size is limited, so pre-register by April 15th!
April 27, 2019
9:00 am - 1:00 pm
Canandaigua, NY
This hands-on workshop is for beginning or part-time farmers who would like to improve their farm machinery skills, learn to properly and safely maintain their equipment to protect their investment. If you have been thinking about buying a tractor, new or used, two-wheel or four-wheel drive, compact or utility or more come join us. Topics include: selecting the right size/type tractor for the job; basic maintenance; staying safe around tractors and equipment; attaching implements properly; and information about ROPS and SMV's. There will be time for questions.
Pre-registration requested by April 15, 2019 email Amy with your name, address, and phone number or call 585-394-3977 x 429.
Fee: $5.00/person. Class size is limited.
2019 Pastured Poultry Seminar, lunch included so please register by May 10th! $25/person
May 18, 2019
Registration begins at 8:00 a.m.w/ coffee & donuts with the Program running from 9:00 a.m. - 5 p. m.
Attica, NY
The main speaker this year is
Eli Reiff
of Mifflinburg Pennsylvania. Eli raises broilers, turkeys, sheep, and beef, all on pasture. Topics to be covered will include the
pasture
,
feed and nutrition
,
marketing
,
costs
, and much more. As we grow as farm operators and get bigger, we may not pay as much attention to the basics as we should. So those areas are where we will start, and then expand to cover the group's interests.
Mike Badger, Director of the American Pastured Poultry Producers Association
will also be available for a round-table discussion. Plans are to have representatives from Farm Bureau, NYCAMH for farm health and safety, Wyoming County Chamber of Commerce, and Cornell Cooperative Extension of Wyoming County, as well as others.
Calling all 9th-12th graders! 4th Annual Precision Agriculture Day at Genesee Community College
May 21, 2019
9:00 am - 1:30 pm Register by Friday May 10th! $15/per person includes lunch
Batavia, NY
Calling all 9th-12th graders! We have an exciting new program for students interested in technology, science, engineering, and agriculture!
Would you like to:
Learn about how Drones collect information
Check out some potential career opportunities that have new and ever-changing technology
Learn how these technologies can be used in our own backyards in WNY
Discover potential and exciting career opportunities
Announcements
Producers Previously Enrolled in the LGM Program Now Eligible for MPP
Dairy Producers Previously Enrolled in the Livestock Gross Margin Program Now Eligible for 2018 Margin Protection Program
The U.S. Department of Agriculture (USDA) today announced that dairy producers who elected to participate in the Livestock Gross Margin for Dairy Cattle Program (LGM-Dairy) now have the opportunity to participate in the Margin Protection Program for Dairy (MPP-Dairy) for 2018 coverage. Sign-up will take place March 25 through May 10, 2019.
Eligible producers can enroll during the sign-up period at their local USDA service center. To locate your office, visit
farmers.gov
.
Smart Farming Team Technical Assistance Grant Application
The
Labor Ready Farmer Project
is offering grants to provide up to 12 hours of Technical Assistance (TA) consulting services to farms who want to make improvements to their farm's processes in hiring, training, managing or evaluating employees. Applicants will choose from one of the following four areas for TA assistance and identify a specific project. If selected they will be matched with a "Smart Farming Team" of consultants who will provide one on one technical assistance.
HIRING EMPLOYEES 101 - GETTING OFF TO A GOOD START
ONBOARDING & TRAINING EMPLOYEES QUICKLY AND EFFECTIVELY
FINE-TUNING & IMPROVING THE WORKING ENVIRONMENT
H2-A READINESS
Please complete this
application
and send to Nicole Waters, Beginning Farm Project Coordinator for the Cornell Small Farms Program. The form can be submitted by email, mail or in-person at the address listed below. Please feel free to call or email with any questions.
Nicole Waters - Beginning Farmer Project Coordinator
Plant Science Building, Room 15b
Tower Road, Cornell University
Ithaca, NY 14853
Phone: 607-255-9911
Email: nw42@cornell.edu

Applications accepted on a rolling basis.
USDA Announces January Income over Feed Cost Margin Triggers First 2019 Dairy Sa
WASHINGTON, March 6, 2019
? The U.S. Department of Agriculture's Farm Service Agency (FSA) announced this week that the January 2019 income over feed cost margin was $7.99 per hundredweight, triggering the first payment for eligible dairy producers who purchase the appropriate level of coverage under the new but yet-to-be established Dairy Margin Coverage (
DMC
) program.
DMC
, which replaces the Margin Protection Program for Dairy, is a voluntary risk management program for dairy producers that was authorized by the 2018 Farm Bill.
DMC
offers protection to dairy producers when the difference between the all milk price and the average feed cost (the margin) falls below a certain dollar amount selected by the producer.

Agriculture Secretary Sonny Perdue announced last week that sign up for
DMC
will open by mid-June of this year. At the time of sign up, producers who elect a
DMC
coverage level between $8.00 and $9.50 would be eligible for a payment for January 2019.
For example, a dairy operation with an established production history of 3 million pounds (30,000 cwt.) that elects the $9.50 coverage level for 50 percent of its production could potentially be eligible to receive $1,887.50 for January.
Sample calculation:
$9.50 - $7.99 margin = $1.51 difference
$1.51 times 50 percent of production times 2,500 cwt. (30,000 cwt./12) = $1,887.50
The calculated annual premium for coverage at $9.50 on 50 percent of a 3-million-pound production history for this example would be $2,250.
Sample calculation:
3,000,000 times 50 percent = 1,500,000/100 = 15,000 cwt. times 0.150 premium fee = $2,250
Operations making a one-time election to participate in DMC through 2023 are eligible to receive a 25 percent discount on their premium for the existing margin coverage rates.
"
Congress created the Dairy Margin Coverage program to provide an important financial safety net for dairy producers, helping them weather shifting milk and feed prices
," FSA Administrator Richard Fordyce said. "
This program builds on the previous Margin Protection Program for Dairy, carrying forward many of the program upgrades made last year based on feedback from producers. We're working diligently to implement the DMC program and other FSA programs authorized by the 2018 Farm Bill
."
Additional details about
DMC
and other FSA farm bill program changes can be found at
farmers.gov/farmbill.
New Guidance for Mortality Disposal Issued
NYS Department of Ag and Markets has posted guidelines on disposal of livestock carcasses, in response to reports that some rendering companies have halted pickups from farms.
https://nwnyteam.cce.cornell.edu/submission.php?id=761&crumb=dairy|1