New Traceability & ID Regs Now in Effect
Jerry Bertoldo, Dairy
Northwest New York Dairy, Livestock & Field Crops
March 1, 2013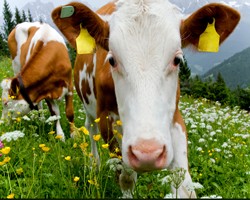 The new federal Animal Disease Traceability Rule went into effect on March 11, 2013. The intent is to improve our ability to trace livestock and poultry when there is a disease event. In 2006, the USDA initiated the National Animal Identification System (NAIS). This voluntary program asked producers to register their premises and identify their animals with a national animal tracking database. After seeing low enrollment in NAIS, the Department launched a series of efforts in 2009 to assess the issues and concerns which were preventing widespread acceptance of NAIS in the livestock community. Producers raised several serious concerns about the protection of proprietary information through premises registration and the program's overall lack of flexibility. As a result, NAIS was never fully implemented and eventually discontinued. The new animal disease traceability framework seeks a new and different approach.

The new rule only applies to cattle that move interstate. The USDA and individual states will start with education and phase in the compliance portion.

The rule will require all cattle to have Interstate Certificates of Veterinary Inspection (ICVI) except those moving directly to slaughter or through a market and then to slaughter. The federal rule does allow exceptions where the sending and receiving states have an agreement to use documentation other than the ICVI. New York is working with the New England States and has reached out to Pennsylvania and Ohio to put into place agreements to allow the movement of bob veal calves between those states without an ICVI. This would avoid stressful delays in holding these calves waiting for the paperwork to be processed.

In addition, the scope of "official" identification has been expanded from the original proposed rule to include brands, tattoos and brand registration and not just EID and metal ear tags. The consent of the shipping and receiving states is necessary, however. The use of back tags as an alternative to ear tags for cattle and bison moved directly to slaughter has been permanently maintained.

It is expected that details of this new rule will change as agreements between states are reached. Check with your veterinarian or with the NYS Division of Animal Industries state veterinarian in your area for more information.


Upcoming Events
Weed Resistance Management Demonstration and Plot Tour

July 23, 2019
1:00 - 3:00 p.m.
Waterloo, NY
Come join us on July 23 in Seneca County at Quinten Good's farm for a demonstration and walking tour of 16 different pre- and post-emergence treatments in soybean and 12 different treatments and combinations in corn.
Tall waterhemp and marestail are two weeds that are resistant to glyphosate and ALS herbicide modes of action in the WNY and Finger Lakes regions.
Each year the number of acres with resistant weed populations expands.
For herbicides to be an effective tool in weed management, we have to know what chemistries & application timings are most effective against these resistant weeds.
Income and Real Property Tax Primer-A Learning Circle for Women Non-Operating Land Owners of Ag Land
July 24, 2019
9:00 am - 3:00 pm
Portageville, NY
For many of us taxes can be a mystery, let's have a conversation with the experts about the tax considerations agricultural landowners need to think about.
Pasture Walk with the Finger Lakes Graziers-Cancelled!
July 29, 2019
12:45 - 4 pm
The Finger Lakes Graziers pasture walk has been cancelled due to some scheduling conflicts.
Announcements
RMA Announces Additional One-time Changes to Prevented Planting Provisions
June 29, 2019
RMA Announces Additional One-time Changes to Prevented Planting Provisions
for 2019 Crop Year
In response to delayed and prevented planting resulting from above average rainfall and wetness, the USDA Risk Management Agency has made a one-time change to the 2019 crop year prevented planting rules that effectively allows silage corn, if planted as a cover crop following local agricultural expert guidelines, to be acceptable as a post-prevented planting cover crop. Under this one-time rule change, producers are allowed to produce this crop while retaining their prevented planting payment. This change couples with previously announced one-time changes to the prevented planting rules - including expanded acceptable uses for post-prevented planting cover crops and a change in the cover crop haying and grazing start date rule - serve to help those struggling to meet their forage needs due to the weather.
Read the full article
from the New York Crop Insurance Education Program.
The USDA-RMA states that "For crop insurance purposes, a cover crop is a crop generally recognized by agricultural experts as agronomically sound for the area for erosion control or other purposes related to conservation or soil improvement." PRO-DAIRY specialists Joe Lawrence and Karl Czymmek and Dr. Quirine Ketterings, Professor and Director of Cornell Nutrient Management Spear Program have
released a letter
stating "Corn on Prevented Planting acres meets these objectives."
New Guidance for Mortality Disposal Issued
NYS Department of Ag and Markets has posted guidelines on disposal of livestock carcasses, in response to reports that some rendering companies have halted pickups from farms.
https://nwnyteam.cce.cornell.edu/submission.php?id=761&crumb=dairy|1