Maximizing Performance through Cow Comfort
Jackson Wright, Dairy
Northwest New York Dairy, Livestock & Field Crops
June 1, 2011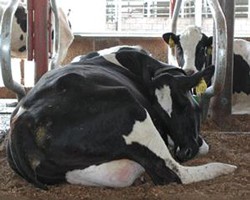 The ultimate goal of cow comfort is to provide adequate resources to every cow in a herd. Facilities with poor cow comfort limit access to resources which in turn increases competition and social confrontation between animals. In overcrowded facilities this is noticeable at the feed bunk following milking or fresh feed delivery, as dominant cows will demand priority in feeding. In this scenario timid cows or inexperienced heifers will be limited in their access to the feed bunk, forcing them to eat less or wait until there is less competition. Eventually submissive cows will show a reduced willingness to compete for resources, which negatively affects milk production.

Aside from access to feed, one resource that is often overlooked is rest or lying time. To maximize production, dairy cows require at least 12 hours of lying time each day. Lying time is associated with increased rumination, improving nutrient absorption and production of saliva. This reduces sub-acute rumen acidosis as saliva contains sodium bicarbonate, a buffer that helps stabilize rumen pH. Moreover, lying time improves blood flow to the mammary gland, which is associated with increased milk production and improved mammary function. Three main factors that influence lying time are stall design, lameness, and bedding.

Stall Design
Stalls should allow a cow to exhibit natural behaviors without injury, pain, or fear. Stalls should be sized based on the stature of the animals being housed and provide adequate resting area with unobstructed lunge space. Generally, stall length should be between 98 - 110 inches. Stall width should be a minimum of 47 inches, except in stalls used exclusively by heifers, and neck rails should be located 37 - 43 inches above stall level and 67 inches forward of the curb. If less than 98% of cows are using stalls, the reason for stall refusal should be investigated. Often, stall refusal is caused by improper neck rail placement limiting lunge or resting space.

Lameness
A lame cow will access resources less often, decreasing milk output. Interestingly, lameness is associated with decreased lying times due to the pain associated with rising or lying down. Prolonged standing time increases pressure inside the claw capsule reducing blood flow to the hoof. This results in inadequate oxygenation and delivery of nutrients to the horn producing tissues, perpetuating the cycle of lameness. As a result it is important to minimize forced standing time (such as time waiting to be milked) to less than 3 hours each day, a take a proactive approach to hoof health.

Bedding
Cows demonstrate increased lying times on stalls with cushion in comparison to hard surface stalls. Common options for stall cushioning are either mattresses or sand. Mattresses are straightforward to install and provide ease of maintenance for both workers and machines. However, mattresses require some form of litter to absorb moisture. In addition, research has shown that most mattresses lose cushioning within 1 year of purchase and require 7.5 kg of bedding per stall to improve lying times, which in many cases is cost prohibitive. Currently sand is the "Gold Standard" of bedding, mainly due to its ability to provide cushion, increase lying times, improve hygiene scores, and reduce SCC. Sand bedded facilities have also been shown to reduce lameness and maintain adequate lying times in lame cows. It is currently thought that the additional cushion and traction provided by sand facilitates rising and lying in lame cows.

Overall, enhancing cow comfort can be both rewarding and profitable, as cows housed in a comfortable environment produce more milk and generally have a longer productive life.


Upcoming Events
Beginning Farmer/Hobby Farmer Workshop $5/pp, class size is limited, so pre-register by April 15th!
April 27, 2019
9:00 am - 1:00 pm
Canandaigua, NY
This hands-on workshop is for beginning or part-time farmers who would like to improve their farm machinery skills, learn to properly and safely maintain their equipment to protect their investment. If you have been thinking about buying a tractor, new or used, two-wheel or four-wheel drive, compact or utility or more come join us. Topics include: selecting the right size/type tractor for the job; basic maintenance; staying safe around tractors and equipment; attaching implements properly; and information about ROPS and SMV's. There will be time for questions.
Pre-registration requested by April 15, 2019 email Amy with your name, address, and phone number or call 585-394-3977 x 429.
Fee: $5.00/person. Class size is limited.
2019 Pastured Poultry Seminar, lunch included so please register by May 10th! $25/person
May 18, 2019
Registration begins at 8:00 a.m.w/ coffee & donuts with the Program running from 9:00 a.m. - 5 p. m.
Attica, NY
The main speaker this year is
Eli Reiff
of Mifflinburg Pennsylvania. Eli raises broilers, turkeys, sheep, and beef, all on pasture. Topics to be covered will include the
pasture
,
feed and nutrition
,
marketing
,
costs
, and much more. As we grow as farm operators and get bigger, we may not pay as much attention to the basics as we should. So those areas are where we will start, and then expand to cover the group's interests.
Mike Badger, Director of the American Pastured Poultry Producers Association
will also be available for a round-table discussion. Plans are to have representatives from Farm Bureau, NYCAMH for farm health and safety, Wyoming County Chamber of Commerce, and Cornell Cooperative Extension of Wyoming County, as well as others.
Calling all 9th-12th graders! 4th Annual Precision Agriculture Day at Genesee Community College
May 21, 2019
9:00 am - 1:30 pm Register by Friday May 10th! $15/per person includes lunch
Batavia, NY
Calling all 9th-12th graders! We have an exciting new program for students interested in technology, science, engineering, and agriculture!
Would you like to:
Learn about how Drones collect information
Check out some potential career opportunities that have new and ever-changing technology
Learn how these technologies can be used in our own backyards in WNY
Discover potential and exciting career opportunities
Announcements
Producers Previously Enrolled in the LGM Program Now Eligible for MPP
Dairy Producers Previously Enrolled in the Livestock Gross Margin Program Now Eligible for 2018 Margin Protection Program
The U.S. Department of Agriculture (USDA) today announced that dairy producers who elected to participate in the Livestock Gross Margin for Dairy Cattle Program (LGM-Dairy) now have the opportunity to participate in the Margin Protection Program for Dairy (MPP-Dairy) for 2018 coverage. Sign-up will take place March 25 through May 10, 2019.
Eligible producers can enroll during the sign-up period at their local USDA service center. To locate your office, visit
farmers.gov
.
Smart Farming Team Technical Assistance Grant Application
The
Labor Ready Farmer Project
is offering grants to provide up to 12 hours of Technical Assistance (TA) consulting services to farms who want to make improvements to their farm's processes in hiring, training, managing or evaluating employees. Applicants will choose from one of the following four areas for TA assistance and identify a specific project. If selected they will be matched with a "Smart Farming Team" of consultants who will provide one on one technical assistance.
HIRING EMPLOYEES 101 - GETTING OFF TO A GOOD START
ONBOARDING & TRAINING EMPLOYEES QUICKLY AND EFFECTIVELY
FINE-TUNING & IMPROVING THE WORKING ENVIRONMENT
H2-A READINESS
Please complete this
application
and send to Nicole Waters, Beginning Farm Project Coordinator for the Cornell Small Farms Program. The form can be submitted by email, mail or in-person at the address listed below. Please feel free to call or email with any questions.
Nicole Waters - Beginning Farmer Project Coordinator
Plant Science Building, Room 15b
Tower Road, Cornell University
Ithaca, NY 14853
Phone: 607-255-9911
Email: nw42@cornell.edu

Applications accepted on a rolling basis.
USDA Announces January Income over Feed Cost Margin Triggers First 2019 Dairy Sa
WASHINGTON, March 6, 2019
? The U.S. Department of Agriculture's Farm Service Agency (FSA) announced this week that the January 2019 income over feed cost margin was $7.99 per hundredweight, triggering the first payment for eligible dairy producers who purchase the appropriate level of coverage under the new but yet-to-be established Dairy Margin Coverage (
DMC
) program.
DMC
, which replaces the Margin Protection Program for Dairy, is a voluntary risk management program for dairy producers that was authorized by the 2018 Farm Bill.
DMC
offers protection to dairy producers when the difference between the all milk price and the average feed cost (the margin) falls below a certain dollar amount selected by the producer.

Agriculture Secretary Sonny Perdue announced last week that sign up for
DMC
will open by mid-June of this year. At the time of sign up, producers who elect a
DMC
coverage level between $8.00 and $9.50 would be eligible for a payment for January 2019.
For example, a dairy operation with an established production history of 3 million pounds (30,000 cwt.) that elects the $9.50 coverage level for 50 percent of its production could potentially be eligible to receive $1,887.50 for January.
Sample calculation:
$9.50 - $7.99 margin = $1.51 difference
$1.51 times 50 percent of production times 2,500 cwt. (30,000 cwt./12) = $1,887.50
The calculated annual premium for coverage at $9.50 on 50 percent of a 3-million-pound production history for this example would be $2,250.
Sample calculation:
3,000,000 times 50 percent = 1,500,000/100 = 15,000 cwt. times 0.150 premium fee = $2,250
Operations making a one-time election to participate in DMC through 2023 are eligible to receive a 25 percent discount on their premium for the existing margin coverage rates.
"
Congress created the Dairy Margin Coverage program to provide an important financial safety net for dairy producers, helping them weather shifting milk and feed prices
," FSA Administrator Richard Fordyce said. "
This program builds on the previous Margin Protection Program for Dairy, carrying forward many of the program upgrades made last year based on feedback from producers. We're working diligently to implement the DMC program and other FSA programs authorized by the 2018 Farm Bill
."
Additional details about
DMC
and other FSA farm bill program changes can be found at
farmers.gov/farmbill.
New Guidance for Mortality Disposal Issued
NYS Department of Ag and Markets has posted guidelines on disposal of livestock carcasses, in response to reports that some rendering companies have halted pickups from farms.
https://nwnyteam.cce.cornell.edu/submission.php?id=761&crumb=dairy|1