Maximizing Performance through Cow Comfort
Jackson Wright, Dairy
Northwest New York Dairy, Livestock & Field Crops
June 1, 2011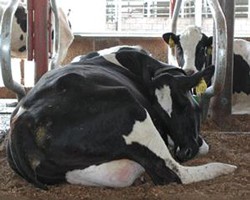 The ultimate goal of cow comfort is to provide adequate resources to every cow in a herd. Facilities with poor cow comfort limit access to resources which in turn increases competition and social confrontation between animals. In overcrowded facilities this is noticeable at the feed bunk following milking or fresh feed delivery, as dominant cows will demand priority in feeding. In this scenario timid cows or inexperienced heifers will be limited in their access to the feed bunk, forcing them to eat less or wait until there is less competition. Eventually submissive cows will show a reduced willingness to compete for resources, which negatively affects milk production.

Aside from access to feed, one resource that is often overlooked is rest or lying time. To maximize production, dairy cows require at least 12 hours of lying time each day. Lying time is associated with increased rumination, improving nutrient absorption and production of saliva. This reduces sub-acute rumen acidosis as saliva contains sodium bicarbonate, a buffer that helps stabilize rumen pH. Moreover, lying time improves blood flow to the mammary gland, which is associated with increased milk production and improved mammary function. Three main factors that influence lying time are stall design, lameness, and bedding.

Stall Design
Stalls should allow a cow to exhibit natural behaviors without injury, pain, or fear. Stalls should be sized based on the stature of the animals being housed and provide adequate resting area with unobstructed lunge space. Generally, stall length should be between 98 - 110 inches. Stall width should be a minimum of 47 inches, except in stalls used exclusively by heifers, and neck rails should be located 37 - 43 inches above stall level and 67 inches forward of the curb. If less than 98% of cows are using stalls, the reason for stall refusal should be investigated. Often, stall refusal is caused by improper neck rail placement limiting lunge or resting space.

Lameness
A lame cow will access resources less often, decreasing milk output. Interestingly, lameness is associated with decreased lying times due to the pain associated with rising or lying down. Prolonged standing time increases pressure inside the claw capsule reducing blood flow to the hoof. This results in inadequate oxygenation and delivery of nutrients to the horn producing tissues, perpetuating the cycle of lameness. As a result it is important to minimize forced standing time (such as time waiting to be milked) to less than 3 hours each day, a take a proactive approach to hoof health.

Bedding
Cows demonstrate increased lying times on stalls with cushion in comparison to hard surface stalls. Common options for stall cushioning are either mattresses or sand. Mattresses are straightforward to install and provide ease of maintenance for both workers and machines. However, mattresses require some form of litter to absorb moisture. In addition, research has shown that most mattresses lose cushioning within 1 year of purchase and require 7.5 kg of bedding per stall to improve lying times, which in many cases is cost prohibitive. Currently sand is the "Gold Standard" of bedding, mainly due to its ability to provide cushion, increase lying times, improve hygiene scores, and reduce SCC. Sand bedded facilities have also been shown to reduce lameness and maintain adequate lying times in lame cows. It is currently thought that the additional cushion and traction provided by sand facilitates rising and lying in lame cows.

Overall, enhancing cow comfort can be both rewarding and profitable, as cows housed in a comfortable environment produce more milk and generally have a longer productive life.


Upcoming Events
Pasture Walk - Wild Geese Farm - Franklinville, NY
August 21, 2019
5:30pm - 8:30pm
Fanklinville, NY
Topics to include: Tools for Managing Rotational Grazed Pasture, Weed ID and Management and Calculating Cost of Production.
Bovine Reproduction and AI Training Course
September 24 - September 25, 2019
9:30am - 3:30pm
Shortsville, NY
This two-day AI workshop will be held on September 24 and 25.
Topics covered will include:

• Reproductive Physiology
• Synchronization Protocols
• Heat Detection
• Artificial Insemination
• Proper Thawing of Semen
• Loading A.I. guns
• Practice Breeding Cows
Corn Congress - Batavia Location

January 8, 2020
10:00 a.m. - 3:00 p.m.
Batavia, NY
Please join the NWNY Dairy, Livestock and Field Crop Program's team for our annual Corn Congress. DEC re-certification points and Certified Crop Adviser credits available, so bring your picture ID. Lunch is included. Hear from program-related professionals and visit with our sponsoring vendors.
Announcements
2019 NY Corn & Soybean Yield Contests - Entries Due 8/30/19
The annual corn and soybean yield contests sponsored by the New York Corn & Soybean Growers Association are underway.
Click Here
for the 2019 yield contest entry form. This form and contest rules can also be found on the NY Corn & Soybean Growers Association web page at:
https://nycornsoy.org/

Entry forms must be postmarked by Friday, August 30 and mailed or emailed to Mike Stanyard. Cost is $30 per entry. Good Luck!
Preventing Sexual Harassment on Farms
If you're wondering how to get your farm business in compliance with NYS Sexual Harassment Regulations, you've come to the right place. This is a recording of the presentations given at the live training on July 30 and July 31, 2019 across New York State, which provides updates and farm-specific resources developed by CCE. View the recording here:
https://youtu.be/_1IjmAj1Nb8
.
RMA Announces Additional One-time Changes to Prevented Planting Provisions
June 29, 2019
RMA Announces Additional One-time Changes to Prevented Planting Provisions
for 2019 Crop Year
In response to delayed and prevented planting resulting from above average rainfall and wetness, the USDA Risk Management Agency has made a one-time change to the 2019 crop year prevented planting rules that effectively allows silage corn, if planted as a cover crop following local agricultural expert guidelines, to be acceptable as a post-prevented planting cover crop. Under this one-time rule change, producers are allowed to produce this crop while retaining their prevented planting payment. This change couples with previously announced one-time changes to the prevented planting rules - including expanded acceptable uses for post-prevented planting cover crops and a change in the cover crop haying and grazing start date rule - serve to help those struggling to meet their forage needs due to the weather.
Read the full article
from the New York Crop Insurance Education Program.
The USDA-RMA states that "For crop insurance purposes, a cover crop is a crop generally recognized by agricultural experts as agronomically sound for the area for erosion control or other purposes related to conservation or soil improvement." PRO-DAIRY specialists Joe Lawrence and Karl Czymmek and Dr. Quirine Ketterings, Professor and Director of Cornell Nutrient Management Spear Program have
released a letter
stating "Corn on Prevented Planting acres meets these objectives."