Maximizing Performance through Cow Comfort
Jackson Wright, Dairy
Northwest New York Dairy, Livestock & Field Crops
June 1, 2011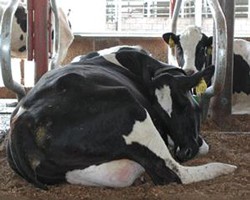 The ultimate goal of cow comfort is to provide adequate resources to every cow in a herd. Facilities with poor cow comfort limit access to resources which in turn increases competition and social confrontation between animals. In overcrowded facilities this is noticeable at the feed bunk following milking or fresh feed delivery, as dominant cows will demand priority in feeding. In this scenario timid cows or inexperienced heifers will be limited in their access to the feed bunk, forcing them to eat less or wait until there is less competition. Eventually submissive cows will show a reduced willingness to compete for resources, which negatively affects milk production.

Aside from access to feed, one resource that is often overlooked is rest or lying time. To maximize production, dairy cows require at least 12 hours of lying time each day. Lying time is associated with increased rumination, improving nutrient absorption and production of saliva. This reduces sub-acute rumen acidosis as saliva contains sodium bicarbonate, a buffer that helps stabilize rumen pH. Moreover, lying time improves blood flow to the mammary gland, which is associated with increased milk production and improved mammary function. Three main factors that influence lying time are stall design, lameness, and bedding.

Stall Design
Stalls should allow a cow to exhibit natural behaviors without injury, pain, or fear. Stalls should be sized based on the stature of the animals being housed and provide adequate resting area with unobstructed lunge space. Generally, stall length should be between 98 - 110 inches. Stall width should be a minimum of 47 inches, except in stalls used exclusively by heifers, and neck rails should be located 37 - 43 inches above stall level and 67 inches forward of the curb. If less than 98% of cows are using stalls, the reason for stall refusal should be investigated. Often, stall refusal is caused by improper neck rail placement limiting lunge or resting space.

Lameness
A lame cow will access resources less often, decreasing milk output. Interestingly, lameness is associated with decreased lying times due to the pain associated with rising or lying down. Prolonged standing time increases pressure inside the claw capsule reducing blood flow to the hoof. This results in inadequate oxygenation and delivery of nutrients to the horn producing tissues, perpetuating the cycle of lameness. As a result it is important to minimize forced standing time (such as time waiting to be milked) to less than 3 hours each day, a take a proactive approach to hoof health.

Bedding
Cows demonstrate increased lying times on stalls with cushion in comparison to hard surface stalls. Common options for stall cushioning are either mattresses or sand. Mattresses are straightforward to install and provide ease of maintenance for both workers and machines. However, mattresses require some form of litter to absorb moisture. In addition, research has shown that most mattresses lose cushioning within 1 year of purchase and require 7.5 kg of bedding per stall to improve lying times, which in many cases is cost prohibitive. Currently sand is the "Gold Standard" of bedding, mainly due to its ability to provide cushion, increase lying times, improve hygiene scores, and reduce SCC. Sand bedded facilities have also been shown to reduce lameness and maintain adequate lying times in lame cows. It is currently thought that the additional cushion and traction provided by sand facilitates rising and lying in lame cows.

Overall, enhancing cow comfort can be both rewarding and profitable, as cows housed in a comfortable environment produce more milk and generally have a longer productive life.


Upcoming Events
Forage Congress
February 27, 2019
10:00 am - 3:30 pm
Mt. Morris, NY
Climate Smart Farming Decision Tools
Forage Quality to Reduce Purchase Concentrate Cost. N Management, Guidelines for Grass, Low Lignin Alfalfa, Harvest Schedule
Fiber Digestibility & Corn Silage Hybrid Evaluation Using Fiber & Starch Yields
Silage Fermentation
Inventory & Shrink
Producer Panel
MANURE APPLICATOR TRAINING - DEC Approved Training for CAFO Farms, register by 2/22/2019!
February 28, 2019
9 a.m. - 11 a.m. - Wyo Co Ag Bus Center, Warsaw and 1 p.m. - 3 p. m. Civil Def Bldg., Bath NY
This informational meeting is for all farm owners, family members, and employees who manage their farm's manure. All farms, regardless of size are encouraged to attend. This is a DEC approved Manure Applicator Training that is required for CAFO farms. A certificate will be provided to each farm that participates in the meeting.
Raising Healthy Livestock: The Basics of Feeding, Health, and Quality Care
March 2, 2019
10 am - 1 pm
Lockport, NY
Raising livestock can be a rewarding enterprise. There are many things to consider, including what to feed, how to keep them healthy and how to handle them. Cornell Cooperative Extension NWNY Dairy, Livestock & Field Crops Team is holding a workshop for livestock farmers to help address these topics.
Announcements
CDL Training Program For Agricultural Producers and their Employees ONLY
Cornell Cooperative Extension of Wyoming County, in collaboration with Genesee Valley BOCES, will be offering a CDL Training Program for both Class A and Class B licenses. This course is offered to Farm Owners, Operators, and their Employees ONLY.
Thursday, February 28, 2019, 7:00 PM - 9:00 PM (Informational Meeting)
Wednesday, March 6, 2019, 7:00 PM - 9:00 PM (Classroom)
Thursday, March 7, 2019, 7:00 PM - 9:00 PM (Classroom)
Cost:
Class A CDL=$ 750.00 (Enrolled in Ag Program)
Class A CDL =$ 800.00 (not enrolled in Ag Program).
Class B CDL=$ 600.00 (Enrolled in Ag Program)
Class B CDL =$ 650.00 (Not enrolled in Ag Program)
Checks payable to Cornell Cooperative Extension of Wyoming County
Held at CCE-Wyoming County., 36 Center Street, Warsaw, NY 14569
The informational meeting will be held the week before the CDL training session begins, to answer any questions you may have regarding this program and to pick up the required training materials and medical forms. To register, please contact Debra Welch at 585-786-2251 or email djw275@cornell.edu
Wyoming County Pride of Ag Dinner - N Java Fire hall, March 2nd
For more information about the event or to purchase tickets, please contact the Wyoming County Chamber of Commerce, 585.786.0307.
USDA to Host 2018 Farm Bill Implementation Listening Session
The listening session will be held Feb. 26, 2019 at 9:00 a.m. in the Jefferson Auditorium in the South Building located at 14th Street and Independence Ave. S.W. in Washington, D.C.
The listening session is open to the public. Participants must register at farmers.gov/farmbill by February 22, 2019, to attend the listening session and are encouraged to provide written comments prior to the listening session. For those orally presenting comments at the listening session, written comments are encouraged to be submitted to regulations.gov by February 22, 2019. Additional written comments will be accepted through March 1, 2019. Comments received will be publicly available on www.regulations.gov.
Three Free Digester Workshops offered through CCE St. Lawrence Co.
CCE of St. Lawrence County is offering three FREE workshops showcasing the research results from our feasibility study of anaerobic digester technology on small farms. The research was conducted by our partners at Clarkson University using the anaerobic digester at the Extension Learning Farm, which is fed both manure from a dairy operation and vegetable waste from our commercial kitchen. The digester heats a small green house that starts our seedling plants. We have a small scale vegetable-only digester as well. The research and program targets small dairies under 200 head, livestock producers, horticulture producers and anyone interested in alternative energy.
Program will be held on December 5, January 7, and March 6. A catered meal is provided at each program. Participants within the North Country Region will be given a $25 stipend to help cover travel costs, those from outside the region will be given $50. To receive the stipend, participants will need to complete a pre/post-test survey.
More information and registration information can be found here:
http://stlawrence.cce.cornell.edu/events/2018/12/05/exploring-digester-technology
New Guidance for Mortality Disposal Issued
NYS Department of Ag and Markets has posted guidelines on disposal of livestock carcasses, in response to reports that some rendering companies have halted pickups from farms.
https://nwnyteam.cce.cornell.edu/submission.php?id=761&crumb=dairy|1