Increasing Milking Frequency and Udder health
Jackson Wright, Dairy
Northwest New York Dairy, Livestock & Field Crops
April 2, 2012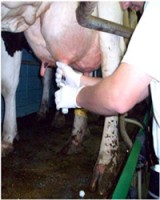 Intuitively one would suspect that because frequent milking increases exposure to the mechanical forces applied during milking it also would increase the occurrence of "inverted" teat ends, or teat end hyperkeratosis, and risk for clinical mastitis. However, when considering the effects of frequent milking on udder health one should recognize that teat end hyperkeratosis is probably a natural response to milking as some degree of teat end hyperkeratosis occurs in a significant proportion of animals in all herds. Moreover, only very severe teat end hyperkeratosis is associated with an increased risk of clinical mastitis and mild to moderate teat end hyperkeratosis actually decreases the risk for SCC >199,000 cells/mL when compared with "normal" teat ends.

Maybe more importantly, previous reports investigating the effects of increasing milking frequency during early lactation have indicated that frequent milking has either no effect on SCC or even decreases SCC. In addition, when comparing a traditional 2X/d milking to cows on automated milking systems, animals on automated milking systems often visit the robot more frequently without exhibiting an increase in teat end hyperkeratosis.

Finally, when considering the effects of frequent milking on udder health, remember that when calves are allowed to nurse they feed an average of 7 times per day for over 45 min/d. Therefore, management strategies such as 3X or 4X milking during early lactation appear mild at best when compared to the natural feeding interval of the calf. What appears to be a more important factor than milking frequency on teat end health is proper maintenance of the milking equipment. This includes ensuring that vacuum pressure is correct and that the automatic take-offs are set on a moderate setting to prevent over-milking.


Upcoming Events
NWNY Dairy Day 2022
December 6, 2022
Batavia, NY
REGISTRATION NOW OPEN!
Theme: The Future of Your Dairy's Youngstock

The NWNY Dairy, Livestock and Field Crops team will be holding it's first "Dairy Day" this December! We will be bringing the latest in dairy research to you with this in-person, 1-day conference.

2023 Corn Congress - Batavia, NY

January 5, 2023
Batavia, NY
Registration is now open for the 2023 Corn Congress - January 5 & 6, 2023
2023 Corn Congress - Waterloo, NY

January 6, 2023
Waterloo, NY
Registration is now open for the 2023 Corn Congress - January 5 & 6, 2023
Announcements
The NWNY Team Blog
Our goal for
this blog
is to share with farmers and allied industry professionals, technical and applicable resources regarding all aspects of dairy farming, livestock and small farms, field crops and soils, and topics related to farm business management and precision agriculture.

The blog will feature Crop Alerts, Dairy Alerts, Bilingual (Spanish) Resources, Upcoming Events and more from our team members. This blog is free for everyone to use, explore and enjoy. When new material is published, subscribers will receive an email notification.

We hope you enjoy this new platform, and are looking forward to engaging with you in the future!