Increasing Milking Frequency and Udder health
Jackson Wright, Dairy
Northwest New York Dairy, Livestock & Field Crops
April 2, 2012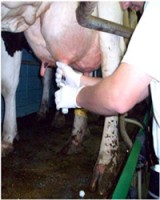 Intuitively one would suspect that because frequent milking increases exposure to the mechanical forces applied during milking it also would increase the occurrence of "inverted" teat ends, or teat end hyperkeratosis, and risk for clinical mastitis. However, when considering the effects of frequent milking on udder health one should recognize that teat end hyperkeratosis is probably a natural response to milking as some degree of teat end hyperkeratosis occurs in a significant proportion of animals in all herds. Moreover, only very severe teat end hyperkeratosis is associated with an increased risk of clinical mastitis and mild to moderate teat end hyperkeratosis actually decreases the risk for SCC >199,000 cells/mL when compared with "normal" teat ends.

Maybe more importantly, previous reports investigating the effects of increasing milking frequency during early lactation have indicated that frequent milking has either no effect on SCC or even decreases SCC. In addition, when comparing a traditional 2X/d milking to cows on automated milking systems, animals on automated milking systems often visit the robot more frequently without exhibiting an increase in teat end hyperkeratosis.

Finally, when considering the effects of frequent milking on udder health, remember that when calves are allowed to nurse they feed an average of 7 times per day for over 45 min/d. Therefore, management strategies such as 3X or 4X milking during early lactation appear mild at best when compared to the natural feeding interval of the calf. What appears to be a more important factor than milking frequency on teat end health is proper maintenance of the milking equipment. This includes ensuring that vacuum pressure is correct and that the automatic take-offs are set on a moderate setting to prevent over-milking.


Upcoming Events
Fertilizers and Herbicides

March 31, 2023
Mount Morris, NY
As input costs rise, it is necessary to employ the best management practices, and it can be advantageous to know what you're getting from your purchases. Plan to attend if you want to understand the terminology, calculations, formulations, and chemistry behind your fertility and herbicide recommendations.
Agritourism Workshops Monthly!
February 20, 2023
March 20, 2023
April 17, 2023
May 15, 2023
June 19, 2023
July 17, 2023

Are you thinking of starting an agritourism business or are you currently operating one?
Join our monthly lunch-hour, workshop virtual series and learn how to grow your agritourism business!
The first session will cover the basics of running an agritourism operation. The following sessions will focus on specific topic to help aspiring agritourism entrepreneurs grow their knowledge and profit through this exciting on-farm business.
Dairy Comp 305 for Spanish Speakers
April 19, 2023
This program was rescheduled from March 30th.
This workshop is for employees, supervisors or managers whose first language is Spanish and whose job entails using DC305 on a daily basis. The objective is for attendees to improve their understanding of the "language" of DC305 as well as the whys behind consistent data entry. Since DC305 is specific to each farm, the workshop will focus on general application and deeper understanding of how data is used on dairy farms.
Announcements
Join us on Facebook!
Follow us on Facebook to get up to date posts about events, workshops and everything NWNY!
Add us on LinkedIn!
Connect with us on LinkedIn to get more information about upcoming workshops and programs!
Watch Us on YouTube
Watch instructional videos from specialists in the field!
Subscribe for Emails about Events & Workshops!