Updating cows instead of facilities?
Jackson Wright, Dairy
Northwest New York Dairy, Livestock & Field Crops
December 3, 2012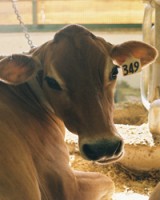 Unfortunately, correcting deficiencies in stall design can be costly and may still result in a compromised facility. For example, because the footprint of a facility is fixed if one wanted to widen stalls the only option would be to decrease the overall number of stalls. Moreover renovating stalls to be wider often results in obstructions in the front of the stall because many stall dividers provide structural support and cannot be removed. This restricts lunge space limiting stall use. Conversely, if stalls need to be longer space must be taken from the alley which can create problems with equipment or the movement of animals. Both scenarios can be frustrating, especially when you consider the investment required.

Despite these setbacks there are solutions that can improve cow comfort in older facilities; you just have to think outside the box. Consider this: many stalls are inadequate because cows have progressively gotten bigger with improved genetics. This larger Holstein has become unsuitable for the traditional sized stall. Habitually, one considers ways to change the stall however it may be worth considering a change in breed. Because stall dimensions are based on cow size, the smaller stature of a Jersey cow makes them more suitable for a traditional sized stall. Using a smaller animal instead of a larger stall allows producers to maintain the current number of stalls and improve cow comfort. In addition, Jersey cows also have other desirable traits including increased resilience to lameness, higher percent components, improved reproduction, and improved feed conversion efficiency. In the northeast we continue to struggle with lameness, most likely due to a wetter climate and facilities that lack in cow comfort. In comparing the larger Holstein cow (average mature bodyweight, 1,500 lbs.) to the smaller Jersey cow (average mature bodyweight, 1,000 lbs.), the lighter Jersey results in less weight per square inch of hoof. This provides additional resilience to lameness. Moreover, Jerseys produce less milk by volume, however Jersey milk contains substantially higher milk fat and protein. Because producers are paid off of components the higher percent fat and protein would offset some of the lost milk production and this does not account for any gains in milk production due to improved cow comfort. Finally, the lower total body mass of the Jersey system reduces maintenance costs per animal, meaning proportionally more nutrients are being devoted to milk production instead of homeostasis. The greater nutrient density of Jersey milk further dilutes maintenance requirements, leading to greater production efficiency. Other ways to achieve these benefits could be cross breeding Jerseys with Holsteins, which may provide an additional boost from hybrid vigor. Ultimately, keeping an open mind to all options when it comes to cow comfort may breathe new life into outdated facilities.


Upcoming Events
Dairy Cattle Summer Research Update
July 18, 2019
7:00-9:00pm
Batavia, NY
After the day's work is done, come hear about two new research trials conducted by Julio Giordano's lab:
Strategies for improving dairy cattle reproductive performance and economics
Using automated sensors for improving dairy cattle health monitoring and management
Weed Resistance Management Demonstration and Plot Tour

July 23, 2019
1:00 - 3:00 p.m.
Waterloo, NY
Come join us on July 23 in Seneca County at Quinten Good's farm for a demonstration and walking tour of 16 different pre- and post-emergence treatments in soybean and 12 different treatments and combinations in corn.
Tall waterhemp and marestail are two weeds that are resistant to glyphosate and ALS herbicide modes of action in the WNY and Finger Lakes regions.
Each year the number of acres with resistant weed populations expands.
For herbicides to be an effective tool in weed management, we have to know what chemistries & application timings are most effective against these resistant weeds.
Pasture Walk with the Finger Lakes Graziers
July 29, 2019
12:45 - 4 pm
Waterloo, NY
Join the Finger Lakes Graziers on a pasture walk and learn about soil health.
Announcements
USDA Announces New Decision Tool for New Dairy Margin Coverage Program
WASHINGTON, April 30, 2019
? Agriculture Secretary Sonny Perdue announced today the availability of a new web-based tool - developed in partnership with the University of Wisconsin - to help dairy producers evaluate various scenarios using different coverage levels through the new
Dairy Margin Coverage (DMC)
program.

The 2018 Farm Bill authorized
DMC
, a voluntary risk management program that offers financial protection to dairy producers when the difference between the all milk price and the average feed cost (the margin) falls below a certain dollar amount selected by the producer. It replaces the program previously known as the Margin Protection Program for Dairy. Sign up for this USDA Farm Service Agency (FSA) program opens on June 17.

"With sign-up for the
DMC
program just weeks away, we encourage producers to use this new support tool to help make decisions on participation in the program," Secretary Perdue said. "Dairy producers have faced tough challenges over the years, but the
DMC
program should help producers better weather the ups and downs in the industry."

The University of Wisconsin launched the decision support tool in cooperation with FSA and funded through a cooperative agreement with the USDA Office of the Chief Economist. The tool was designed to help producers determine the level of coverage under a variety of conditions that will provide them with the strongest financial safety net. It allows farmers to simplify their coverage level selection by combining operation data and other key variables to calculate coverage needs based on price projections.

The decision tool assists producers with calculating total premiums costs and administrative fees associated with participation in
DMC
. It also forecasts payments that will be made during the coverage year.

"
The new
Dairy Margin Coverage
program offers very appealing options for all dairy farmers to reduce their net income risk due to volatility in milk or feed prices
," said Dr. Mark Stephenson, Director of Dairy Policy Analysis, University of Wisconsin, Madison. "
Higher coverage levels, monthly payments, and more flexible production coverage options are especially helpful for the sizable majority of farms who can cover much of their milk production with the new five million pound maximum for Tier 1 premiums. This program deserves the careful consideration of all dairy farmers
."

For more information, access the tool at fsa.usda.gov/dmc-tool. For
DMC
sign up, eligibility and related program information, visit fsa.usda.gov or contact your local USDA Service Center. To locate your local FSA office, visit farmers.gov/service-locator.

New Guidance for Mortality Disposal Issued
NYS Department of Ag and Markets has posted guidelines on disposal of livestock carcasses, in response to reports that some rendering companies have halted pickups from farms.
https://nwnyteam.cce.cornell.edu/submission.php?id=761&crumb=dairy|1