Grazing at Grassland Dairy
John Hanchar, Farm Business Management
Northwest New York Dairy, Livestock & Field Crops
Last Modified: July 1, 2013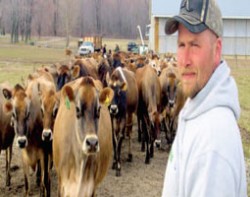 The Tillotsons (Brent, Polly, and their twin sons) own and operate a certified organic dairy farm in Pavilion, NY, Genesee County. Two thousand nine was the first full year of production. Today, between 100 and 110 Jersey cows are milked in a conventional swing parlor, and the farm has about 90 replacement animals. During the grazing season, dry cows and bred heifers obtain 100 percent of their forage needs from pasture, while milking cows obtain forage needs from pasture and a mixed ration. Milking cows are fed grain, while dry cows receive minerals.
Two hundred sixty acres of rented tillable land meet the forage needs of the herd. No corn silage is grown. All other required feeds are purchased -- corn grain for the milking herd, calf grains, and a mineral batch. Brent notes that excellent forages, in the form of grown grasses consumed as pasture or as stored baleage, are key to achieving desired results. Rye grass is the primary forage crop, while clovers and orchard grass share the balance. "Clipping pastures 2 to 3 times a year to manage weed pressures," and "Not grazing pastures too tall, because they tend to get knocked down" are mentioned as important practices in Grassland Dairy's overall approach to producing quality forages.

Cows currently produce about 45 to 50 pounds of milk per day. Milk receipts are enhanced beyond a base organic price when butterfat, protein, and quality factors exceed certain levels. The herd currently averages 4.9 percent butterfat, 3.75 percent protein, and somatic cell counts of 120,000.

The decision to produce certified organic milk was driven by Brent's desire for


a farm that met the family's financial goals, and

a farm that did not require "too many employees, and too much capital investment."

Milk price volatility in the conventional milk market and the desire to avoid the volatility also affected the decision. Regarding Brent's decision to produce certified organic milk, the article states "...he's relieved - and thankful - he decided to go organic."

Current Practices Result from Challenges Faced

Weather Uncertainties
Brent cites adjusting to weather uncertainties, for example, the dry summer conditions of 2009 and the negative effects on grass growth, as a challenge. In 2009, the first full year of organic production, Brent found himself having to rethink the amount of pasture needed. The decision was to fence off all but 60 of the 260 acres, including extending waterers, to accomplish production goals. Where cows were expected to travel a half mile or less to pastures, the expanded pasture area meant that cows now travelled up to three quarters of a mile to a mile to access pastures. Currently, 200 acres are fenced. Twenty 350 feet by 400 feet paddocks are for rotational grazing of dairy cows, while about 40 additional acres are for heifers. The balance is fenced, but not set up for paddocks. The current system provides needed flexibility during periods of poor pastures so that adequate forages are available during the season to meet production goals.Brent emphasizes the importance of providing plenty of water. Water is available at every opening, about every 300 feet. "Animals aren't crowding around waterers when they arrive at a paddock."

Fly Pressures
Fly pressures while cows are on pasture, especially dry cows, and the potential negative consequences for herd health present challenges within the certified organic milk production framework. Regarding fly management, Brent emphasizes the role of allowable vaccinations -"Vaccination protocols - part of a proactive, preventive approach - are high on our list of practices."

Record Keeping
Record keeping associated with organic certification, including detailed records for animal, paddock movements by day, present challenges. Polly, the farm business' Financial Manager, and Brent do their best to understand the requirements. They work hard to keep records up to date, and try to stay informed about changes, for example, USDA's new organic pasture rule that was issued in early 2010. Their efforts are paying off -- Polly mentions that based upon certifiers' comments, they are doing a good job.

The Future
In the near future, the Tillotsons look to achieve and maintain a milking herd of about 120 cows maximum. A new heifer, dry cow barn with capacity for 100 animals is also a key piece for keeping the farm viable in terms of obtaining desired results in the future. Important financial goals include reducing debt. Brent will always be seeking opportunities to maintain and, or improve pastures via laneway and watering system maintenance and improvements, and via new seedings - all ryegrass is the goal.

A Final Thought
The Tillotson's herd of Jersey cows did not have to make the often difficult transition from conventional confinement housing to a pasture based system. Heifers were started on pasture well prior to the 2008 start date for the dairy, and all animals now entering the milking herd have been on pasture. However, Brent does recognize that in other situations animals need to be taken away from the bunk, learning to eat from pasture. Here, Brent shared the view of intensive grazing expert Don Wild, "Go out to lunch for a few days and let them bellow."

Grassland Dairy's story will also appear in Cornell University Cooperative Extension's Dairy Farm Business Summary Extension Bulletin on Intensive Grazing. To order call Linda Putnam at (607) 255-8429 and ask for E.B. 2010-10.


Material from this section draws from a June 2009, American Agriculturist article about Grassland Dairy by Tom Rivers. Tom titled the article "Milk Plunge Escapee." Some material is updated to 2010.
Upcoming Events
Forage Congress
February 27, 2019
10:00 am - 3:30 pm
Mt. Morris, NY
Climate Smart Farming Decision Tools
Forage Quality to Reduce Purchase Concentrate Cost. N Management, Guidelines for Grass, Low Lignin Alfalfa, Harvest Schedule
Fiber Digestibility & Corn Silage Hybrid Evaluation Using Fiber & Starch Yields
Silage Fermentation
Inventory & Shrink
Producer Panel
MANURE APPLICATOR TRAINING - DEC Approved Training for CAFO Farms, register by 2/22/2019!
February 28, 2019
9 a.m. - 11 a.m. - Wyo Co Ag Bus Center, Warsaw and 1 p.m. - 3 p. m. Civil Def Bldg., Bath NY
This informational meeting is for all farm owners, family members, and employees who manage their farm's manure. All farms, regardless of size are encouraged to attend. This is a DEC approved Manure Applicator Training that is required for CAFO farms. A certificate will be provided to each farm that participates in the meeting.
Raising Healthy Livestock: The Basics of Feeding, Health, and Quality Care
March 2, 2019
10 am - 1 pm
Lockport, NY
Raising livestock can be a rewarding enterprise. There are many things to consider, including what to feed, how to keep them healthy and how to handle them. Cornell Cooperative Extension NWNY Dairy, Livestock & Field Crops Team is holding a workshop for livestock farmers to help address these topics.
Announcements
CDL Training Program For Agricultural Producers and their Employees ONLY
Cornell Cooperative Extension of Wyoming County, in collaboration with Genesee Valley BOCES, will be offering a CDL Training Program for both Class A and Class B licenses. This course is offered to Farm Owners, Operators, and their Employees ONLY.
Thursday, February 28, 2019, 7:00 PM - 9:00 PM (Informational Meeting)
Wednesday, March 6, 2019, 7:00 PM - 9:00 PM (Classroom)
Thursday, March 7, 2019, 7:00 PM - 9:00 PM (Classroom)
Cost:
Class A CDL=$ 750.00 (Enrolled in Ag Program)
Class A CDL =$ 800.00 (not enrolled in Ag Program).
Class B CDL=$ 600.00 (Enrolled in Ag Program)
Class B CDL =$ 650.00 (Not enrolled in Ag Program)
Checks payable to Cornell Cooperative Extension of Wyoming County
Held at CCE-Wyoming County., 36 Center Street, Warsaw, NY 14569
The informational meeting will be held the week before the CDL training session begins, to answer any questions you may have regarding this program and to pick up the required training materials and medical forms. To register, please contact Debra Welch at 585-786-2251 or email djw275@cornell.edu
Wyoming County Pride of Ag Dinner - N Java Fire hall, March 2nd
For more information about the event or to purchase tickets, please contact the Wyoming County Chamber of Commerce, 585.786.0307.
USDA to Host 2018 Farm Bill Implementation Listening Session
The listening session will be held Feb. 26, 2019 at 9:00 a.m. in the Jefferson Auditorium in the South Building located at 14th Street and Independence Ave. S.W. in Washington, D.C.
The listening session is open to the public. Participants must register at farmers.gov/farmbill by February 22, 2019, to attend the listening session and are encouraged to provide written comments prior to the listening session. For those orally presenting comments at the listening session, written comments are encouraged to be submitted to regulations.gov by February 22, 2019. Additional written comments will be accepted through March 1, 2019. Comments received will be publicly available on www.regulations.gov.
Three Free Digester Workshops offered through CCE St. Lawrence Co.
CCE of St. Lawrence County is offering three FREE workshops showcasing the research results from our feasibility study of anaerobic digester technology on small farms. The research was conducted by our partners at Clarkson University using the anaerobic digester at the Extension Learning Farm, which is fed both manure from a dairy operation and vegetable waste from our commercial kitchen. The digester heats a small green house that starts our seedling plants. We have a small scale vegetable-only digester as well. The research and program targets small dairies under 200 head, livestock producers, horticulture producers and anyone interested in alternative energy.
Program will be held on December 5, January 7, and March 6. A catered meal is provided at each program. Participants within the North Country Region will be given a $25 stipend to help cover travel costs, those from outside the region will be given $50. To receive the stipend, participants will need to complete a pre/post-test survey.
More information and registration information can be found here:
http://stlawrence.cce.cornell.edu/events/2018/12/05/exploring-digester-technology
New Guidance for Mortality Disposal Issued
NYS Department of Ag and Markets has posted guidelines on disposal of livestock carcasses, in response to reports that some rendering companies have halted pickups from farms.
https://nwnyteam.cce.cornell.edu/submission.php?id=761&crumb=dairy|1