Increasing Milking Frequency and Implications on Mammary Cell Dynamics
Jackson Wright, Dairy
Northwest New York Dairy, Livestock & Field Crops
June 1, 2012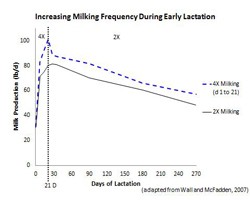 To overcome these setbacks, it's important to consider the underlying biology of the mammary gland. Ultimately, milk production is a function of mammary epithelial cell number and activity. In other words, to produce large quantities of milk requires a large amount of mammary epithelial cells and these cells need to be actively secreting milk. Applying this to the lactation curve, during early lactation mammary epithelial cell number is greatest. As milk production ramps up this large pool of cells become increasingly active leading up to peak milk production. Following peak milk yield, the mammary gland enters the declining phase of lactation where mammary epithelial cells slowly become quiescent (stop actively producing milk) and undergo apoptosis (programmed cell death), resulting in a gradual decrease in milk production.
So why is this important? Anecdotally, I've heard many producers reference "For each pound more milk achieved in peak milk, total lactation yield increases 200 lbs," or a higher peak milk yield results in greater lactation persistency. Consider this: during milk letdown hormones such as oxytocin, prolactin, and IGF-1 are released into the blood stream. As we learn more about lactation physiology it is likely that these hormones target mammary epithelial cells and are important in signaling milk demands of the offspring. Therefore, increasing milking frequency during early lactation increases the frequency by which these hormones are released, signaling a higher demand for milk. Moreover, some authors have hypothesized that these hormones actually stimulate mammary epithelial cell activity preventing these cells from becoming quiescent and undergoing apoptosis, resulting in greater lactation persistency. Taking this a step further, because mammary epithelial cell number is greatest during early lactation, frequent milking during the first three weeks of lactation influences a greater number of target cells. Essentially, telling the dam there is high demand for milk and it is important to sustain this large pool of actively secreting mammary epithelial cells to meet future demand. As a result, increasing milking frequency through only day 21 of lactation can permanently increase the milk production capacity of the gland even after cows are returned to 2X milking (See Graph).

Maybe more importantly, increasing milking frequency during early lactation is simple to put into practice. Milking intervals do not need to be evenly spaced throughout the day; therefore fresh cows can be milked at the beginning and end of each milking (4X). This adds only a modest amount of time to each milking shift and does not require additional wash cycles, improving milk production per cow and parlor efficiency. Despite these exciting opportunities some early adopters of frequent milking during early lactation were discouraged by the results. This is likely because milk production drops as cow's transition from 4X milking to 2X milking. However, it's important to recognize that even though production drops following cessation of 4X milking, increasing milking frequency during early lactation permanently increases the milk production capacity of the udder into late lactation (See Graph). The immediate increase in milk production, minimal labor requirement, and increase in lactation persistency make increasing milking frequency during early lactation a profitable management strategy.


Upcoming Events
Beef Quality Assurance (BQA) Training - Newfane, NY
November 9, 2019
10:00AM - 1:00PM
Newfane, NY
Becoming BQA certified allows you to share your story and ensure consumers that you are responsibly raising safe, wholesome and healthy beef.

*NEW* Automated Milking System (AMS) Management Discussion Group - Homer, NY
November 12, 2019
5:30pm - 8:00pm
Homer, NY
Milk Quality Management in AMS systems will be our first topic, with future discussion group topics to include: lameness and cow comfort, milk production, AMS daily task efficiency, and AMS maintenance.

*NEW* Automated Milking System (AMS) Management Discussion Group - Ellicottville, NY
November 13, 2019
5:30pm - 8:00pm
Ellicottville, NY
Milk Quality Management in AMS systems will be our first topic, with future discussion group topics to include: lameness and cow comfort, milk production, AMS daily task efficiency, and AMS maintenance.

Announcements
Showcasing Energy Efficiency Technologies on the Farm
Van Lieshout Dairy Farm Open House



When: Friday October 25th, 10am-noon

Location: Van Lieshout's Dairy Farm, 4775 Oak Orchard Road, Albion, NY

Please Join us for a morning of presentations and tours at the Van Lieshout Dairy Farm in Albion, NY, as we highlight energy efficiency upgrades and resources available to NY Farmers.


By participating in NYSERDA's Agriculture Energy Audit Program, the Van Lieshout Dairy Farm received a no-cost energy audit. Equipped with the results of the energy audit, the Van Lieshout Dairy farm worked with National Grid to install robotic milking equipment and other energy efficient equipment.


National Grid's Energy Efficiency and Economic Development programs provided approximately $90,000.00 of funds to the project. By purchasing highly efficient products, the Van Lieshout's will save an estimated 311,000 kWh per year, which equates to approximately $31,000.00 per year in electrical costs.


Hear directly from the Cindy Van Lieshout about her family's experience with various programs and services they used to help the farm become energy efficient and sustainable. The Van Lieshout Dairy Farm, a third-generation family owned and run operation, has been in business since 1978. Investing in energy efficiency and making these upgrades will better position Cindy's son, Garrett to manage the business in the future as the current generation prepares to retire in a few years.


The Van Lieshout's completed a Cornell Dairy Farm Business Summary on an annual basis to assess their business and plan for a sustainable future. For this project, they used Pro-Dairy's Dairy Acceleration Program, now known as the Dairy Advancement Program, funded through New York State Department of Agriculture and Markets to cost share their facility engineering.


Representatives from NSYERDA, National Grid, and Cornell Cooperative Extension will be on hand to answer questions and provide additional information.


Attendees will have the opportunity to tour the newly installed equipment. Light Refreshments will be provided.
For more Information Contact:
Lisa Coven at lisac@ensave.com 800-732-1399
Margaret Quaassdorff at maq27@cornell.edu 585-405-2567
Jay Snyder at John.Snyderjr@nationalgrid.com 716-517-5515

Preventing Sexual Harassment on Farms
If you're wondering how to get your farm business in compliance with NYS Sexual Harassment Regulations, you've come to the right place.
The 2018 New York State budget included new regulations addressing sexual harassment in the workplace that became effective on October 9, 2018 for all New York employers, including agricultural employers. All employers are required to have a sexual harassment prevention policy and to provide annual, interactive sexual harassment prevention training for all employees. Check out the resources developed by Cornell Ag Workforce Development, including step-by-step instructions and farm-friendly training videos.
RMA Announces Additional One-time Changes to Prevented Planting Provisions
June 29, 2019
RMA Announces Additional One-time Changes to Prevented Planting Provisions
for 2019 Crop Year
In response to delayed and prevented planting resulting from above average rainfall and wetness, the USDA Risk Management Agency has made a one-time change to the 2019 crop year prevented planting rules that effectively allows silage corn, if planted as a cover crop following local agricultural expert guidelines, to be acceptable as a post-prevented planting cover crop. Under this one-time rule change, producers are allowed to produce this crop while retaining their prevented planting payment. This change couples with previously announced one-time changes to the prevented planting rules - including expanded acceptable uses for post-prevented planting cover crops and a change in the cover crop haying and grazing start date rule - serve to help those struggling to meet their forage needs due to the weather.
Read the full article
from the New York Crop Insurance Education Program.
The USDA-RMA states that "For crop insurance purposes, a cover crop is a crop generally recognized by agricultural experts as agronomically sound for the area for erosion control or other purposes related to conservation or soil improvement." PRO-DAIRY specialists Joe Lawrence and Karl Czymmek and Dr. Quirine Ketterings, Professor and Director of Cornell Nutrient Management Spear Program have
released a letter
stating "Corn on Prevented Planting acres meets these objectives."