Deworming before Turnout Makes Good $ense - "Raining on the Parasite Parade"
Jerry Bertoldo, Dairy
Northwest New York Dairy, Livestock & Field Crops
Last Modified: June 25, 2013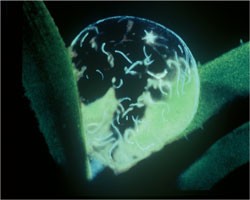 Infestation with internal "worm-like" parasites (nematodes) can be a significant drain on growth rates for young stock and milk production particularly in first lactation heifers. Totally confined livestock are rarely bothered with nematodes. Newborns left on bedding packs infrequently bedded and previously occupied by shedding adults, however can be at risk of infection at an early age.

I
nternal parasites are economically the most important.
Nematodes and coccidia have by far the most important economic impact of all parasitic diseases in the Northeast. Coccidia, tiny single-cell organisms, unfortunately are not controlled by any wormers. Coccidial control products such as Corid®, Bovatec®, Deccox® and Rumensin® must be used. Coccidiosis is a serious parasitic problem in young animals, but usually not after six months of age when resistance normally develops.
The most damaging part of the life cycle of nematodes occurs in the abomasum and intestines. As a result, diarrhea and poor feed efficiency can be seen. Deficiencies in energy, protein and micronutrients (vitamins and minerals) can occur depending on the severity. Mild cases may only affect the level of milk production a pound or so or the growth of young stock by a tenth or two of a pound of weight gain per day. Heavy infestation leads to poor body condition, faded rough hair coats, sickness, infertility and possible death in younger animals. Some nematode species create problems in the respiratory tract leading to coughing and sometimes pneumonia.
Subclinical infection not easy to see
.
Subclinical infection, with subtle health problems and progressive loss of productivity, is the biggest issue. By far, internal parasitism is the most difficult to judge as far as the risk and need for action. Ironically, it is generally the most costly form occurring on the dairy.

What factors need to be considered in evaluating the threat of infection and potential economic loss from "worm-like" parasites?

1. Age. The younger the animal the less resistance it has.

2. Stage of milk production. Fresh heifers (<100 DIM) are the most heavily impacted (reduced milk and body condition loss) of early lactation cows carrying significant worm loads.

3. Pasture contamination. 99% of all pastures supporting cattle for grazing or exercise are contaminated. Period. Intensity of contamination is the only question! Any lot with edible vegetation can be a source of infection. Frequent (<3 days use per lot) pasture rotation with a return after 10 days or more allows for the maximum destruction of infective larvae by a combination of sun, dung beetles and drying. Winter freeze-kill cannot be taken as 100% effective.

4. Stocking rate. Worm eggs and larvae have lower survival rates when manure is distributed over a larger area. Heavy manure build up assures greater infective larvae numbers and exposure to cattle.

5. Weather. Warm and dry increases kill rates over damp and cool.

6. Nutrition. Parasites prefer animals that are undernourished.

7. Immune status. All animals have a limited ability to build resistance against internal parasites. This never approaches the degree acquired against viruses and bacteria, however. Poor nutrition, stressful times, the calving period and coincidental diseases lower the immune status.

8. Grazing environment. Grazing during lactation and rotational grazing of all ages present the highest risk of infection. Grazing during the dry period and access to an exercise lot with some grass offers moderate risk. Cows on dirt dry lots without grass are at low risk. Total confinement and concrete dry lots have very little contamination potential. Dew covered grass holds the most infective larvae (in the water droplets) of any vegetation in the pasture.

Deworming strategies should vary by age.

There are two deworming strategies for adult cattle: the individual cow and the seasonal herd approach. Both require monitoring by fecal exam to determine contamination levels in the environment. Low contamination levels may require minimal or no treatment. Unfortunately, this cannot be judged by just looking over the animals.

The individual approach. (This strategy includes first calf heifers.)


Cows in high and moderate contamination situations are treated at freshening and again 6 weeks into lactation.

Low contamination level cows are treated only at freshening.

Environments with little or no potential risk require no treatment only monitoring.
The seasonal treatment approach.

All springers and cows in high and moderate contamination situations are treated in late November to early December and again 6 weeks after turnout onto grass.
Low contamination level cows are treated in the late fall only.
Environments with little or no potential risk require no treatment only monitoring.

Approach to young stock.

Less than 300-400 lbs.: treat 3-4 weeks after turnout and again 3-4 weeks later

Between 400 and 800 lbs.: treat at turnout, again 3-4 weeks later and a third time 3-4 weeks later

Greater than 800 lbs.: treat at turnout and 4-5 weeks later

NOTE: Any heifer treated in the late fall does not need deworming at turnout

Young stock under 300-400 lbs in the spring are not considered to have been exposed to parasites. The cycle of nematodes varies with the age of the animal. In younger heifers the cycle is 3-4 weeks as opposed to 6-7 weeks in the adult. This explains the timing differences between treatments by age.

Egg shed does not begin until about 40 days after normal spring turnout and usually slows dramatically by July 1st in our climate. This explains the treatment recommendation weeks after turnout. This deworming is designed partly to keep pastures from further parasite build up.

Whether you have your own adult cattle or young stock on pasture or just raise heifers utilizing some grazing, there is a good deal of trial work to show the benefits of a strategic deworming program. It is important to note that pastures will never clean up from worm contamination while in use if these programs are not used.
Upcoming Events
Forage Congress
February 27, 2019
10:00 am - 3:30 pm
Mt. Morris, NY
Climate Smart Farming Decision Tools
Forage Quality to Reduce Purchase Concentrate Cost. N Management, Guidelines for Grass, Low Lignin Alfalfa, Harvest Schedule
Fiber Digestibility & Corn Silage Hybrid Evaluation Using Fiber & Starch Yields
Silage Fermentation
Inventory & Shrink
Producer Panel
MANURE APPLICATOR TRAINING - DEC Approved Training for CAFO Farms, register by 2/22/2019!
February 28, 2019
9 a.m. - 11 a.m. - Wyo Co Ag Bus Center, Warsaw and 1 p.m. - 3 p. m. Civil Def Bldg., Bath NY
This informational meeting is for all farm owners, family members, and employees who manage their farm's manure. All farms, regardless of size are encouraged to attend. This is a DEC approved Manure Applicator Training that is required for CAFO farms. A certificate will be provided to each farm that participates in the meeting.
Raising Healthy Livestock: The Basics of Feeding, Health, and Quality Care
March 2, 2019
10 am - 1 pm
Lockport, NY
Raising livestock can be a rewarding enterprise. There are many things to consider, including what to feed, how to keep them healthy and how to handle them. Cornell Cooperative Extension NWNY Dairy, Livestock & Field Crops Team is holding a workshop for livestock farmers to help address these topics.
Announcements
CDL Training Program For Agricultural Producers and their Employees ONLY
Cornell Cooperative Extension of Wyoming County, in collaboration with Genesee Valley BOCES, will be offering a CDL Training Program for both Class A and Class B licenses. This course is offered to Farm Owners, Operators, and their Employees ONLY.
Thursday, February 28, 2019, 7:00 PM - 9:00 PM (Informational Meeting)
Wednesday, March 6, 2019, 7:00 PM - 9:00 PM (Classroom)
Thursday, March 7, 2019, 7:00 PM - 9:00 PM (Classroom)
Cost:
Class A CDL=$ 750.00 (Enrolled in Ag Program)
Class A CDL =$ 800.00 (not enrolled in Ag Program).
Class B CDL=$ 600.00 (Enrolled in Ag Program)
Class B CDL =$ 650.00 (Not enrolled in Ag Program)
Checks payable to Cornell Cooperative Extension of Wyoming County
Held at CCE-Wyoming County., 36 Center Street, Warsaw, NY 14569
The informational meeting will be held the week before the CDL training session begins, to answer any questions you may have regarding this program and to pick up the required training materials and medical forms. To register, please contact Debra Welch at 585-786-2251 or email djw275@cornell.edu
Wyoming County Pride of Ag Dinner - N Java Fire hall, March 2nd
For more information about the event or to purchase tickets, please contact the Wyoming County Chamber of Commerce, 585.786.0307.
USDA to Host 2018 Farm Bill Implementation Listening Session
The listening session will be held Feb. 26, 2019 at 9:00 a.m. in the Jefferson Auditorium in the South Building located at 14th Street and Independence Ave. S.W. in Washington, D.C.
The listening session is open to the public. Participants must register at farmers.gov/farmbill by February 22, 2019, to attend the listening session and are encouraged to provide written comments prior to the listening session. For those orally presenting comments at the listening session, written comments are encouraged to be submitted to regulations.gov by February 22, 2019. Additional written comments will be accepted through March 1, 2019. Comments received will be publicly available on www.regulations.gov.
Three Free Digester Workshops offered through CCE St. Lawrence Co.
CCE of St. Lawrence County is offering three FREE workshops showcasing the research results from our feasibility study of anaerobic digester technology on small farms. The research was conducted by our partners at Clarkson University using the anaerobic digester at the Extension Learning Farm, which is fed both manure from a dairy operation and vegetable waste from our commercial kitchen. The digester heats a small green house that starts our seedling plants. We have a small scale vegetable-only digester as well. The research and program targets small dairies under 200 head, livestock producers, horticulture producers and anyone interested in alternative energy.
Program will be held on December 5, January 7, and March 6. A catered meal is provided at each program. Participants within the North Country Region will be given a $25 stipend to help cover travel costs, those from outside the region will be given $50. To receive the stipend, participants will need to complete a pre/post-test survey.
More information and registration information can be found here:
http://stlawrence.cce.cornell.edu/events/2018/12/05/exploring-digester-technology
New Guidance for Mortality Disposal Issued
NYS Department of Ag and Markets has posted guidelines on disposal of livestock carcasses, in response to reports that some rendering companies have halted pickups from farms.
https://nwnyteam.cce.cornell.edu/submission.php?id=761&crumb=dairy|1