Cold Weather Calf Challenges - How are You Doing?
Jerry Bertoldo, Dairy
Northwest New York Dairy, Livestock & Field Crops
Last Modified: June 25, 2013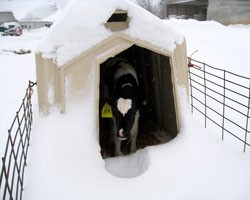 Winter adds stress to those who have to don extra clothing and work in cold temperatures on the farm. We can go home, take a hot shower, get warmed up and enjoy a satisfying meal before we have at it again tomorrow. Our calves don't have it quite so lucky. Think about some of the environment realities these little ones face.
Just born calves have about 18 hours of stored energy for maintenance when the weather is calm and warm. Wet just-born calves in well below freezing conditions may run out of "gas" in a few hours.

Calves less than 3 weeks of age need extra energy for keeping warm below 59°F

Calves older than 3 weeks need extra energy for keeping warm below 42°F

These threshold temperatures increase with wind and wet conditions

Energy requirements increase with wind chill, evaporative cooling (wet legs and belly) and hair coat problems (mud, hair loss, matting/spiking from licking) potentially doubling in extreme conditions

Smaller calves have greater surface to body mass ration and chill easier

Air movement over a dry calf, less than 3 months old, at a temperature under 50°F in excess of 1 MPH is considered a draft.

Straw insulates better than shavings

Calves like to "nest". Straw makes this easier, but needs to be at least 4-6 inches deep.
Calves do not like drafts, but need fresh air. Well bedded hutches facing south do this rather well. Calf barns are generally built to naturally ventilate as well as they can in the summer. When calf barns are closed up in the winter the ammonia generated under the calves from manure and urine is a challenge to clear out. If you can smell it, it is too strong. These levels are irritating to the respiratory tract and can predispose the calf to lung infections.
Barns with two rows of pens ventilate more evenly than four row types

Wire paneled pens offer better air mixing than ones with solid sides. Pens with solid back panels can easily lead to poor air quality.

Early pneumonia (first two weeks of age) may be due to malnutrition (poor immune development), inhalation of milk (sloppy tube feeding, excessively large nipple holes), inhalation of bedding dust or significant BRSV virus exposure from shedding adults in the calving pen.
Resistance to disease in the young calf in the winter is very much influenced by energy balance and protein availability arguably as important as colostral immunity. Failing to address temperature drops, heat-depleting conditions and body size when feeding calves explains why more calves are lost in the cold weather than any other time of year.
Calves nurse 20-25% of their body weight per day when left on the dam. 8-12% of BW in milk or milk replacer is what we commonly hand feed to dairy calves.

Twice a day feeding makes high feeding rates difficult due to the inability of the gut to efficiently handle such volumes of liquid feed. Feeding on a 12 and 12 instead of a 14 and 10 hour interval basis helps to a degree. Going to 3X feeding is the better choice.

Whole milk provides 25% more energy than most milk replacers on a volume basis.

Calves do not digest starter as well in the first three weeks of life as they do after that. Forcing calves to eat starter early at the expense of milk/replacer intake not only slows growth potential, but is stressful to the calf and biologically counterproductive.
Calves are bovine infants. The characteristic early-to-their-feet toughness belies the susceptibility they have to stress, subpar nutrition and weather extremes.
Upcoming Events
Forage Congress
February 27, 2019
10:00 am - 3:30 pm
Mt. Morris, NY
Climate Smart Farming Decision Tools
Forage Quality to Reduce Purchase Concentrate Cost. N Management, Guidelines for Grass, Low Lignin Alfalfa, Harvest Schedule
Fiber Digestibility & Corn Silage Hybrid Evaluation Using Fiber & Starch Yields
Silage Fermentation
Inventory & Shrink
Producer Panel
MANURE APPLICATOR TRAINING - DEC Approved Training for CAFO Farms, register by 2/22/2019!
February 28, 2019
9 a.m. - 11 a.m. - Wyo Co Ag Bus Center, Warsaw and 1 p.m. - 3 p. m. Civil Def Bldg., Bath NY
This informational meeting is for all farm owners, family members, and employees who manage their farm's manure. All farms, regardless of size are encouraged to attend. This is a DEC approved Manure Applicator Training that is required for CAFO farms. A certificate will be provided to each farm that participates in the meeting.
Raising Healthy Livestock: The Basics of Feeding, Health, and Quality Care
March 2, 2019
10 am - 1 pm
Lockport, NY
Raising livestock can be a rewarding enterprise. There are many things to consider, including what to feed, how to keep them healthy and how to handle them. Cornell Cooperative Extension NWNY Dairy, Livestock & Field Crops Team is holding a workshop for livestock farmers to help address these topics.
Announcements
CDL Training Program For Agricultural Producers and their Employees ONLY
Cornell Cooperative Extension of Wyoming County, in collaboration with Genesee Valley BOCES, will be offering a CDL Training Program for both Class A and Class B licenses. This course is offered to Farm Owners, Operators, and their Employees ONLY.
Thursday, February 28, 2019, 7:00 PM - 9:00 PM (Informational Meeting)
Wednesday, March 6, 2019, 7:00 PM - 9:00 PM (Classroom)
Thursday, March 7, 2019, 7:00 PM - 9:00 PM (Classroom)
Cost:
Class A CDL=$ 750.00 (Enrolled in Ag Program)
Class A CDL =$ 800.00 (not enrolled in Ag Program).
Class B CDL=$ 600.00 (Enrolled in Ag Program)
Class B CDL =$ 650.00 (Not enrolled in Ag Program)
Checks payable to Cornell Cooperative Extension of Wyoming County
Held at CCE-Wyoming County., 36 Center Street, Warsaw, NY 14569
The informational meeting will be held the week before the CDL training session begins, to answer any questions you may have regarding this program and to pick up the required training materials and medical forms. To register, please contact Debra Welch at 585-786-2251 or email djw275@cornell.edu
Wyoming County Pride of Ag Dinner - N Java Fire hall, March 2nd
For more information about the event or to purchase tickets, please contact the Wyoming County Chamber of Commerce, 585.786.0307.
USDA to Host 2018 Farm Bill Implementation Listening Session
The listening session will be held Feb. 26, 2019 at 9:00 a.m. in the Jefferson Auditorium in the South Building located at 14th Street and Independence Ave. S.W. in Washington, D.C.
The listening session is open to the public. Participants must register at farmers.gov/farmbill by February 22, 2019, to attend the listening session and are encouraged to provide written comments prior to the listening session. For those orally presenting comments at the listening session, written comments are encouraged to be submitted to regulations.gov by February 22, 2019. Additional written comments will be accepted through March 1, 2019. Comments received will be publicly available on www.regulations.gov.
Three Free Digester Workshops offered through CCE St. Lawrence Co.
CCE of St. Lawrence County is offering three FREE workshops showcasing the research results from our feasibility study of anaerobic digester technology on small farms. The research was conducted by our partners at Clarkson University using the anaerobic digester at the Extension Learning Farm, which is fed both manure from a dairy operation and vegetable waste from our commercial kitchen. The digester heats a small green house that starts our seedling plants. We have a small scale vegetable-only digester as well. The research and program targets small dairies under 200 head, livestock producers, horticulture producers and anyone interested in alternative energy.
Program will be held on December 5, January 7, and March 6. A catered meal is provided at each program. Participants within the North Country Region will be given a $25 stipend to help cover travel costs, those from outside the region will be given $50. To receive the stipend, participants will need to complete a pre/post-test survey.
More information and registration information can be found here:
http://stlawrence.cce.cornell.edu/events/2018/12/05/exploring-digester-technology
New Guidance for Mortality Disposal Issued
NYS Department of Ag and Markets has posted guidelines on disposal of livestock carcasses, in response to reports that some rendering companies have halted pickups from farms.
https://nwnyteam.cce.cornell.edu/submission.php?id=761&crumb=dairy|1