Cold Weather Calf Challenges - How are You Doing?
Jerry Bertoldo, Dairy
Northwest New York Dairy, Livestock & Field Crops
Last Modified: June 25, 2013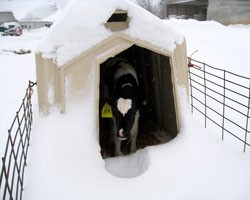 Winter adds stress to those who have to don extra clothing and work in cold temperatures on the farm. We can go home, take a hot shower, get warmed up and enjoy a satisfying meal before we have at it again tomorrow. Our calves don't have it quite so lucky. Think about some of the environment realities these little ones face.
Just born calves have about 18 hours of stored energy for maintenance when the weather is calm and warm. Wet just-born calves in well below freezing conditions may run out of "gas" in a few hours.
Calves less than 3 weeks of age need extra energy for keeping warm below 59°F
Calves older than 3 weeks need extra energy for keeping warm below 42°F
These threshold temperatures increase with wind and wet conditions
Energy requirements increase with wind chill, evaporative cooling (wet legs and belly) and hair coat problems (mud, hair loss, matting/spiking from licking) potentially doubling in extreme conditions
Smaller calves have greater surface to body mass ration and chill easier
Air movement over a dry calf, less than 3 months old, at a temperature under 50°F in excess of 1 MPH is considered a draft.
Straw insulates better than shavings
Calves like to "nest". Straw makes this easier, but needs to be at least 4-6 inches deep.
Calves do not like drafts, but need fresh air. Well bedded hutches facing south do this rather well. Calf barns are generally built to naturally ventilate as well as they can in the summer. When calf barns are closed up in the winter the ammonia generated under the calves from manure and urine is a challenge to clear out. If you can smell it, it is too strong. These levels are irritating to the respiratory tract and can predispose the calf to lung infections.
Barns with two rows of pens ventilate more evenly than four row types
Wire paneled pens offer better air mixing than ones with solid sides. Pens with solid back panels can easily lead to poor air quality.
Early pneumonia (first two weeks of age) may be due to malnutrition (poor immune development), inhalation of milk (sloppy tube feeding, excessively large nipple holes), inhalation of bedding dust or significant BRSV virus exposure from shedding adults in the calving pen.
Resistance to disease in the young calf in the winter is very much influenced by energy balance and protein availability arguably as important as colostral immunity. Failing to address temperature drops, heat-depleting conditions and body size when feeding calves explains why more calves are lost in the cold weather than any other time of year.
Calves nurse 20-25% of their body weight per day when left on the dam. 8-12% of BW in milk or milk replacer is what we commonly hand feed to dairy calves.
Twice a day feeding makes high feeding rates difficult due to the inability of the gut to efficiently handle such volumes of liquid feed. Feeding on a 12 and 12 instead of a 14 and 10 hour interval basis helps to a degree. Going to 3X feeding is the better choice.
Whole milk provides 25% more energy than most milk replacers on a volume basis.
Calves do not digest starter as well in the first three weeks of life as they do after that. Forcing calves to eat starter early at the expense of milk/replacer intake not only slows growth potential, but is stressful to the calf and biologically counterproductive.
Calves are bovine infants. The characteristic early-to-their-feet toughness belies the susceptibility they have to stress, subpar nutrition and weather extremes.
Upcoming Events
Pasture Walk - Wild Geese Farm - Franklinville, NY
August 21, 2019
5:30pm - 8:30pm
Fanklinville, NY
Topics to include: Tools for Managing Rotational Grazed Pasture, Weed ID and Management and Calculating Cost of Production.
Bovine Reproduction and AI Training Course
September 24 - September 25, 2019
9:30am - 3:30pm
Shortsville, NY
This two-day AI workshop will be held on September 24 and 25.
Topics covered will include:

• Reproductive Physiology
• Synchronization Protocols
• Heat Detection
• Artificial Insemination
• Proper Thawing of Semen
• Loading A.I. guns
• Practice Breeding Cows
Corn Congress - Batavia Location

January 8, 2020
10:00 a.m. - 3:00 p.m.
Batavia, NY
Please join the NWNY Dairy, Livestock and Field Crop Program's team for our annual Corn Congress. DEC re-certification points and Certified Crop Adviser credits available, so bring your picture ID. Lunch is included. Hear from program-related professionals and visit with our sponsoring vendors.
Announcements
2019 NY Corn & Soybean Yield Contests - Entries Due 8/30/19
The annual corn and soybean yield contests sponsored by the New York Corn & Soybean Growers Association are underway.
Click Here
for the 2019 yield contest entry form. This form and contest rules can also be found on the NY Corn & Soybean Growers Association web page at:
https://nycornsoy.org/

Entry forms must be postmarked by Friday, August 30 and mailed or emailed to Mike Stanyard. Cost is $30 per entry. Good Luck!
Preventing Sexual Harassment on Farms
If you're wondering how to get your farm business in compliance with NYS Sexual Harassment Regulations, you've come to the right place. This is a recording of the presentations given at the live training on July 30 and July 31, 2019 across New York State, which provides updates and farm-specific resources developed by CCE. View the recording here:
https://youtu.be/_1IjmAj1Nb8
.
RMA Announces Additional One-time Changes to Prevented Planting Provisions
June 29, 2019
RMA Announces Additional One-time Changes to Prevented Planting Provisions
for 2019 Crop Year
In response to delayed and prevented planting resulting from above average rainfall and wetness, the USDA Risk Management Agency has made a one-time change to the 2019 crop year prevented planting rules that effectively allows silage corn, if planted as a cover crop following local agricultural expert guidelines, to be acceptable as a post-prevented planting cover crop. Under this one-time rule change, producers are allowed to produce this crop while retaining their prevented planting payment. This change couples with previously announced one-time changes to the prevented planting rules - including expanded acceptable uses for post-prevented planting cover crops and a change in the cover crop haying and grazing start date rule - serve to help those struggling to meet their forage needs due to the weather.
Read the full article
from the New York Crop Insurance Education Program.
The USDA-RMA states that "For crop insurance purposes, a cover crop is a crop generally recognized by agricultural experts as agronomically sound for the area for erosion control or other purposes related to conservation or soil improvement." PRO-DAIRY specialists Joe Lawrence and Karl Czymmek and Dr. Quirine Ketterings, Professor and Director of Cornell Nutrient Management Spear Program have
released a letter
stating "Corn on Prevented Planting acres meets these objectives."