2022 Economics of Growing Hemp for Cannabidiol (CBD) in NYS
John Hanchar, Farm Business Management Specialist
Northwest New York Dairy, Livestock & Field Crops
October 28, 2022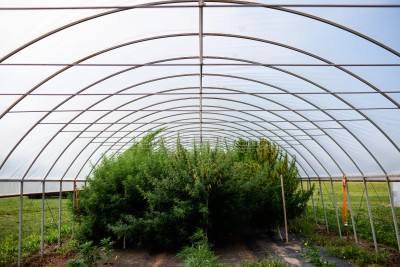 Economics of Growing Hemp for Cannabidiol (CBD) in NYS: Expected Costs, Revenues and Returns for Three Hemp CBD Production Systems, 2022
Hanchar, J., S. Shelnutt, D. Vergara, L. Pashow, Cornell University/CALS, and CCE
Summary
Estimated variable costs of production per hemp plant equal $9.84, $9.64, and $4.42 for the greenhouse, high tunnel, and outdoor scenarios, respectively, while fixed costs per plant total $33.95, $9.36, and $0.26 for the three scenarios, respectively.
Initial value of production (revenue) estimates equal $6 per plant, but value of production varies by output price and % point CBD per pound of plant material.
Estimated returns above variable costs per plant equal negative $3.84, negative $3.64, and $1.78 for the greenhouse, high tunnel and outdoor hemp CBD production systems.
Introduction
Currently in New York State (NYS), the economic viability of hemp production, processing, marketing and other activities for various end uses are subject to considerable risks and uncertainties - production, marketing, legal, human resources and financial (Pashow and Hanchar). The NYS Office of Cannabis Management (NYSOCM) is working to establish, clarify the legal framework, environment in which hemp industry firms will operate. Other work focuses on addressing other sources of risk and uncertainty.
As risks and uncertainties are addressed, industry firms will evaluate hemp enterprises for viability. What are the conditions for entry or exit? What enterprises, at what sizes make sense? For farm business owners, information needed to best understand the situation, and make decisions include the expected costs of production for various enterprises -fiber, grain, CBD, multipurpose, and others. Information regarding optimal production systems and practices by end use will also help producers with decision making.
The purpose of this work is to estimate expected costs, revenues and returns for three hemp CBD production systems in NYS: greenhouse; high tunnel; and outdoors, where the outdoor scenario is similar to a horticultural setting for vegetable production. The work adds to previous analysis from NY (Hanchar and others), and to analyses from other states.
Working Paper 2022 Economics of Growing Hemp for Cannabidiol (CBD) in NYS (pdf; 323KB)
Open this pdf to read the full working paper
Upcoming Events
Fertilizers and Herbicides

March 31, 2023
Mount Morris, NY
As input costs rise, it is necessary to employ the best management practices, and it can be advantageous to know what you're getting from your purchases. Plan to attend if you want to understand the terminology, calculations, formulations, and chemistry behind your fertility and herbicide recommendations.
Agritourism Workshops Monthly!
February 20, 2023
March 20, 2023
April 17, 2023
May 15, 2023
June 19, 2023
July 17, 2023

Are you thinking of starting an agritourism business or are you currently operating one?
Join our monthly lunch-hour, workshop virtual series and learn how to grow your agritourism business!
The first session will cover the basics of running an agritourism operation. The following sessions will focus on specific topic to help aspiring agritourism entrepreneurs grow their knowledge and profit through this exciting on-farm business.
Dairy Comp 305 for Spanish Speakers
April 19, 2023
This program was rescheduled from March 30th.
This workshop is for employees, supervisors or managers whose first language is Spanish and whose job entails using DC305 on a daily basis. The objective is for attendees to improve their understanding of the "language" of DC305 as well as the whys behind consistent data entry. Since DC305 is specific to each farm, the workshop will focus on general application and deeper understanding of how data is used on dairy farms.
Announcements
Join us on Facebook!
Follow us on Facebook to get up to date posts about events, workshops and everything NWNY!
Add us on LinkedIn!
Connect with us on LinkedIn to get more information about upcoming workshops and programs!
Watch Us on YouTube
Watch instructional videos from specialists in the field!
Subscribe for Emails about Events & Workshops!