Queso in Guatemala
Libby Eiholzer, Bilingual Dairy
Northwest New York Dairy, Livestock & Field Crops
June 14, 2013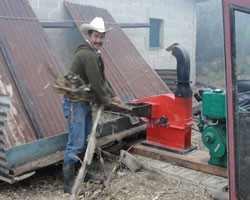 Do you know where your Hispanic employees are from? The majority of Hispanic employees that I've met in Western New York come from Mexico, though I've also come across a number from Guatemala. Regardless of their nationality, most are from rural areas, and many grew up with animals; possibly cows, horses, pigs or goats, but almost certainly chickens. (It's quite difficult to escape the crackly wakeup call of a rooster in Guatemala, even in urban areas!) Despite the fact that many worked with cows in their home countries, most come to New York having had no experience with modern dairying. Did you ever stop to think what the dairy industry is like where they come from? While I can't speak to Mexico, I can speak from personal experience about Guatemala.

During my service as a Peace Corps volunteer, I lived in a village located in a mountainous region of eastern Guatemala. The cool climate makes it a much more suitable environment for dairy cows than the hot, humid climates at lower elevations, so many families have a few cows. My host family milked their herd of 10 cows once a day by hand and sold most of the milk to a local cheese maker. The cheese maker owns a small building in the village where dairymen bring their milk by truck or horse every morning. He makes cheese daily and sells it in the larger towns within about an hourís radius from the village. The whey left over after making cheese is given to local women who feed it to pigs they raise to sell for meat.

Since Central America has two seasons (6 months of rain and 6 months without rain) and farmers rely primarily on pasture to feed their cows, milk production is very seasonal. Therefore farmers donít get paid much during the green, grassy, rainy season, but get paid handsomely if they have cows producing milk during the dry season. Some farmers have small stationary choppers they use to process the dry corn stalks left over from the grain harvest (corn is a staple in the Guatemalan human diet). A few actually plant corn to make silage.

I enjoyed my host momís fresh cheese for months before she taught me how to make a traditional queso fresco. The milk is strained, and then heated (if not still warm from the cow). Rennet is added and the milk is left at room temperature for three to six hours, until it solidifies. Then itís strained through a cheese cloth, salted, kneaded, and pressed into forms that make a one pound block of cheese. After about an hour the cheese will hold its form and can be removed from the mold and eaten. A one pound block of cheese sells for about 12 Quetzals (roughly $1.50). Alternately, the cheese can be left to cure for a few months to produce an aged cheese, or the whey can be boiled to produce requeson, which is similar to ricotta cheese. An interesting bit of local lore: pregnant woman canít make cheese because the milk wonít curdle.

When was the last time any of you milked a cow out by hand? My host family was shocked when I told them that I had only ever milked a cow with a machine. (They remedied that situation pretty quickly). As can be expected from the production system Iíve described, cows in Guatemala donít make much milk. But I suspect that fifteen or twenty pounds a day looks a lot better than 85 when you milk by hand!



Upcoming Events
Weed Resistance Management Demonstration and Plot Tour

July 23, 2019
1:00 - 3:00 p.m.
Waterloo, NY
Come join us on July 23 in Seneca County at Quinten Good's farm for a demonstration and walking tour of 16 different pre- and post-emergence treatments in soybean and 12 different treatments and combinations in corn.
Tall waterhemp and marestail are two weeds that are resistant to glyphosate and ALS herbicide modes of action in the WNY and Finger Lakes regions.
Each year the number of acres with resistant weed populations expands.
For herbicides to be an effective tool in weed management, we have to know what chemistries & application timings are most effective against these resistant weeds.
Income and Real Property Tax Primer-A Learning Circle for Women Non-Operating Land Owners of Ag Land
July 24, 2019
9:00 am - 3:00 pm
Portageville, NY
For many of us taxes can be a mystery, let's have a conversation with the experts about the tax considerations agricultural landowners need to think about.
Pasture Walk with the Finger Lakes Graziers-Cancelled!
July 29, 2019
12:45 - 4 pm
The Finger Lakes Graziers pasture walk has been cancelled due to some scheduling conflicts.
Announcements
RMA Announces Additional One-time Changes to Prevented Planting Provisions
June 29, 2019
RMA Announces Additional One-time Changes to Prevented Planting Provisions
for 2019 Crop Year
In response to delayed and prevented planting resulting from above average rainfall and wetness, the USDA Risk Management Agency has made a one-time change to the 2019 crop year prevented planting rules that effectively allows silage corn, if planted as a cover crop following local agricultural expert guidelines, to be acceptable as a post-prevented planting cover crop. Under this one-time rule change, producers are allowed to produce this crop while retaining their prevented planting payment. This change couples with previously announced one-time changes to the prevented planting rules - including expanded acceptable uses for post-prevented planting cover crops and a change in the cover crop haying and grazing start date rule - serve to help those struggling to meet their forage needs due to the weather.
Read the full article
from the New York Crop Insurance Education Program.
The USDA-RMA states that "For crop insurance purposes, a cover crop is a crop generally recognized by agricultural experts as agronomically sound for the area for erosion control or other purposes related to conservation or soil improvement." PRO-DAIRY specialists Joe Lawrence and Karl Czymmek and Dr. Quirine Ketterings, Professor and Director of Cornell Nutrient Management Spear Program have
released a letter
stating "Corn on Prevented Planting acres meets these objectives."
New Guidance for Mortality Disposal Issued
NYS Department of Ag and Markets has posted guidelines on disposal of livestock carcasses, in response to reports that some rendering companies have halted pickups from farms.
https://nwnyteam.cce.cornell.edu/submission.php?id=761&crumb=dairy|1