Hay Conditioners
Bill Verbeten, Field Crops
Northwest New York Dairy, Livestock & Field Crops
April 16, 2013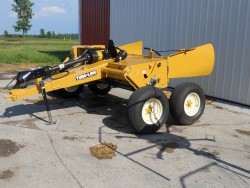 In the circle of growers I talk to, hay conditioning has often become a topic of conversation and how well some of the newer conditioning equipment works. There are a small number of growers in WNY who own conditioners that are used a few hours after hay is cut and before tedding takes place to speed up dry down. But, you often hear mixed stories on how well these units work. There has been very little research done on dry down times and the effects on hay quality. Because of these uncertainties, adding an additional trip across the field, and the cost of these units, farmers are hesitant to pursue purchasing. I know several growers and I'll include myself in this group that purchased a 1950's vintage hay crusher/crimper with the thought that this is the same principal. But, I have not been impressed with the results.
This summer I am performing trials with 2 different types of new conditioners, the hay Accelerator and Macerator. There are some growers in WNY that own an Accelerator or a very similar unit called the Recon. These machines have metal rollers that interlock, crushing and crimping the stems as the hay passes through. These units are in the price range of $18,000 to $25,000 depending on the manufacturer and options. The Macerator is more expensive, selling for around $32,000. I don't know of any farmers around the area that own a Macerator. The Macerator uses 2 sets of rollers. The first set is rubber and squeezes the hay, while the second set is metal and spins faster while nicking the stems.
I obtained the 2 units in the beginning of June but had little luck with conducting trials because of the consistent rain fall. Cummins and Bricker ended up selling the Accelerator unit that was being demoed, so I have very little data from that machine in first cutting. But, they have supplied us with another unit for second cutting. As for the Macerator unit we did witness some significant increases in dry down time and the hay is much softer in the bale although some leaf loss is noticed in late cut first cutting.
So how well do they work? Between rains we started to cut hay at noon and macerated right after the field was cut while it was still sprinkling on a cloudy, windy day. The hay was tedded 3 hours later and again the next morning. The hay was raked at 2 p.m. and baled at 4 p.m. o"clock. It had been just 28 hours and the hay was baled at 10% to 12% moisture. The windrows that were left to just be tedded were 22% to 24% moisture. I have always found it is the hardest to get the hay to drop from 20% to 14% moisture. It worked well on this occasion and I'm looking forward to conducting the side by side with Accelerator in the second cutting. Forage quality is also being tested to compare extra conditioned to conventional mower conditioned hay to verify effects of the leaf loss on quality.
Over the next few weeks a series of side by side trials will be performed on second cutting hay. We will be hosting a field demonstration and displaying results at 9:00 a.m. on August 20th, at David Stephen's farm on Prole Road (the road east of Empire Tractor) between Route 5 & 33 in the town of Batavia. Equipment reps will be at the event to assist with any questions. John Hanchar will also provide a financial summary of number of acres/bales for the cost effectiveness of each machine.
For more information visit the manufacturer websites:
TubeLine Manufacturing
AgLand Industries Inc.
Upcoming Events
Corn Congress - Batavia Location

January 6, 2021
8:30 a.m. - 3:30 p.m.
Batavia, NY
Please join the NWNY Dairy, Livestock and Field Crop Team
for our annual
Corn Congress
. DEC

re-certification

points and Certified Crop Adviser credits available, so bring your picture ID. Lunch is included. Hear from program-related professionals and visit with our sponsoring vendors.
Corn Congress - Waterloo Location

January 7, 2021
8:30 a.m. - 3:30 p.m.
Waterloo, NY
Please join the
NWNY Dairy, Livestock and Field CropsTeam
for our annual
Corn Congress
. DEC re-certification points and Certified Crop Adviser credits available, so bring your picture ID. Lunch is included. Hear from program-related professionals and visit with our sponsoring vendors.
Soybean & Small Grains Congress - Batavia Location

February 10, 2021
8:30a.m Registration. Program 10:00am - 3:30pm
Batavia, NY
Please join Cornell Cooperative Extension's NWNY Dairy, Livestock, and Field Crops Team for the annual
Soybean & Small Grains Congress
to be held at the
Quality Inn & Suites, 8250 Park Road, Batavia, NY.
Announcements
Resources for Managing Overtime
Beginning January 1, 2020, farm employers in New York will be required to pay overtime to certain employees for all hours worked over 60 in a week. We've developed some
tools to help farm employers consider management strategies
to respond to this change. Tools include an excel calculator to estimate the cost of overtime and an extension bulletin to help you consider and evaluate changes on your farm.
March 2020 Dairy Market Watch
The latest issue of Dairy Market Watch is now available. Keep up to date on the market issues affecting our dairy industry, and put changing market forces into perspective.

Dairy Market Watch is an educational newsletter to keep producers informed of changing market factors affecting the dairy industry. Dairy Market Watch is published at the end of every month, funded in part by Cornell Pro-Dairy, and is compiled by Katelyn Walley-Stoll, Business Management Specialist with CCE's SWNY Regional Team.